Verse of the Day

"No temptation has overtaken you except what is common to mankind. And God is faithful; he will not let you be tempted beyond what you can bear. But when you are tempted, he will also provide a way out so that you can endure it." 1 Corinthians 10:13 NIV
Today Renee Swope wrote the "Encouragement For Today Devotions"

titled listening to God.  As I was reading what she wrote, I thought, "I wonder about that too!".  She writes, I want to be a woman who listens to God. But, sometimes I'm not sure if it's God talking or just me thinking.  And if I'm really honest, when I do sense Him whispering to my heart, I'm not always crazy about what I sense He's telling me to do. Click here to read more.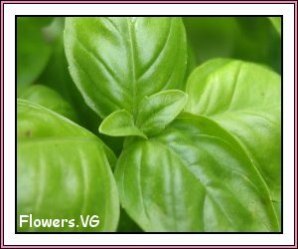 I am a member of the Town and Country Garden Club where I live. Today our county Extension Agent, Whitney, presented a really informative and fun program on cooking with herbs. It reminded me of why I like to cook with fresh herbs and why I love to have herbs growing in my yard. I decided to start sharing some of the herbal information with you! Now, I realize that it is the dead of winter and that I don't have any basil in my garden at the moment — and you probably don't either.  However, this is exactly the right time to start thinking about our spring planting!  In the meantime, we are lucky to have fresh basil available at the grocers!  The recipe link is from Simply Recipes.com.
Herbs are plants whose leave, stems, flowers, roots, or seeds are valued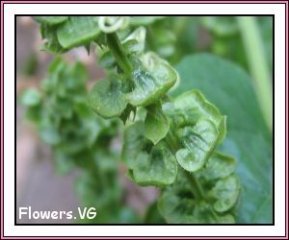 for their culinary, aromatic, medicinal, pesticidal, or coloring (dye) properties.  GROWING HERBS:  Most herbs need at least a half day (6 hours) of sunlight for optimal growth and flavor. Herbs need well-drained ordinary garden soil. Herbs have a stronger flavor and fragrance if not fertilized (I didn't know this!)  Allow at least 1 to 2 feet between plants when planting herbs and avoid insecticides, as you will be eating some of these leaves.
For this first post I want to highlight BASIL (Ocimum basilicum).  I love using fresh basil in so many dishes.  I also love just rubbing it between my fingers and taking in the fragrance when in the garden!  Basil is an attractive 2 foot tender annual.  Sweet Genovese is the best variety for cooking.  It has a smooth, bright green leaves.  It can be started from seed or a cutting.  Be sure not to plant outdoors before all danger of frost has passed.  Basil requires full sun and prefers moist, well drained soil. For the first few weeks, pinch off the top two pair of leaves to make it branch out. Harvest up to 1/3 of the plant often throughout the growing season. Then when it starts to set flowers, cut the plant back by 1/2 or 2/3 or it won't continue to make leaves.  Don't allow them to bloom and to seed.  leaves have a sharp spicy flavor. Use fresh for the best flavor.  Preserve by freezing.  Basil is especially good with tomatoes and Italian or Thai dishes.  Don't store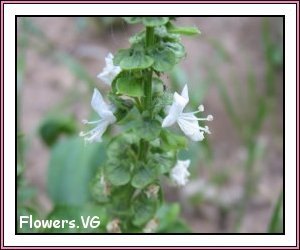 basil below 45 degrees F. or it will blacken.  It also bruises easily so use a sharp knife to cut the leaves.  Stir in at the end of the cooking time for best results.
STORING TIP:  Classic Basil Pesto can be placed in ice cube trays, and frozen for use later. After they are frozen, place cubes in a Ziploc bag for storage.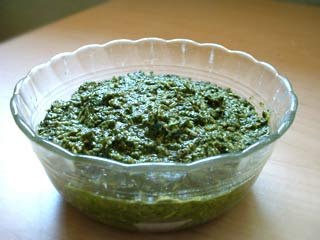 Many Blessings and Happy Cooking!

Classic Basil Pesto
Print recipe
Fresh basil combines with the nuts and garlic to make a beautiful classic pesto.
Ingredients
2 cups fresh basil leaves, packed
1/2 cup Parmesan-Reggiano, grated
1/2 cup extra virgin olive oil
1/3 cup Pine nuts or walnuts
3 garlic cloves, minced
salt and pepper, to taste
Directions
| | |
| --- | --- |
| 1 | Combine olive oil and minced garlic. Warm in microwave for 30 to 45 seconds to infuse garlic flavoring into the oil. |
| 2 | Combine the basil with the pine nuts or walnuts. Pulse a few times in a food processor. |
| 3 | Slowly add the olive oil/garlic mixture in a constant stream while the food processor is on. Stop to scrape down the sides of the food processor with a rubber spatula. The mixture should be ground to a paste-like consistency but a little bit of the leaves' texture should remain. |
| 4 | Add the grated cheese, salt and pepper. Pulse again until blended. |
| 5 | Serve over pasta, baked potatoes, or spread over toasted baguette slices. |
Note
(1) Sweet Genovese basil works best, giving the most flavorful pesto.
(2) When making bread, flatten out the dough, spread with pesto sauce and roll up tight. Bake as you normally would. Pesto gives a lovely taste and presentation within the bread.
(3) Makes 1 cup