"For our struggle is not against flesh and blood, but against the rulers, against the authorities, against the powers of this dark world and against the spiritual forces of evil in the heavenly realms. Therefore put on the full armor of God, so that when the day of evil comes, you may be able to stand your ground, and after you have done everything, to stand."
Ephesians 6:12-13
NIV
I love the vision in my head of "putting on the full armor of God!" This is one of my favorite scriptures. I like to start (and end) the day thinking about the armor that God gives us to stand against the bad things of this world. Thank you Lord!
You may have noticed I haven't sent out a blog post since Monday and I can tell you I have been itching to do so!  My two culinary consultants and I traveled to Florida this past week to visit friends, Kathy, Phyllis, and Elaine.  I always have such good intentions of blogging from the road and sometimes it works out and sometimes it doesn't.  This time, not so much.  We enjoyed the warm Florida sun, ate some amazing food, and had a great time visiting!  While visiting with my long-time dear friend Elaine she told us about these "terrific desserts" at Lang Sun Country Groves in Lake Alfred, Florida.  After a BBQ lunch we decided to cleanse our palates and headed for Lang Sun Country.  We found this cute little grove store and cafe.  This is where I first laid eyes on Grapefruit Pie!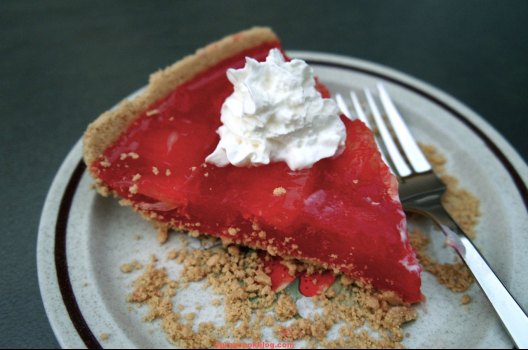 I was intrigued when the waitress told me this pie was first developed a couple years ago when there was an unusually large supply of fresh grapefruit.  She said it is now their #1 selling pie — and this is ahead of strawberry short cake and coconut cream cake!  I found that Epicurious featured this pie recipe back in 2006.  I decided I just had to make it for my friends while in Florida.  We picked the pink grapefruit fresh off the tree and set off to make the pie.  While it was lots of fun and turned out well, we did have mixed reviews.  If you like a "sweet and sour" combination – this is perfect!  But if your "dessert" needs to be synonymous with "sweetness" then this isn't the recipe for you.  But for those of us who liked the sweet and sourness together — this is a really interesting and fun recipe!  However … strawberries are in season and when I got home I just new I could make a good pie recipe — GREAT!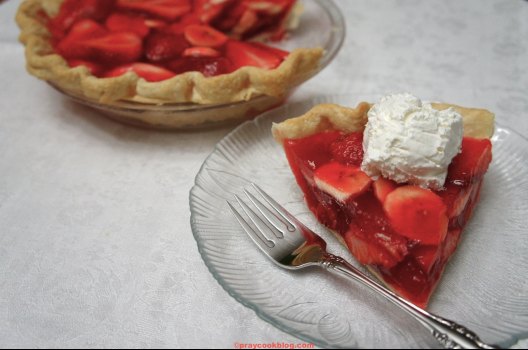 And that is exactly what happened.  I can imagine using the filling part of this recipe as a base for many things.  It starts out with sugar, cornstarch and water, cooked until it is nice and thick.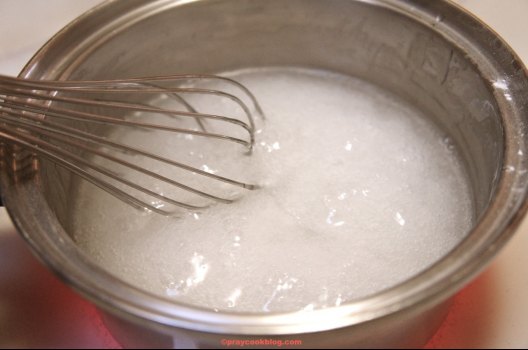 Then I added sugar-free Strawberry-Banana Jell-O. Turning this thickened filling into a fantastically sweet and tasty filling.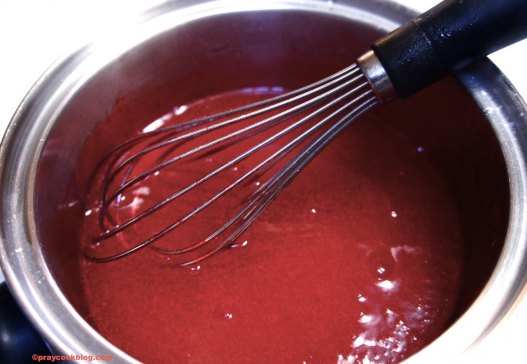 I used a baked pie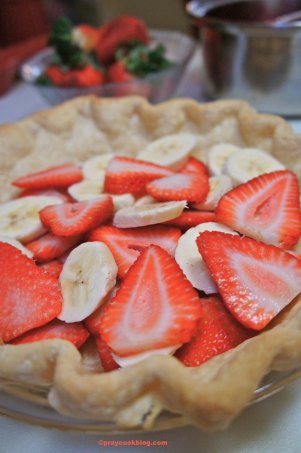 crust, but the graham cracker crust for this pie is really good also.  Strawberries are just coming into season from California and Florida and for the next few months we can get really great fruit until our own strawberries are ready to produce.
I layered sliced strawberries and
bananas  before pouring the cooled, thickened filling over the fresh fruit.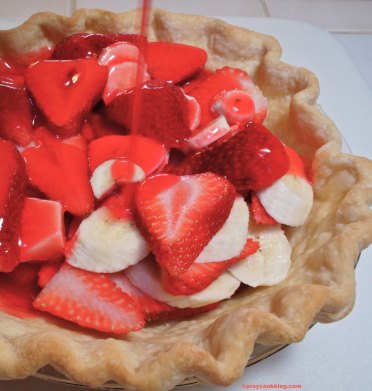 And the best part  — when I surprised my two culinary consultants after dinner by bringing this to the table when they had no idea we had DESSERT!!!    So whether you are grapefruit fan or you never met a strawberry you didn't like, these recipes are keepers.  I am including both recipes today.  Bon Appetite'.
Have a blessed weekend and Happy Cooking!