Walk Through The Bible In One Year
Week 12 reading plan per day
Click on the colored link to read each day's scripture.
Monday Judges 1-4, Tues Judges 5-7, Wed Judges 8-10,
Thursday Judges 11-14, Friday Judges 15-18,Saturday Judges 19-21, Sunday Ruth
Enjoy The Read!
I have a long standing love-hate relationship with asparagus spears.  My chief culinary consultant loves them, I hate them.  Well, I used to hate them.  That was before we grew them in our garden.  Why in the world does it make a difference if I buy beautiful asparagus, all the same size, wrapped in a rubber band, from the grocery store or I walk outside and snap off a dozen or so, all different lengths?  The first time I roasted a few spears from our garden you would think I had just discovered nuclear fission (not to worry – I have no idea about nuclear fission, just heard it on a movie.)  Anyway, all of the sudden my taste buds stood at attention and I uttered, "wow, these are delicious."  Beginning of love asparagus, end of hate asparagus.
So, when my son Cory sent me a link to www.simplyscratch.com with a note that says, "Mom, you have got to try these" I couldn't get to the blog post fast enough.  Cory had already made them once and was looking forward to the second time.  I sent Laurie a quick email and asked about the recipe and permission to use it.  She graciously said, "have at it!".  As you would except, I tweaked it with the addition of Garlic Southern Flavor because we just can't get enough of this stuff.

Because the recipe requires a couple steps, you may think you don't have time to make it.  But honestly, you can dip and coat one store bottom bunch of asparagus spears in about 10 minutes and then a few minutes roasting and it is ready to eat!.  Clean and clip the spears.  Roll in egg white that has been slightly beaten.
Put together your panko crumbs and favorite seasonings.  Roll eggy spear in crumbs.

On to the baking pan.

Voila'!   Baked and delicious.

The Aioli sauce can be made ahead of time or actually can be put together while the asparagus is baking.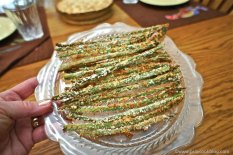 All in all, delicious. I think a spear that is medium thick will bake up better than really thin ones.   Thank you Cory for keeping your eyes open for creative new recipes like this one and thank you Laurie for sharing.  Laurie's food blog is www.simplyscratch.com . She posts some really fun recipes and fabulous pictures!
Have a blessed rest of the week and Happy Cooking!


Baked Parmesan Asparagus "Fries" with Lemon-Garlic Aioli

Print recipe

A new twist on an old vegetable! Asparagus spears are fabulous as fries and even better dipped in Aioli!

Ingredients

1 bunch Asparagus, washed and trimmed (I try to pick a bunch that are uniform in thickness, not real thin ones.)
2 Egg Whites, beaten slightly
3/4 cups Panko Bread Crumbs
1/4 cup All-purpose Flour
1/4 cup Parmesan cheese, finely grated or shredded
Salt and Pepper To Taste (I like Kosher or sea salt)

Optional

1 teaspoon Your favorite seasoning (I use Garlic Southern Flavoring dry seasoning)

Aioli

2 Egg Yolks
1 Whole Egg
1 teaspoon Brown Mustard
2 teaspoons Fresh Lemon Juice
1 cup Grapeseed Oil
1/2 teaspoon Kosher Salt
1/2 teaspoon Fresh Cracked Black Pepper
2 cloves Garlic, smashed and roughly chopped (or 1 teaspoon minced -- from a jar)
2 tablespoons Additional Fresh Lemon Juice

Directions

1
Preheat oven to 425 degrees F. Line a baking sheet with parchment paper or brush lightly with oil
2
Separate the egg yolks from the whites and gently whisk the whites. Place on large plate with a little lip or a pie plate. (Reserve yolks for the Aioli sauce.) In a medium bowl mix together Panko, flour, finely grated Parmesan, and a pinch of salt and pepper. Stir. Pour onto a plate large enough to individually roll the spears.
3

Roll asparagus in egg whites, drain off any excess.

4

Then roll in Panko mixture to coat.

5

Place on prepared pan and repeat with remaining asparagus.
Bake in preheated oven for 15 to 20 minutes turning the asparagus half way through. Continue to bake until the outside is lightly golden. Let cool a few minutes before serving. Do not overbake. They are best when the asparagus is tender-crisp.

6

Enjoy!

7

In a food processor add the egg yolks, whole egg, brown mustard and two teaspoons of lemon juice. Place the top on the processor and turn on high. Slowly stream in the grapeseed oil while the processor is running. This will take a few minutes, so don't rush it. The end result will be home made mayonnaise!

8

To make this mayo an aioli, remove the top of the processor, add the remaining lemon juice, the chopped garlic and season with kosher salt and black pepper. Blend until smooth. For the best tasting mayo, store in an air-tight glass jar and refrigerate over night.

Note

Additional seasoning is optional.