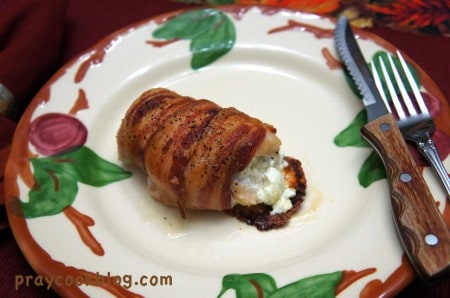 Oh my word a Facebook recipe does it again! There are kazillions of recipes being posted from wall to wall on Facebook.  I drool over them just like you do. But, just like you, I can't cook or bake or EAT everything out there.
Occasionally I stop, read a recipe and then print it out. I am not certain if all the stars align, the recipe just looks exceptionally appealing or I am just hungry at that moment.  Maybe a little bit of all three.
The headline to this recipe read:
OMG, I AM IN LOW CARB HEAVEN WITH THIS ONE!
This was followed by a short list of ingredients:
Chicken breast — always, well usually, in my freezer
Cream cheese – got it
Chopped green onion – just happen to have some needing to be used
Hot pepper jack cheese – I added this one
Bacon – always available from the freezer
We, the Chief, my sous-chef dish-washing mom and I, LOVE stuffed chicken breast.  Enuf said.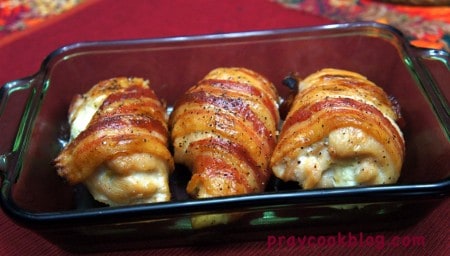 This recipe — OMGosh! My new favorite stuffed chicken breast. If the cream cheese and pepperjack don't do it for you, the bacon will put this over the top! The chicken stays very moist as it cooks and the pepperjack cheese will melt and the cream cheese will keep a little form.  The bacon – well it crisps up beautifully.  I turned these over and broiled the bottoms to crisp up bacon that was already well cooked.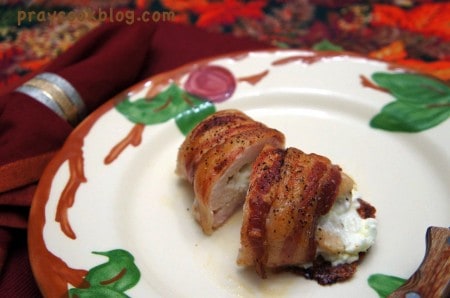 I will be wrapping this up for a Christmas party or two!
Happy Cooking!
Catherine
GIVE THANKS
Psalm 95:2-3
Let us come into his presence with thanksgiving;
let us make a joyful noise to him with songs of praise!
For the Lord is a great God, and a great King above all gods.
Bacon Wrapped Cream Cheese Stuffed Chicken Breast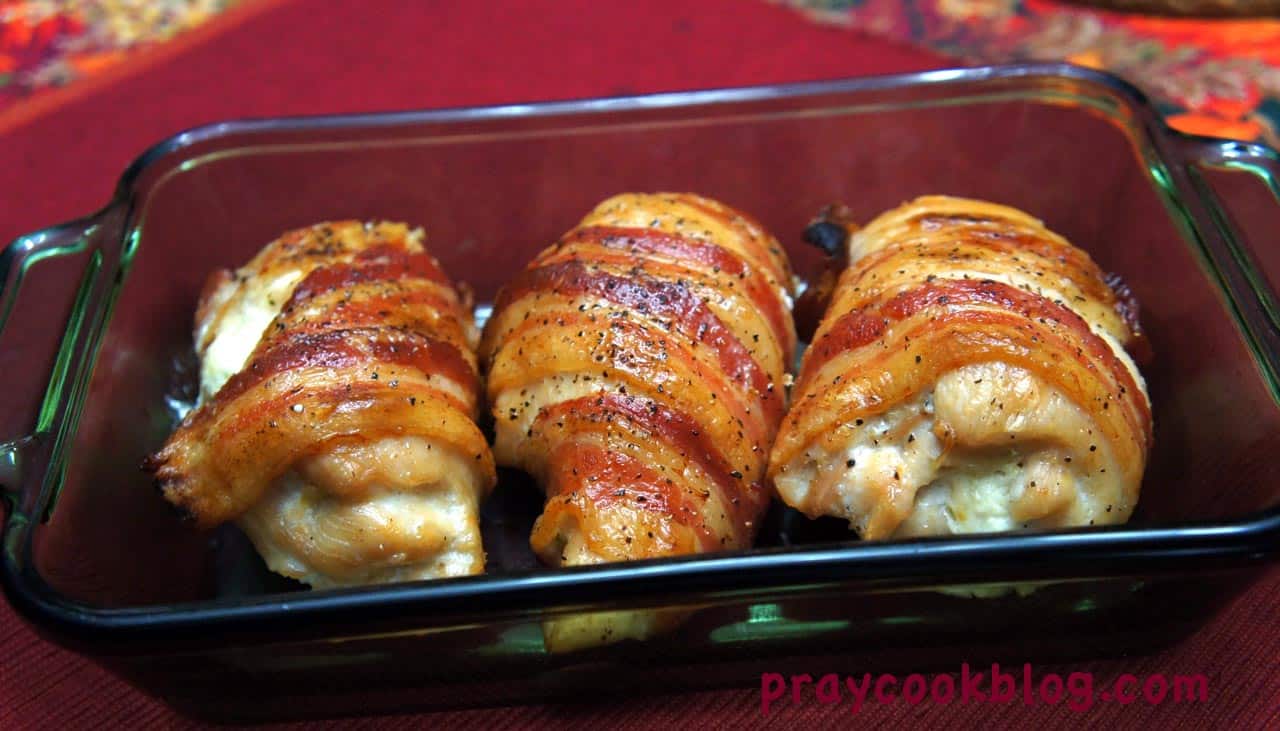 An easy, but elegant main dish! The chicken is moist, the flavor superb and the bacon a perfect wrapping!
Ingredients
2 Boneless skinless chicken breast
4 tablespoons cream cheese
1/4 cup Pepperjack cheese, shredded
2 tablespoons green onion, chopped
4 to 8 pieces of bacon
Directions
Cut chicken into 4 equal size pieces. Pound breast so it is about 1/4" thick.
Mix together softened cream cheese, chopped green onions and shredded pepperjack cheese. Put 1/4 of this mixture into the middle of each piece of chicken.
Starting at the long side, roll chicken breast up, keeping the cheese mixture to the middle.
Wrap 1 to 2 slices of bacon around the chicken breast, secure with toothpick, if needed.
Place on baking sheet and back for 30 minutes at 375 degrees F.
Broil topside for about 5 minutes to fully brown and crisp bacon. Turn each breast over and broil for another 3 minutes or so to crisp up the bottom side.
Serve immediately.
Notes
* One piece of bacon wrapped around each breast is enough. But 2 pieces of bacon for each breast fully wraps the chicken and is outstanding as well.
http://praycookblog.com/2013/11/13/bacon-wrapped-cream-cheese-stuffed-chicken-breast/
My Daily Bread Body and Soul. Full Post Content including Recipe @http://praycookblog.com. Pinning and sharing links is welcomed and encouraged, but please do not repost or republish elsewhere such as other blogs, websites, or forums without explicit prior permission. Thank you! All rights reserved.