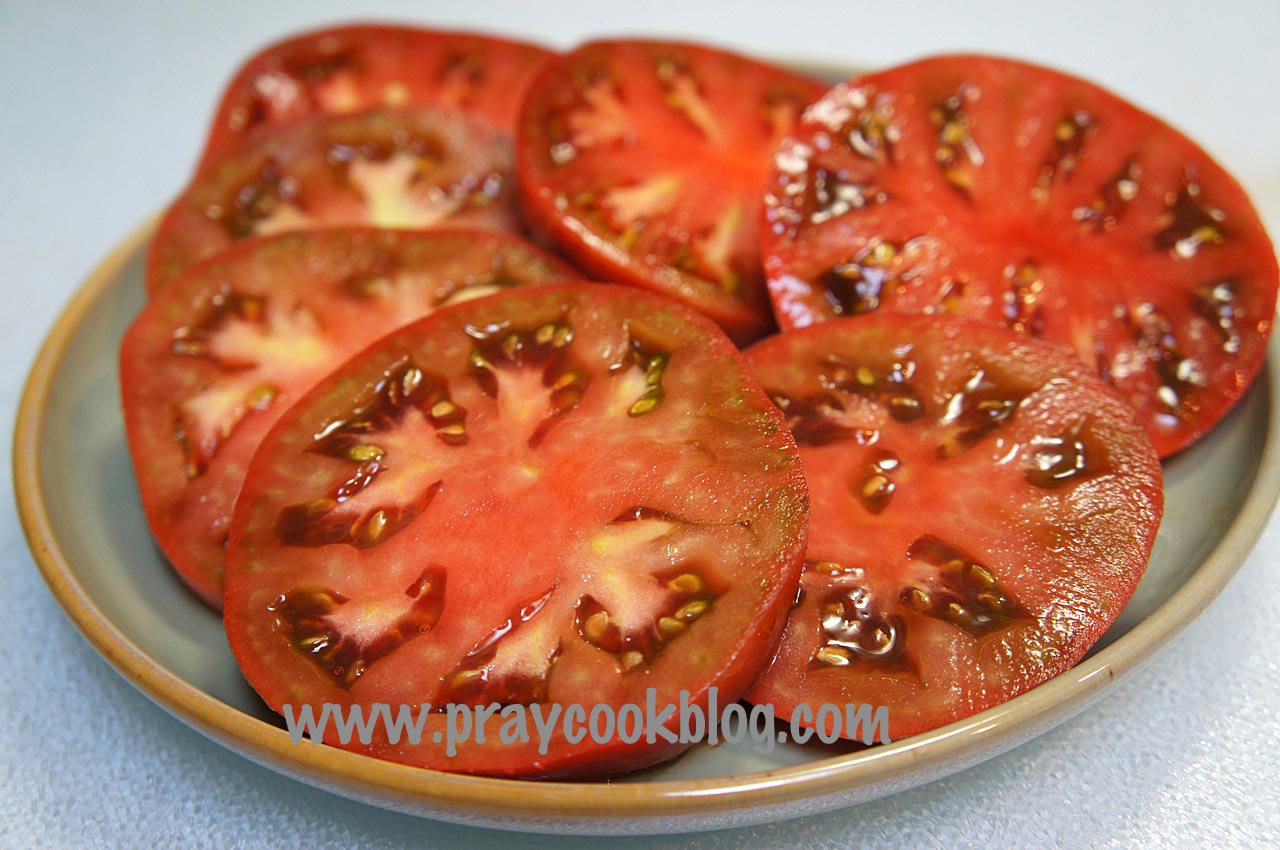 Are you getting your fill of  fresh cucumbers yet? How about some straight-from-the- garden tomatoes? If you haven't been feasting on these summer delights I encourage you to look for a local farmers market and take advantage of getting the produce right from the garden. One of my favorite canning and freezing sites is PickYourOwn.org.  This website is loaded with all kinds of good information including a state by state map listing local farmers markets and places you can pick your own fruits and veggies.  This year the Chief and all-around gardener, planted Purple Heirloom tomatoes for the first time.  Heirloom tomatoes lack a genetic mutation that gives tomatoes the appealing uniform red color while sacrificing the fruit's sweet taste. They truly look a little strange with their dark purplish skin inside and out, but one bite chases away all thoughts of color.  Instead, the intense garden fresh flavor takes over and one wonders why one would ever eat any other kind of tomato!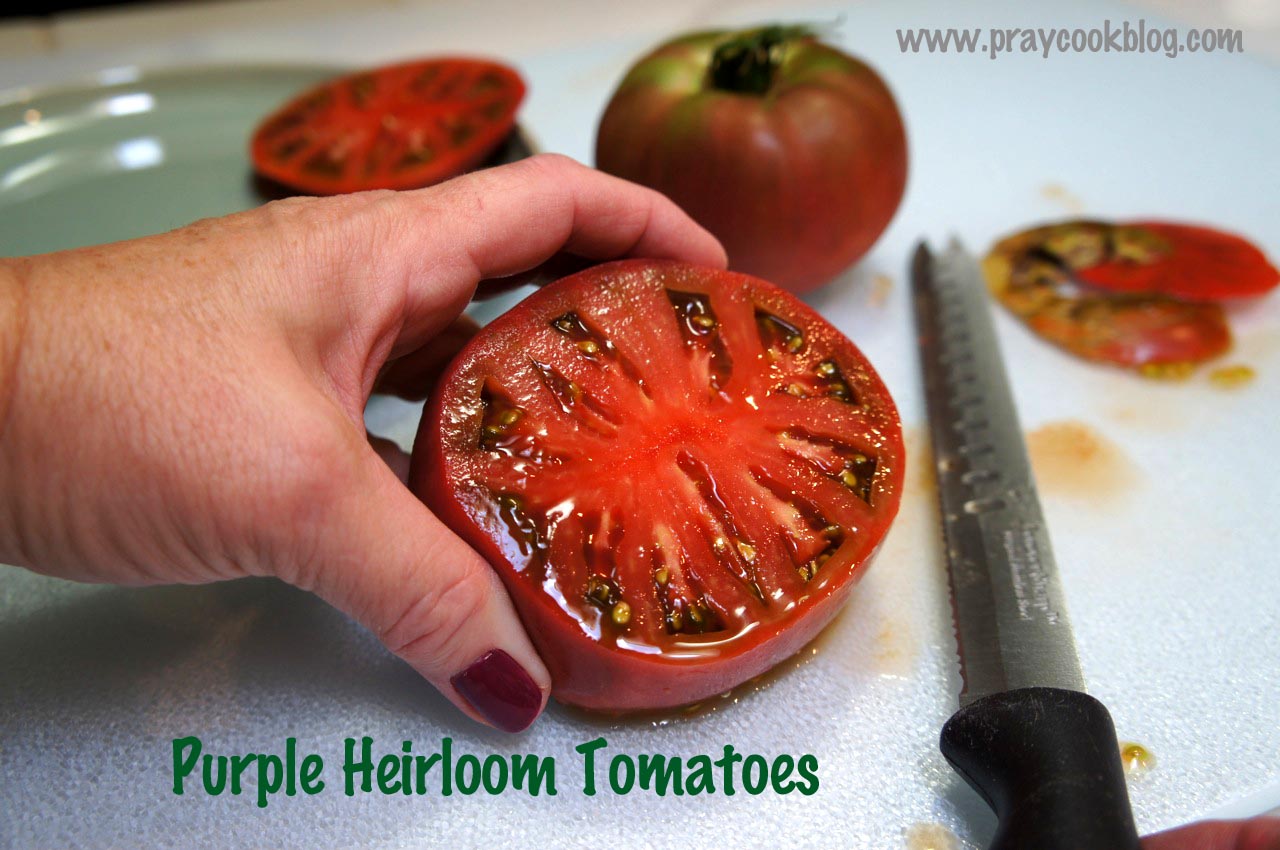 Just from one slice you can easily see the juice of this tomato.  Heirlooms are mostly only found locally.  Because they are not hybrid tomatoes the skin is thinner than the skin of hot-house tomatoes making transporting them more difficult.  They also have a shorter shelf life of 3 to 5 days, unlike hot-house tomatoes that are picked green, shipped and sometimes not eaten for 3 to 4 weeks!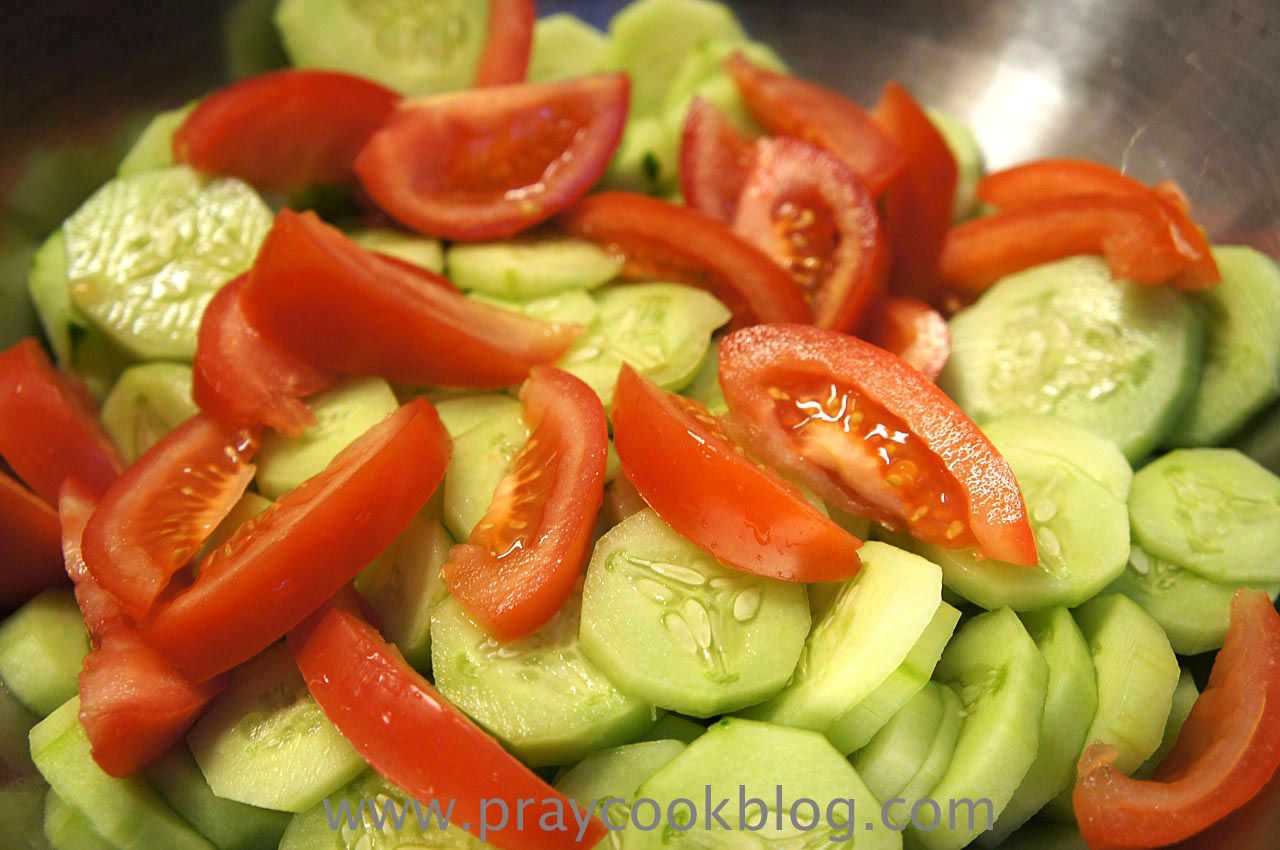 Before our tomatoes ripened I purchased these "vine-ripened" tomatoes to make this cucumber tomato salad.  Our garden cucumbers were growing crazy but the tomatoes weren't quite ready.  Even then, this salad turned out to be one of the best we have had this summer.  My sous-chef dish-washing mom loves cucumbers but they don't always love her.  However, when I soak them in salt water for several hours first, she is able to eat them with no problem.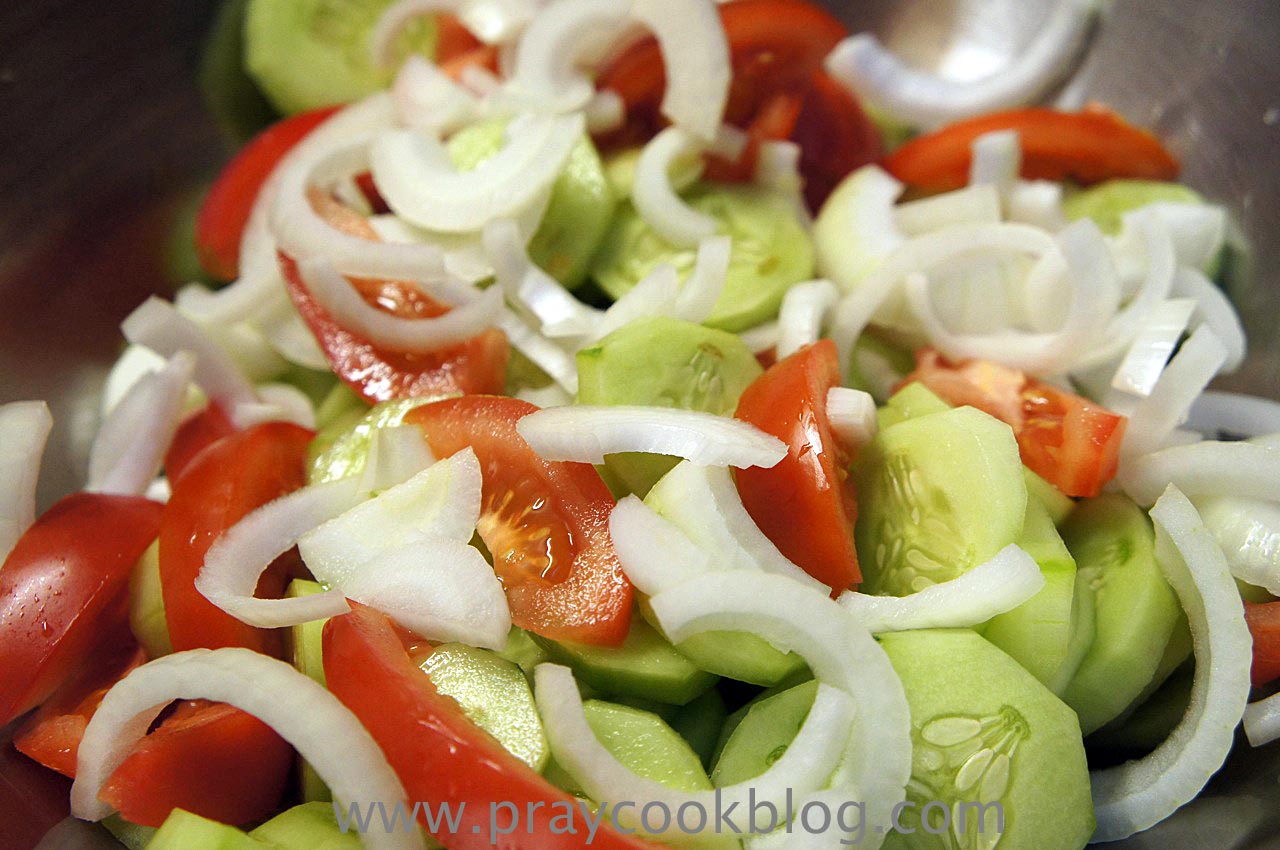 After soaking the cucs I tossed them with the tomatoes and sweet onions.  Aren't they pretty?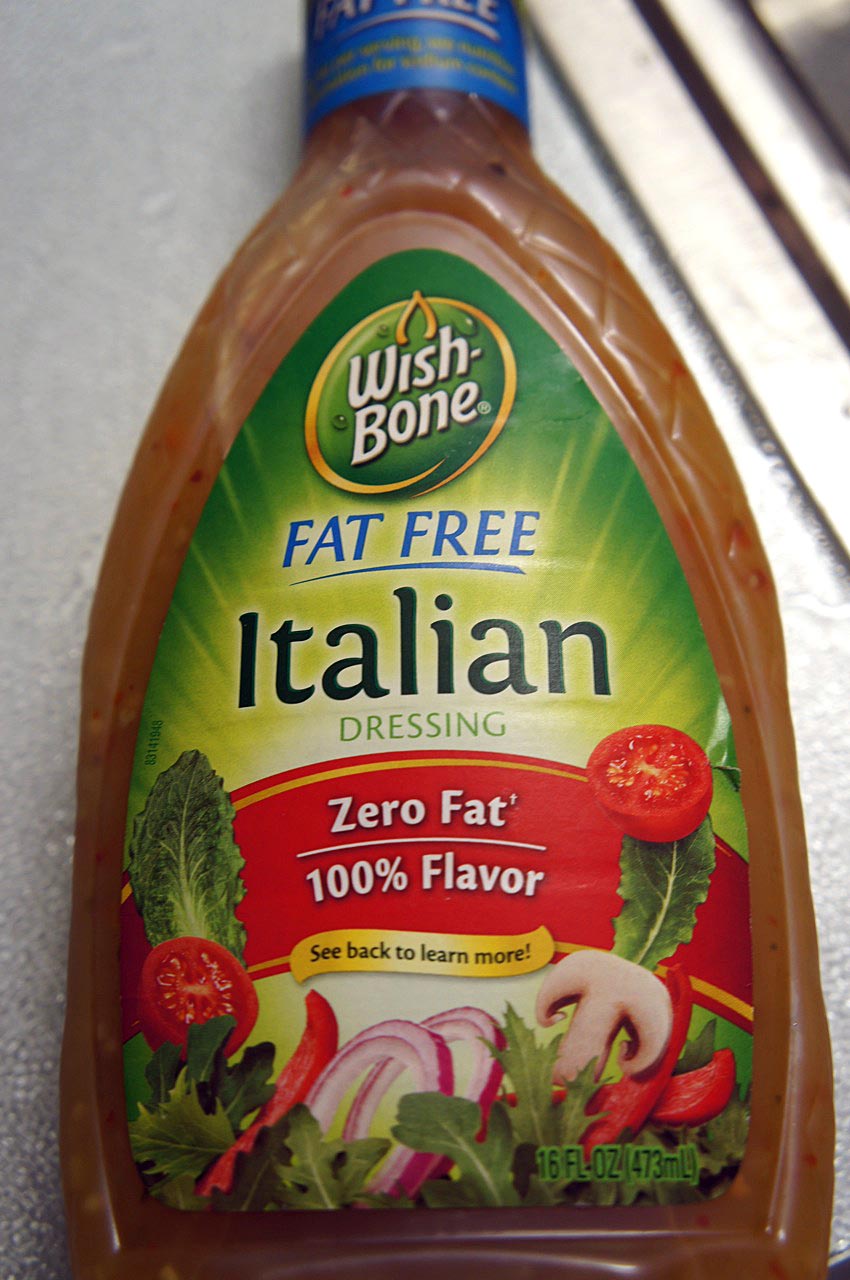 This is when the recipe gets really easy.  I added some of my favorite aged balsamic vinegar to this Italian dressing and a sprinkle of sugar.  The result is a mighty tasty zesty Italian flavoring perfectly fit to dress the cucs, onions, and tomatoes fresh from the garden.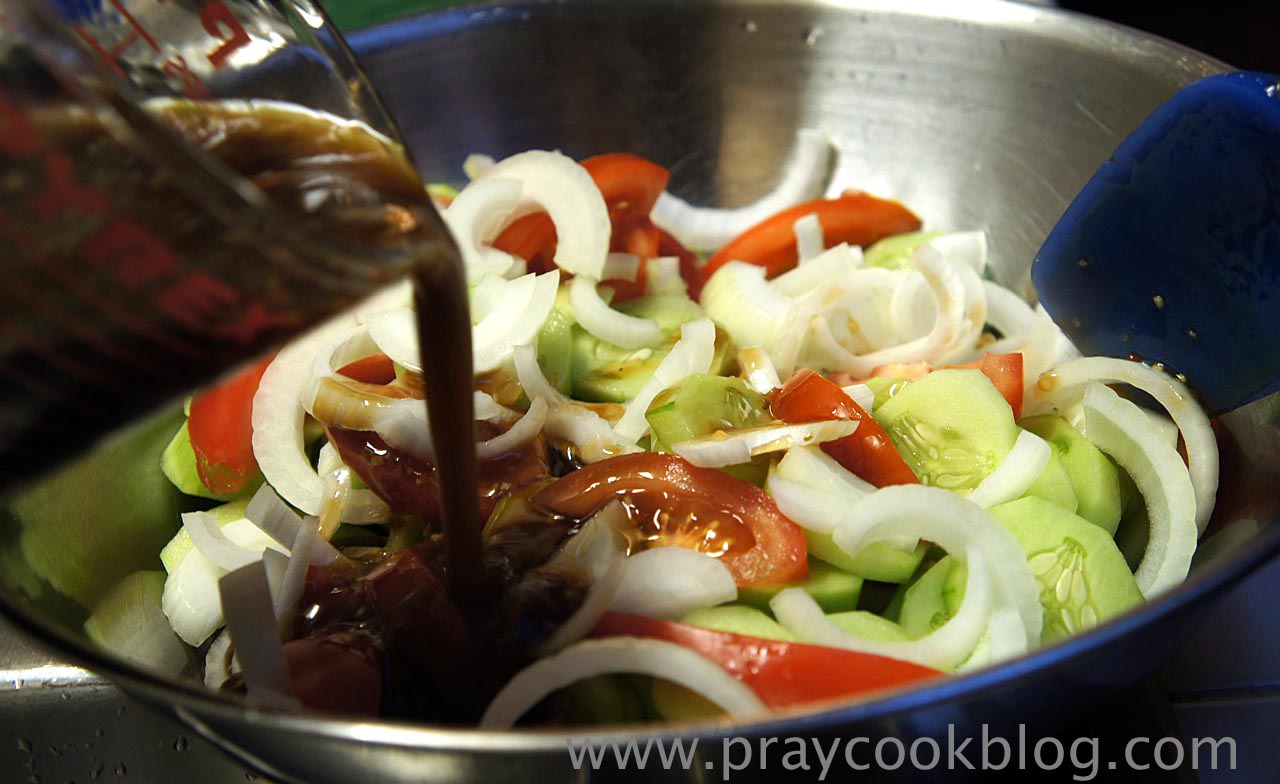 Hurry to the garden, your neighbor's garden (!) or the farmer's market – these veggies are just waiting for you!
PRINT from my Tasty Kitchen Recipe Box

Walk Through The Bible In One Year
Week 25 reading plan Psalm 119 through 150
Click on the colored link to read each day's scripture.
Monday Psalm 119:1-88, Tuesday Psalm 119:89-176,
Wednesday Psalm 120-125, Thursday Psalm 126-132,
Friday Psalm 133-139, Saturday Psalm 140-145,
Sunday Psalm 146-150.
Psalm 145:1-2  A psalm of praise. Of David.
I will exalt you, my God the King;
I will praise your name for ever and ever.
Every day I will praise you
and extol your name for ever and ever.
~ Blessings, Catherine