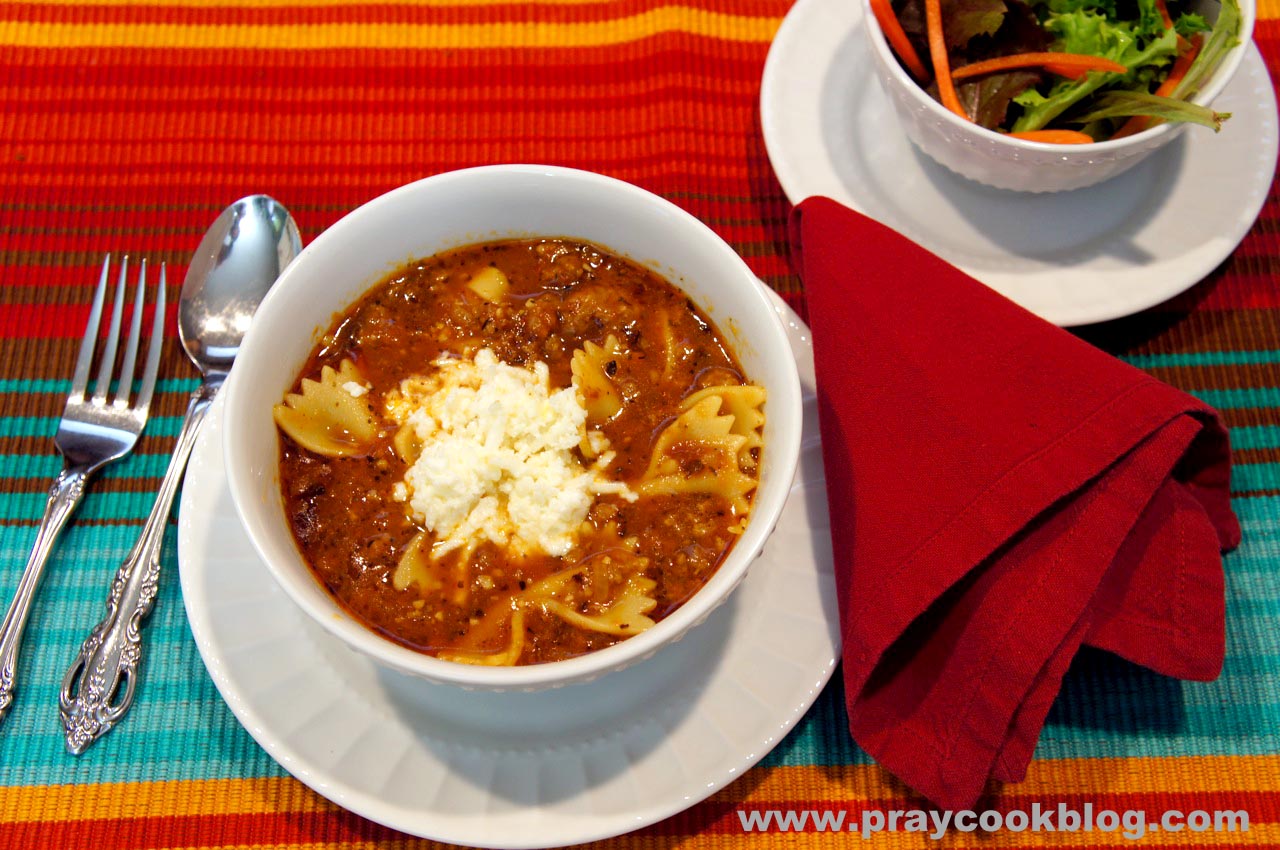 It is soup season and I am dedicating this recipe and blog post to my sons, Cory and Chris.  When they were little guys, often times I would make Lasagna when we were having company.  After all, I usually needed something to make ahead of time and feed a crowd. Both criteria for company's coming!  As the boys grew into young men when I asked "what would you like me to make?" when they were coming home for a day or two, lasagna always made the short list.  Today, both of them cook for their families and they will be surprised at how good this soup is.  It is faster and easier than making lasagna casserole and it makes a big pot!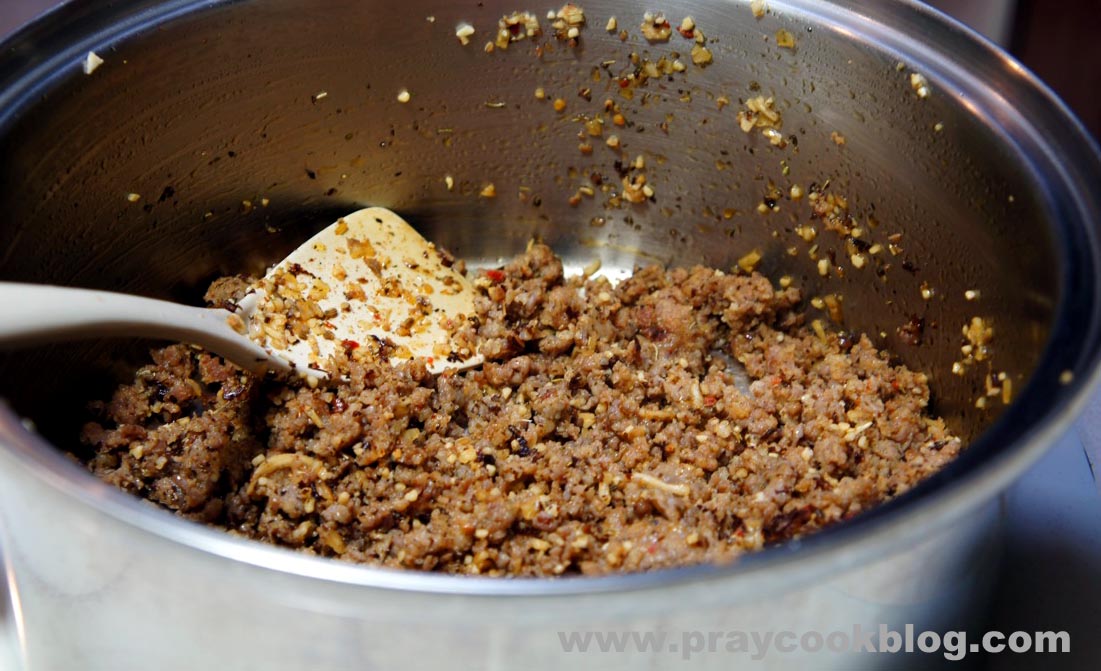 Honestly, I never would have thought of lasagna soup except that I saw such a listing on Tasty Kitchen.  While my soup only slightly resembles the recipes you can find there, it is worth looking them up.  I read through several and then began making this soup with the ingredients I use in lasagna, the casserole.
This means starting with Italian sausage.  I like to use some hot and some mild sausage, but in the case of this soup I went for all mild.  Next time I will mix it half and half.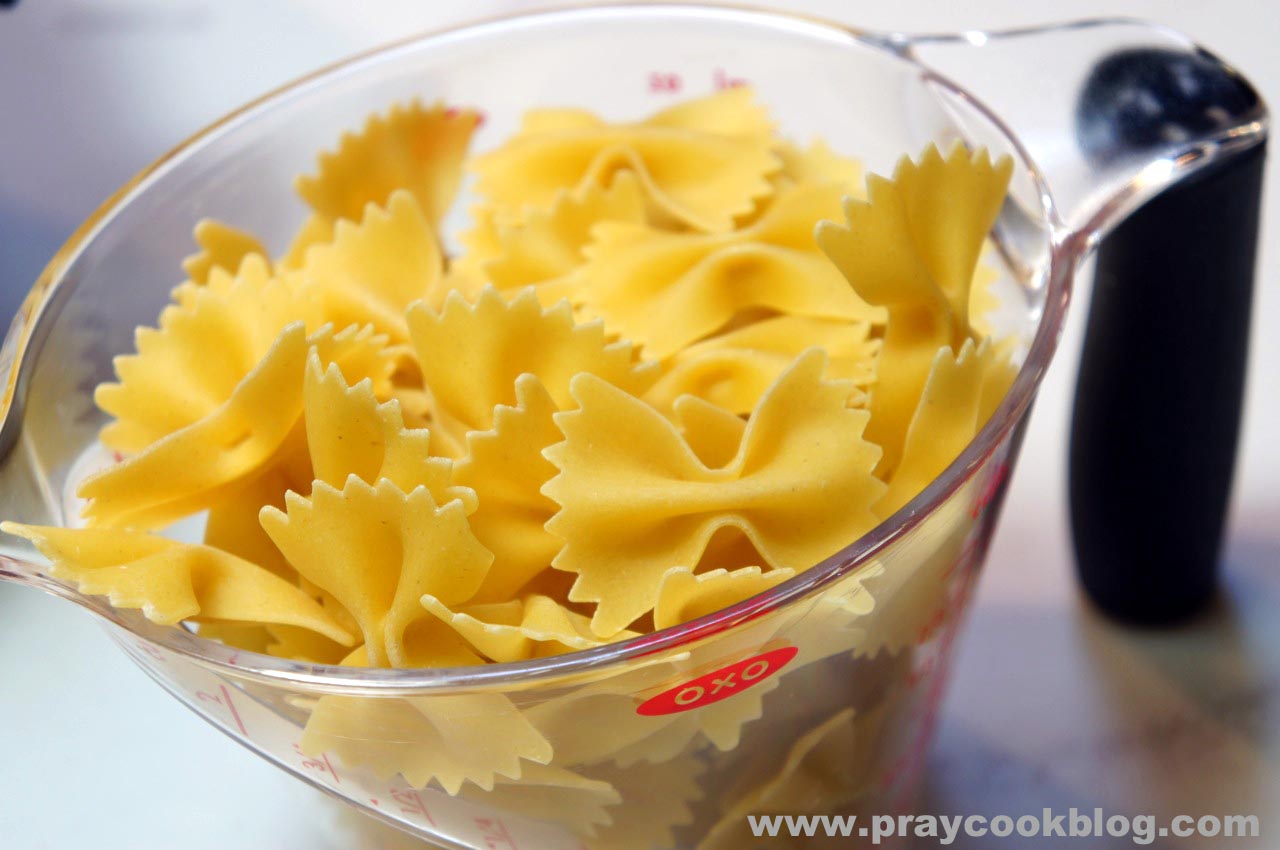 Into the pot I added onion, garlic, dried Italian seasoning, and a pinch of cayenne pepper.  Now here comes the good part — 4 cups marinara sauce, 2 cups tomato sauce and 8 cups chicken stock (bouillon.)  All this liquid will fill up your BIG pot.  Once this has simmered for about 30 minutes I added uncooked bowtie pasta. Walmart doesn't have a great selection of pasta and so bowtie was it.
In Italy the names of specific pasta shapes or types often vary with locale. For example the form cavatelli is known by 28 different names depending on region and town. Common forms of pasta include long shapes, short shapes, tubes, flat shapes and sheets, miniature soup shapes, filled or stuffed, and specialty or decorative shapes.  For this soup be as creative as your local shops will allow!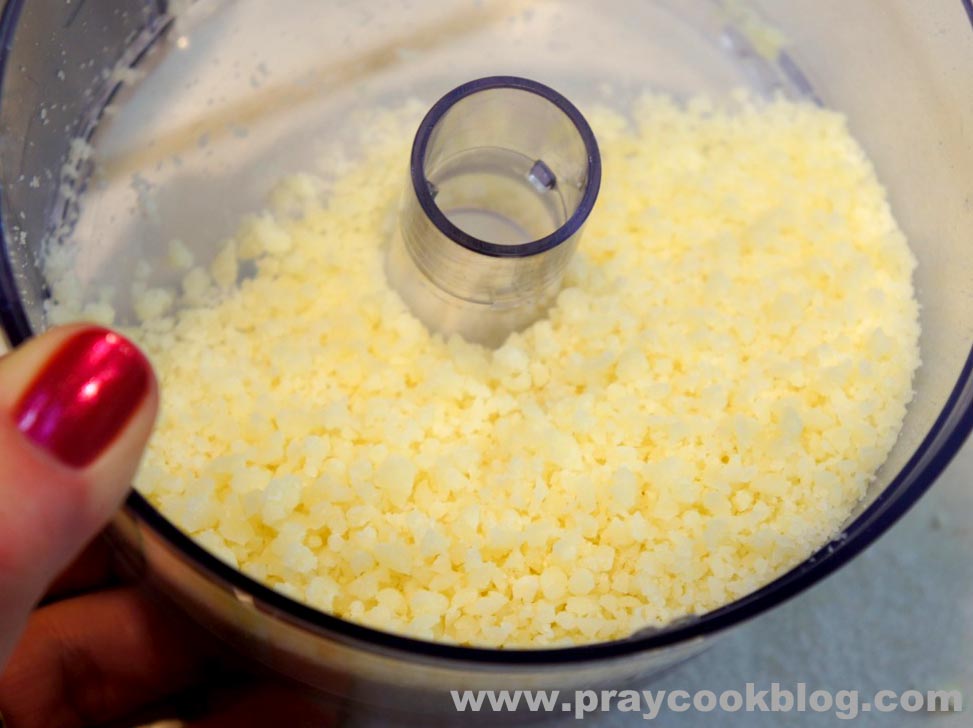 I'll bet you are wondering where and how cheese fits into this recipe — of course you already know since you saw the picture. 🙂  When making lasagna, the casserole, I use Ricotta, mozzarella and Pecorino Romano cheese blended together.  Pecorino Romano is kind of expensive and is optional.  However, I do think the flavor it adds is worth the grocery budget sacrifice.  Pecorino is a hard cheese, sold in little bricks and will need to be grated.  I like my little electric grater just for this purpose.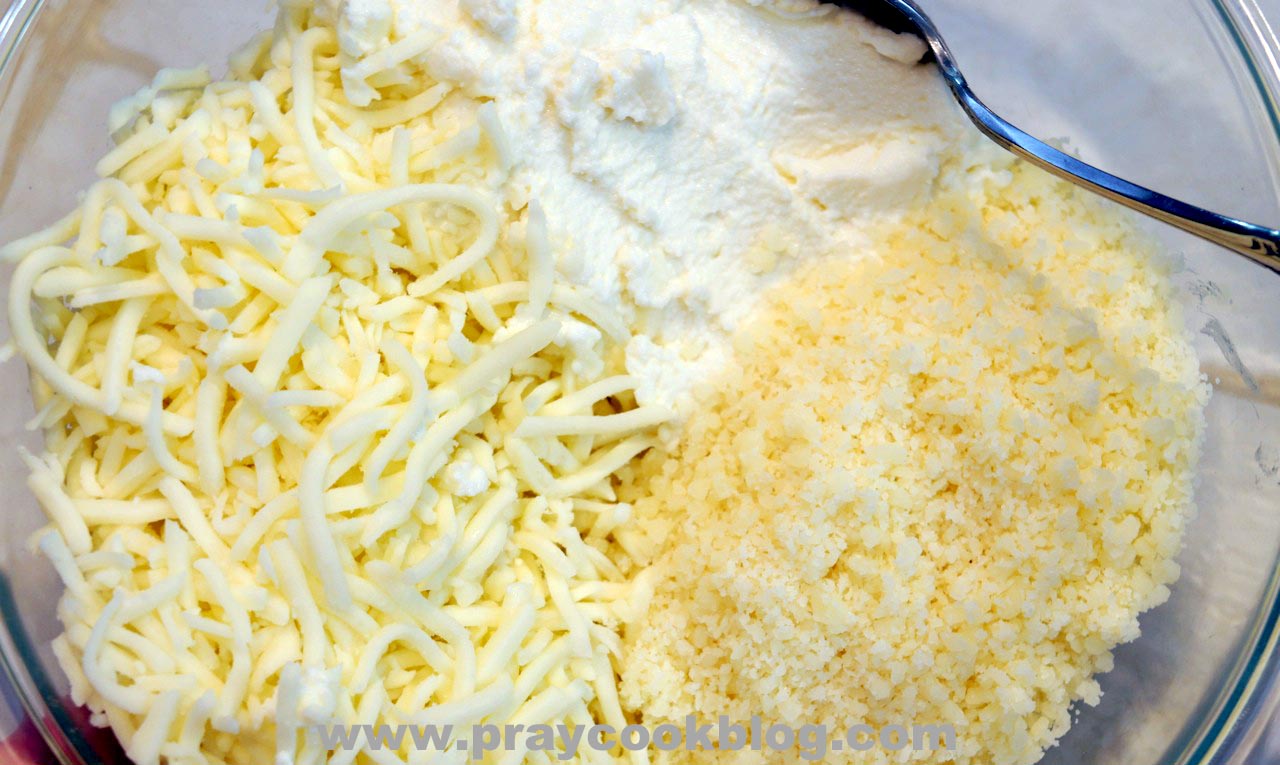 While the soup is simmering another 15 minutes, or until the pasta is done, I mix up the three cheeses.  This will be the crowning touch to our lasagna soup.

When the pasta is cooked al dente —  soups on!  This meal can easily be done from beginning to on-the-table within an hour.  A couple of tablespoons of the cheese mixture goes on top.  Yum!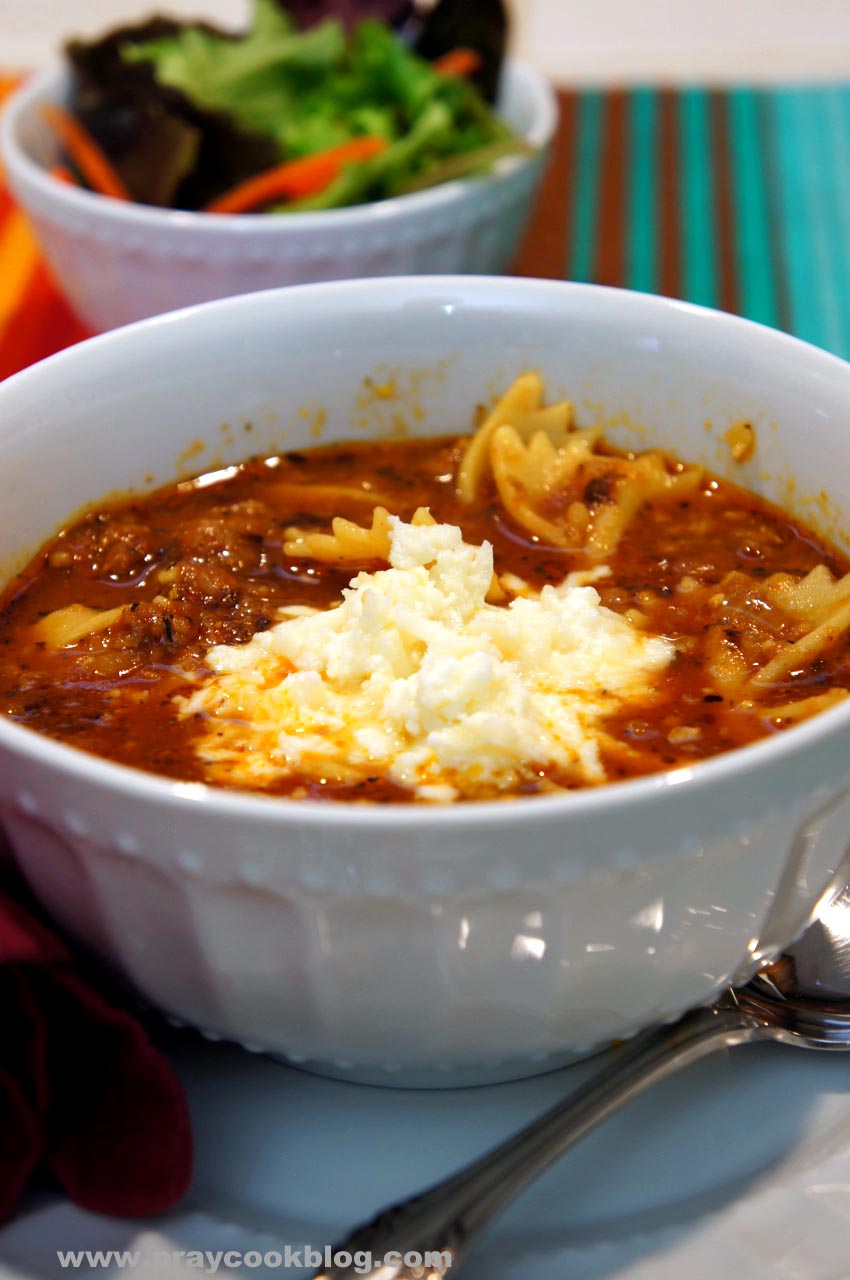 Serve with a nice green salad and some crusty bread.
A couple of notes:  I use a chicken bouillon paste that I get from Costco.  It is Better Than Bouillon, reduced sodium, organic, chicken base.  Some bouillon is just too salty for me and this one isn't.  It is also very tasty with seasonings such as onion, garlic and turmeric added.
This makes a big pot of soup.  The leftovers can be frozen for up to 2 months.  However, the cheese won't freeze well.  Mozzarella and Pecorino cheese freeze okay, but not Ricotta.
Once the soup cools it will thicken.  Don't worry, next time you heat it up just add water, bouillon or tomato juice to thin it.  It won't diminish the flavor at all and you can thin it to your liking.
We ate the leftovers 3 times (yikes) over a period of 2 weeks and every time it seemed even better than the last.  The cheese has remained fresh in the refrigerator.
Boys — make this soon, you will love it!
A Taste of Italy Lasagna Soup recipe can be viewed and PRINTED from my Tasty Kitchen recipe box.
Buon Appetito!
~Blessings, Catherine