Walk Through The Bible In One Year
Week 22 reading plan Psalm 1 through 39
Click on the colored link to read each day's scripture.
Monday Psalm 1-9, Tuesday Psalm 10-17,
Wednesday Psalm 18, Thursday Psalm 19-22,
Friday Psalm 23-29, Saturday Psalm 30-34,
Sunday Psalm 35-39
I hope you had a happy and blessed weekend.  We sure did.  My step-son Michael, granddaughter Tayler, and grand-dog Mason, came from Tuscaloosa and we had a weekend full of lots of laughter and some fun in the kitchen! My next post will feature my 13-year old granddaughter helping in the kitchen.  Oh what fun it is to cook with kids.  They are so creative and willing to learn new things!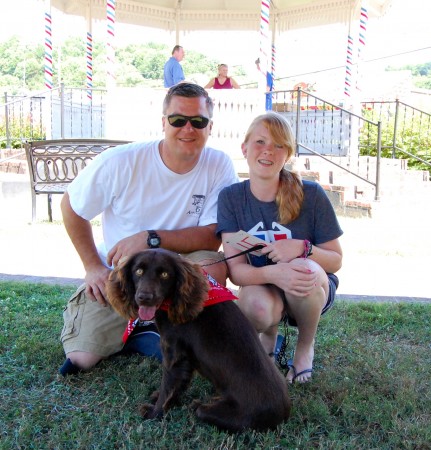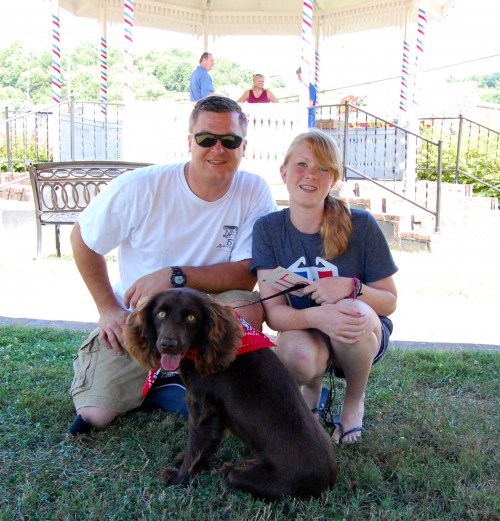 One of the un-expected highlights of the weekend turned out to be the Dog Contest at Frontier Days held in Lynchburg, TN.  Since Lynchburg is just a few miles up the road we decided to mosey down to the festival and see what it was all about.  Mason, a 1 year-old Boykin Spaniel, came right along with us.  He is the best-natured dog.  As we walked around the festival it was so fun to see little kids ask if they could pet him and then just drop to the ground to love on him.  He didn't mind a bit and tolerated it very well! All of this in preparation for his début dog show.  When it was his turn to strut across the contest gazebo stage he minded Tayler very well as she told him to sit, lay, and roll-over.  Okay, he didn't roll-over but it may have been a bit of stage fright!  All-in-all he and Tayler took home TWO awards!  The first being the dog with the largest ears and the second for the dog and owner look-alike contest! Tayler had no idea when she tied her naturally curly hair to the side that morning, that the judges would consider Mason's curly-haired ears and Tayler's curly hair to look-alike!  Tayler went home with $15 and Mason has two blue ribbons!  What fun!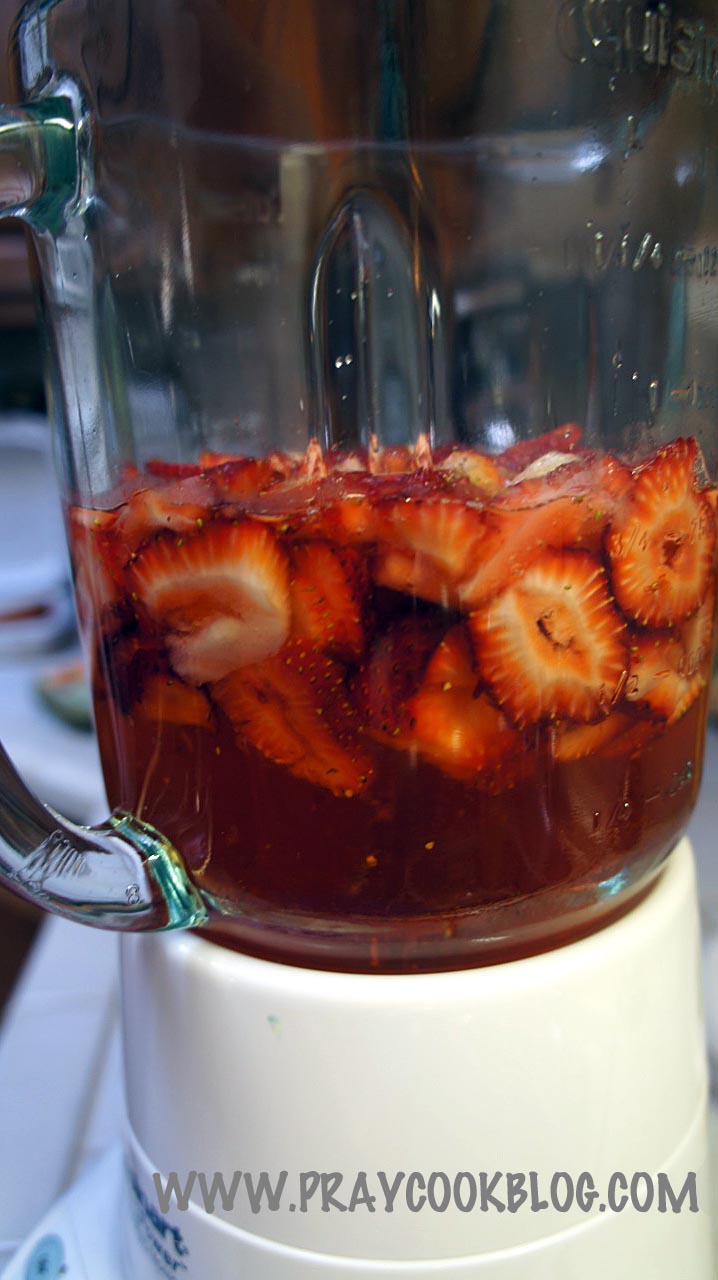 When we returned home everyone was especially thirsty and they were in luck as I gathered up the ingredients for a strawberry lemonade I had wanted to make.  The recipe is adapted from Food Network Magazine. You start the process by making a lemon syrup by zesting a lemon into strips, adding sugar and water and bringing to a boil. Once this cools the lemon is infused nicely into the simple syrup.  Lemon zest strips are then removed.
While it is cooling I made a strawberry syrup by tossing cut-up strawberries with sugar and letting it sit at room temperature for about 45 minutes.  The original recipe says to strain out the berries, reserving the strawberry syrup for the drink.  This is where I changed it up a bit.  I wanted to use the strawberries and not just the syrup.  I added the strawberries and syrup into the lemon syrup and gave it a good whirl in my blender.  This my friends made an outstanding strawberry-lemon syrup!
At this point I took 2 cups fresh lemon juice (from the juice of about 10 lemons), the strawberry/lemon syrup, a pinch of salt and 2 cups cold water and mixed in a pitcher.  For each drink I filled a glass full of ice and topped with the strawberry lemonade.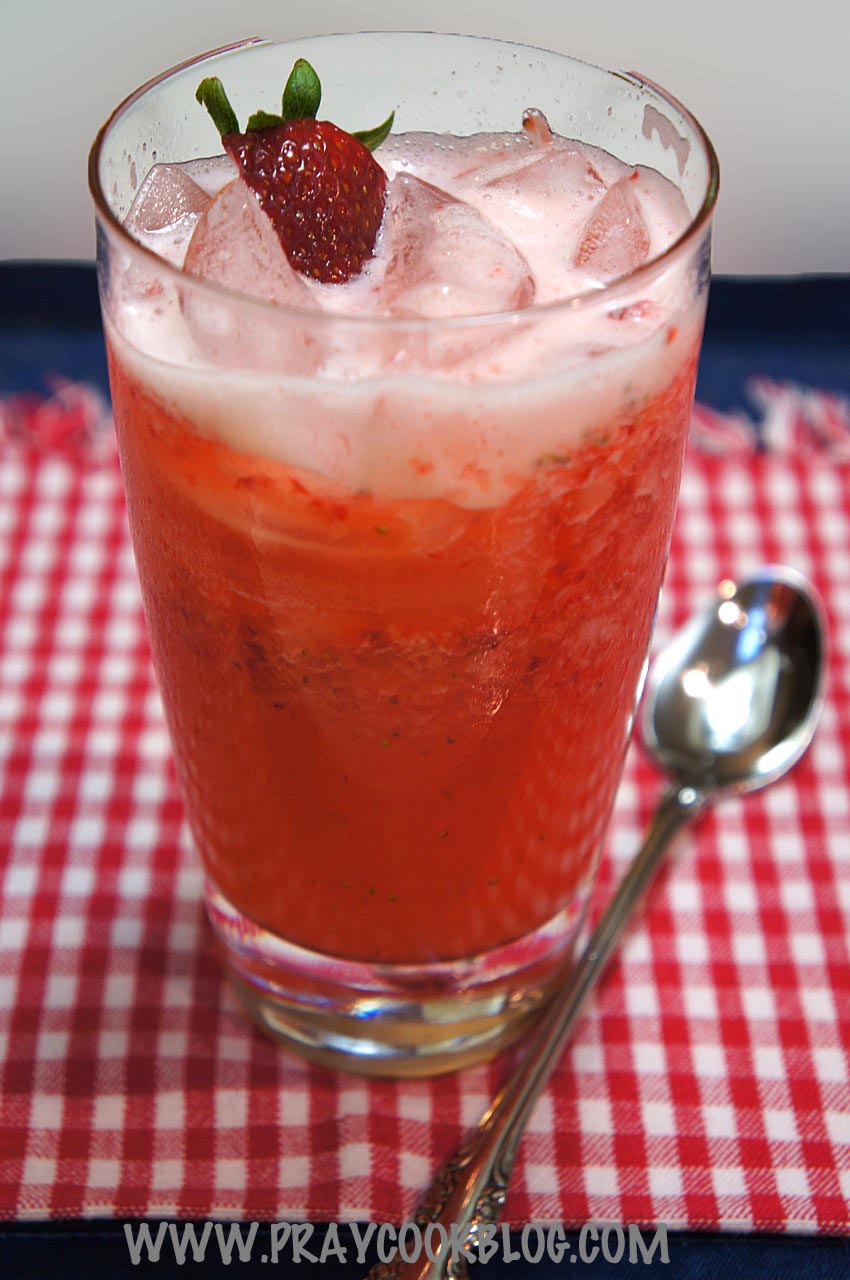 Now my Chief Culinary Consultant, also known as Grandpa Lee this weekend, was totally parched after spending time at Frontier Days in 98+ degree weather.  So Grandpa took the opportunity to crank his Almost-Famous Strawberry Lemonade up a notch with the addition of a splash of tequila.  He gave this Strawberry-Lemon Margarita two-thumbs up!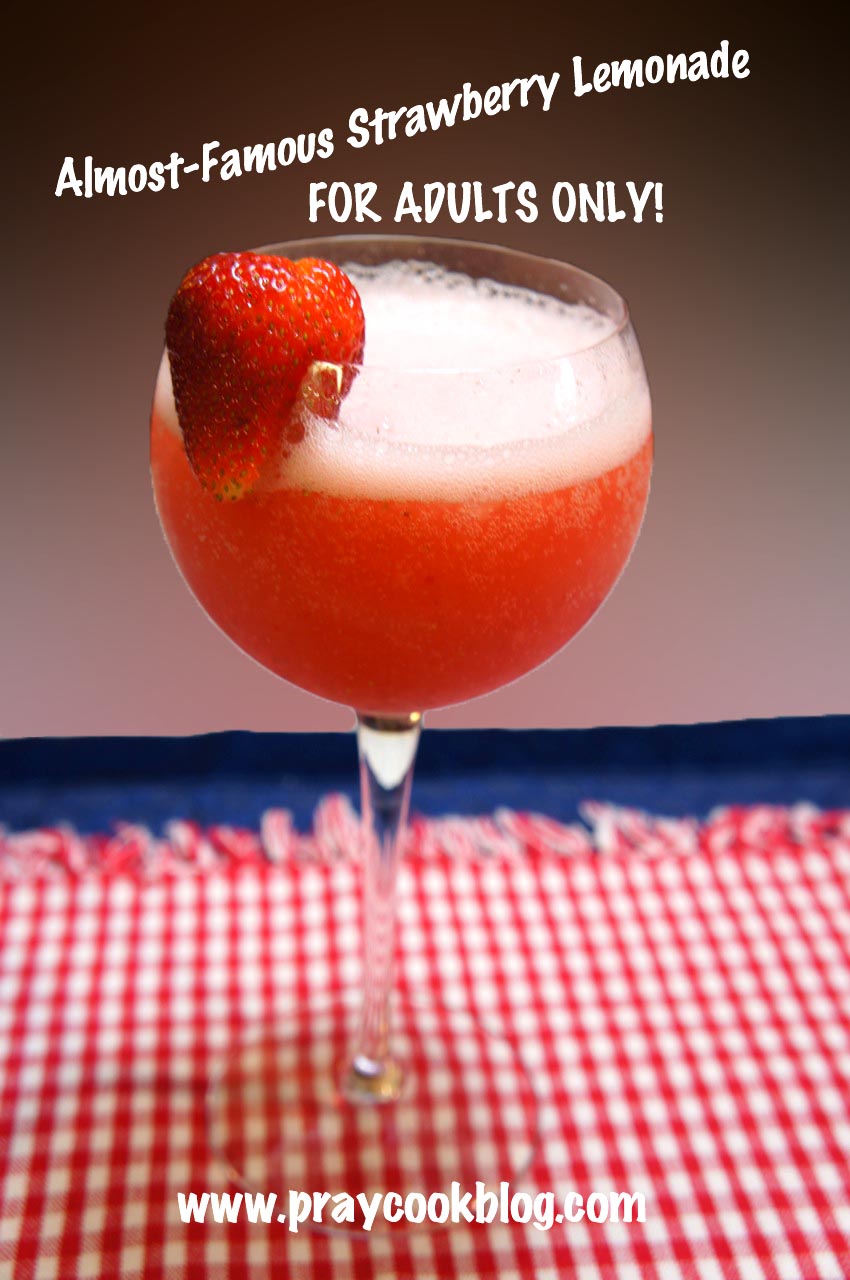 There are endless possibilities for making this drink to suit your taste.  Add less sugar for more tartness, add more sugar for sweetness.  Infuse mint leaves, serve with frozen strawberries and fewer ice cubes.  Or how about topping off with seltzer water to tingle your tongue?!  I will include the recipe at the end of today's post.  If you make this luscious drink please let us know how it turns out and how you make it to suit your taste!
A Few Tips About Lemons:
Lemon zest is the most aromatic and flavorful when first removed, so use immediately.
Lemon juice may be stored in a covered container in the refrigerator for a few days or else frozen in ice cube trays for future use. 
Always remove the zest first before halving and squeezing the lemon.
Thin, smooth skinned lemons at room temperature yield the most juice.
To extract the most juice first roll the lemon on a flat surface, exerting light pressure. This squashes the membranes.
Use a fine strainer to remove the seeds and pulp from the juice.
Thick, bumpy textured cold lemons give the maximum amount of zest.
Lemon zest, depending on its use, comes in many forms: long wide strips, julienne, or finely grated.  Use a potato peeler for strips, a zester for julienne, and a grater for finely grated zest.
When removing the outer rind (zest) do not remove the white pith, which is very bitter and inedible.
Many Blessings and Happy Cooking!   ~ Catherine

Almost-Famous Strawberry Lemonade
This luscious fruity summer-time drink is perfect for the thirsty folks in your home!
Author:
Adapted from Food Network Magazine
Ingredients
Zest of 1 lemon, cut into strips
2 cup Granulated Sugar
2 cup Chopped, hulled Strawberries
2 cup Fresh Lemon Juice
¼ teaspoon Salt
Instructions
Make the lemon syrup: Bring the lemon zest, 1½ cups sugar and 3 cups water to a boil in a microwaveable bowl. Stir to dissolve sugar. Cool to room temperature. Once cool remove lemon zest strips.

Make the strawberry syrup: Toss the strawberries and the remaining ½ cup sugar in a bowl and let sit at room temperature until the sugar dissolves; about 45 minutes.
In a blender combine lemon syrup and the strawberries in syrup. Blend well.
Make the lemonade: combine the fresh lemon juice, blended lemon/strawberry syrup, salt, and 2 cups cold water in a picture. Fill glass with ice and top with strawberry lemonade. Garnish with mint or fresh strawberry.
Notes
Add more water or less sugar for a taste that is more tart than sweet.
Fresh mint adds a nice garnish.