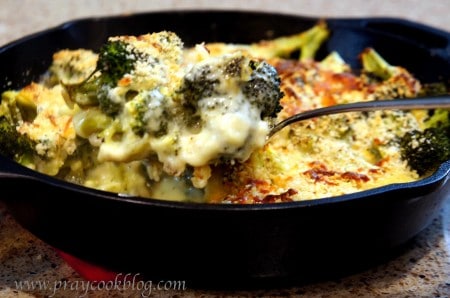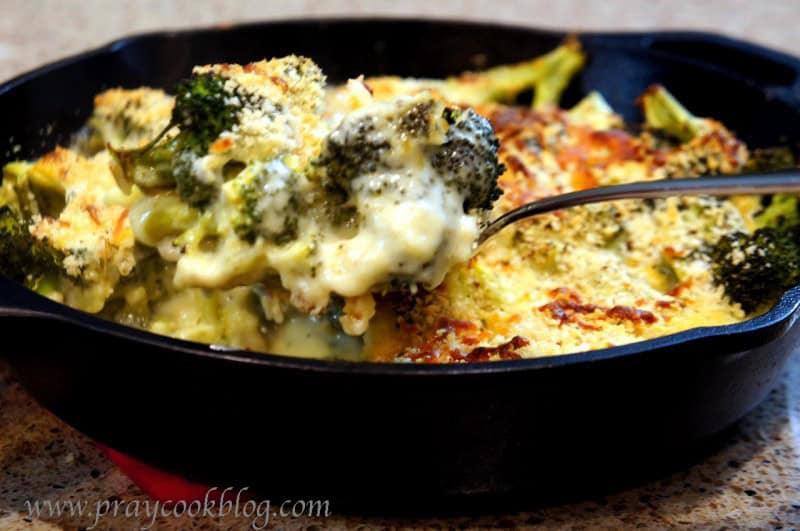 After a week of recipes like Tuesdays With Dorie Croissants and the Pioneer Women's Cinnamon Rolls I knew I better end on a healthy note or my faithful reader-son Cory, will definitely disown me!  Enter a lovely bag of fresh broccoli.  I love broccoli.  I think it just may be my favorite vegetable, as an adult.  As a child the only vegetable I would eat was green beans.  But when I was about 45 I grew up and started eating other vegetables.  Today my favorite — broccoli!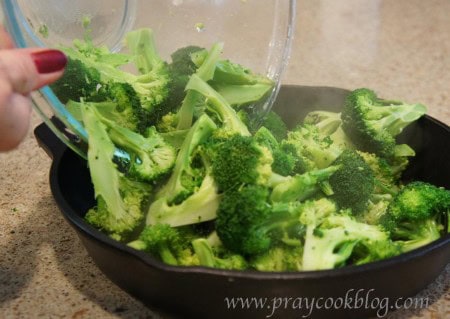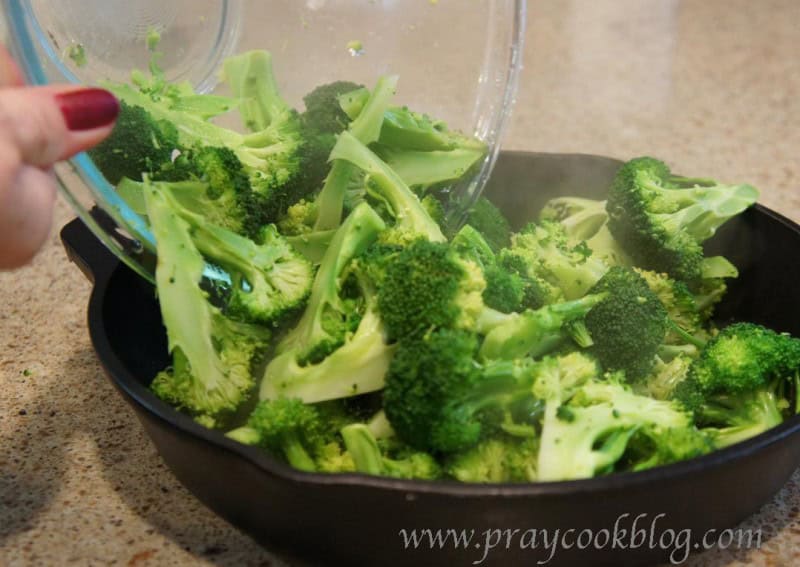 In the culinary arts, the term au gratin refers to a dish that is baked with a topping of seasoned breadcrumbs and cheese. The au gratin topping should be golden brown, which can be achieved by baking or by placing the dish under a broiler.  Au gratin — a perfect way to serve broccoli!!  Broccoli is a delicious side dish to so many meats and main dishes.  I started this colorful gratin by steaming the broccoli in the microwave. I like baking in a cast iron skillet but you can also use your favorite baking dish or casserole dish.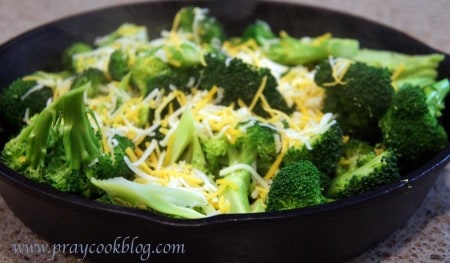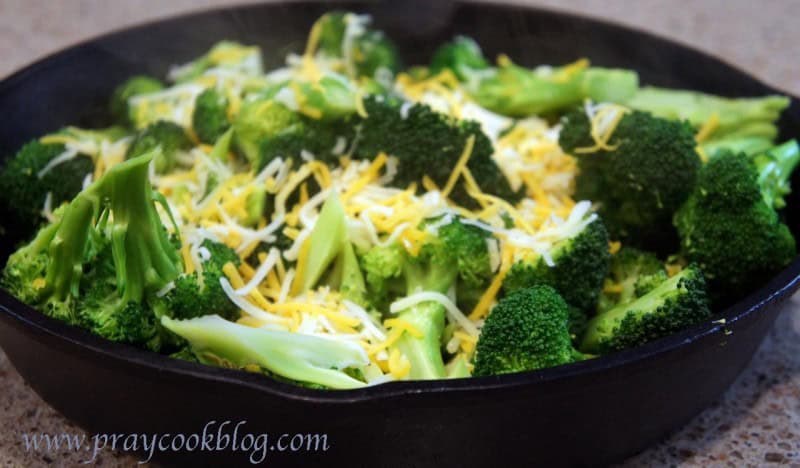 While the broccoli is steaming in the microwave I made a cheesy white sauce, reserving a bit of the cheese to sprinkle on the hot broccoli.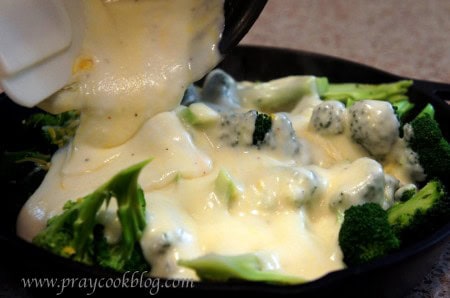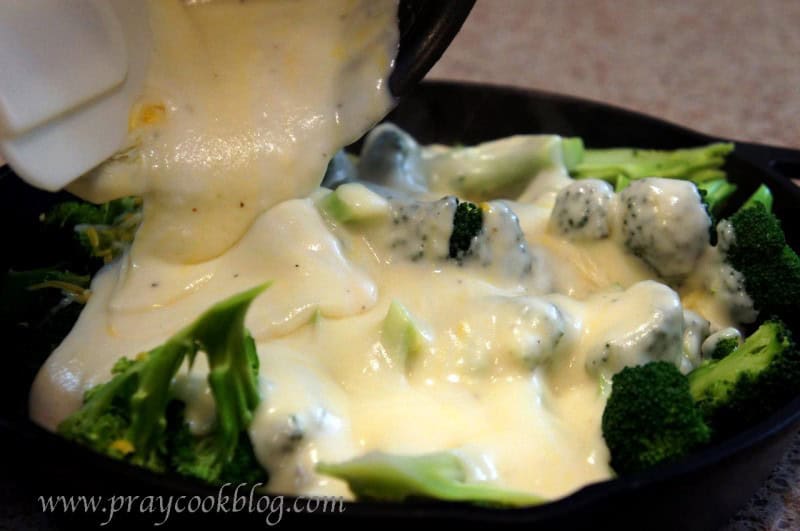 The cheesy white sauce is poured over the broccoli.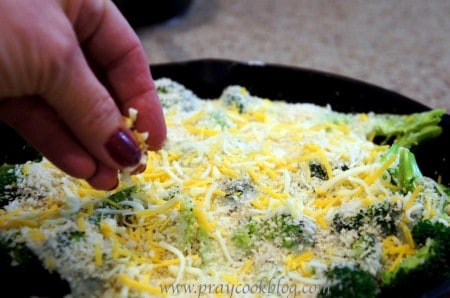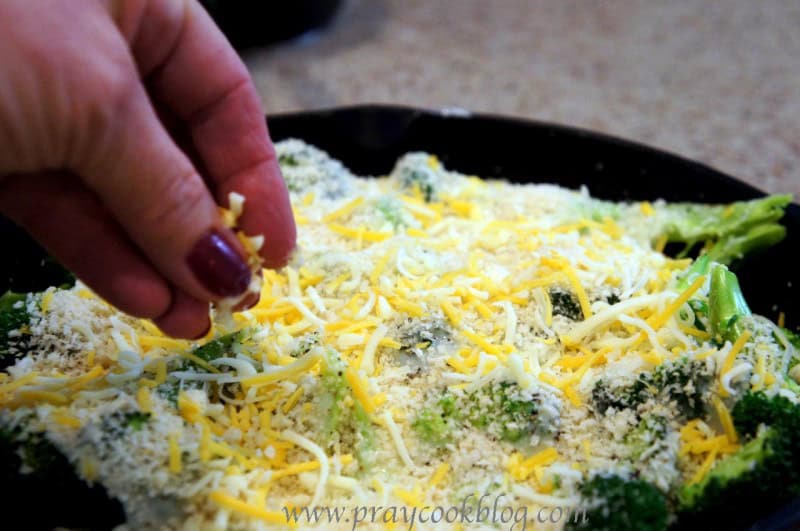 I adore Panko bread crumbs so I used a handful to make up the crunchy topping.  The gratin is baked until lightly browned and bubbly.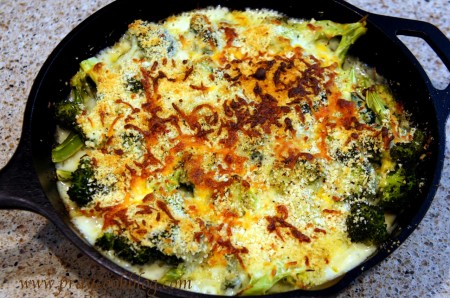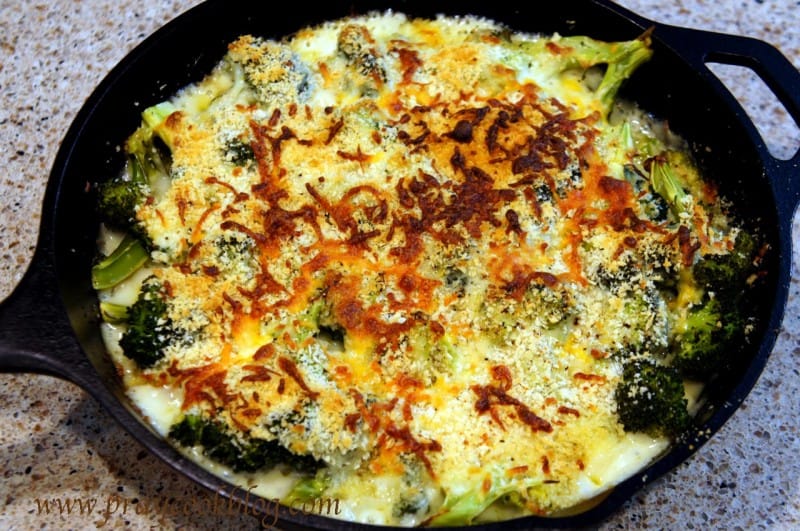 The nice part about using a cast iron skillet is it makes a fun serving dish as well.  From the oven to the table.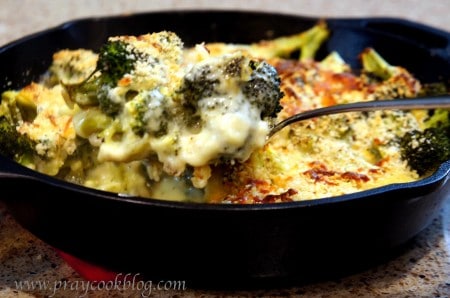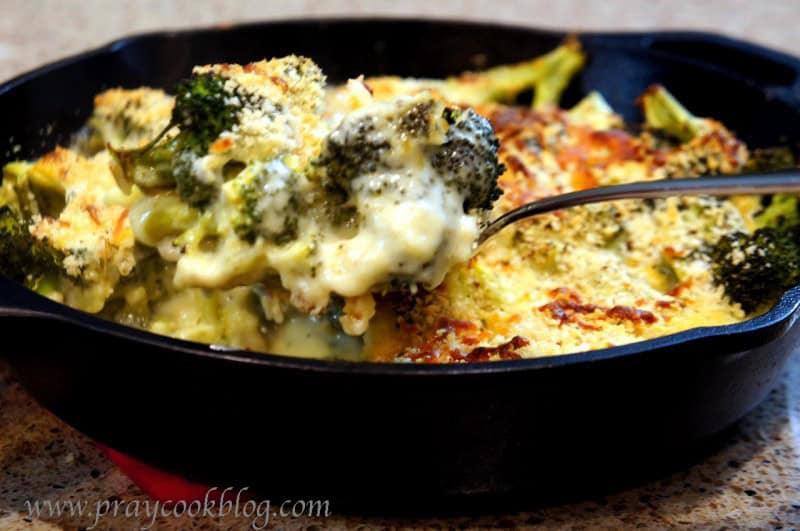 I adapted this recipe from Food Network Kitchens.  It is a keeper for me.  It can easily be made and on the table in less than an hour while finishing up any main dish.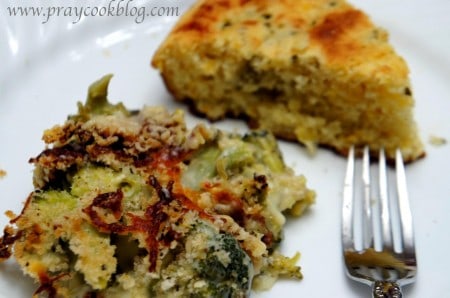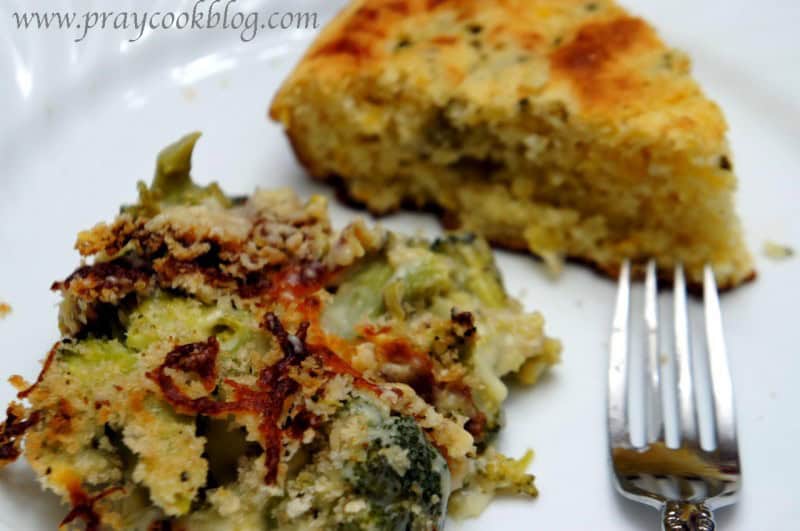 We like our broccoli tender-crisp and not mushy.  This recipe is easy to make without over-baking the broccoli.
What is your favorite broccoli recipe?  Please do-tell, I am always looking for tried and true recipes for this yummy vegetable!
~Blessings, Catherine


Broccoli au Gratin

Broccoli -- cheese -- Panko -- you will love this au gratin!

Ingredients
3 Tablespoons unsalted butter
3 Tablespoons all-purpose flour
1½ cups milk (2% or whole)
1½ teaspoons kosher salt
Freshly ground pepper, to taste
2 pounds broccoli (about 4 heads), cut into small florets (about 8 cups)
1 cup grated sharp cheddar
1 cup grated sharp and colby cheese, divided in half
½ cup Panko bread crumbs
Instructions
Place a rack in the middle of the oven and preheat to 425 degrees F. Spray canola oil in a 9" round cast iron skillet or 8" x 8" x 2" baking dish.
Melt 3 tablespoons of the butter in a medium saucepan over medium heat. Whisk in the flour until smooth. Cook, stirring, for 1 minute. Add the milk, sharp cheddar cheese and salt and bring to a low simmer while whisking constantly. Lower the heat and simmer, stirring occasionally, until the white sauce is thickened, about 10 minutes. Season with pepper to taste. Remove from heat.
Meanwhile, place the broccoli in a glass microwaveable dish and add ¼ cup water. Cover with microwaveable lid or plastic wrap. Microwave for 3 minutes. Drain off water.
Put the steamed broccoli in the prepared dish, sprinkle with the ½ cup sharp and colby cheese. Pour on the sauce. Sprinkle with remaining sharp and colby mixture.
Cover the gratin with the Panko bread crumbs. Bake until lightly browned and bubbly, about 20 minutes. Serve immediately.
Notes

Recipe adapted from Food Network Kitchens.