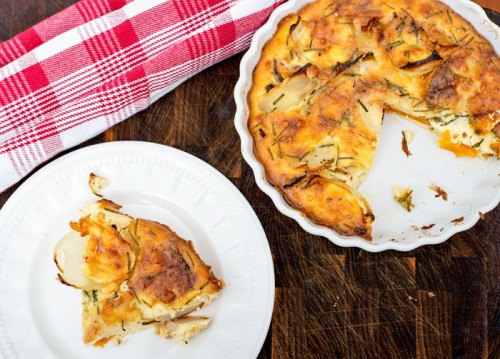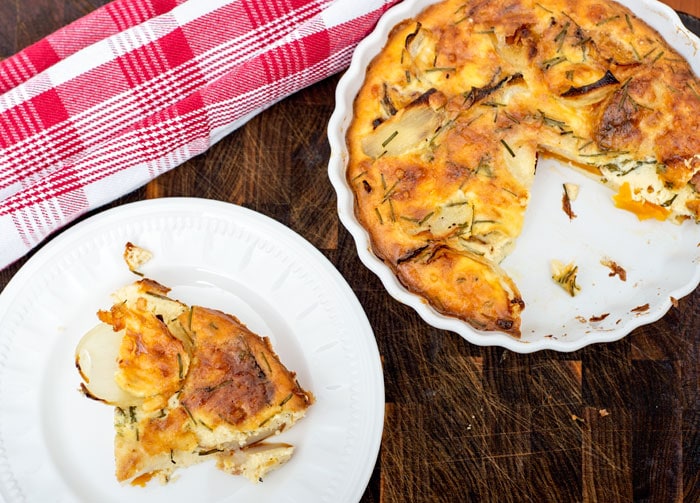 I know, you know, I never met a Quiche I didn't like.  So imagine my excitement when I saw this picture from Maureen at The Orgasmic Chef.  It is autumn in the United States and pumpkins and spice and all things nice are dancing in my head.  This includes butternut squash!
Maureen begins her blog post by saying, "The other day I was reading Chris Scheuers post about crustless mini-quiches. It was about 11am and I was determined to make one for lunch."    I just smiled when I read that because I am totally one of those "I want to make that NOW" kind of cooks.  Birds of a feather and all that.
But what really peaked my interest was the ingredient she listed as butternut squash with (pumpkin ) in parenthesis. In the USA butternut squash and pumpkin are two entirely different fruits.  (Ya, they are fruits.  We think of them as vegetables, but technically speaking … fruit.)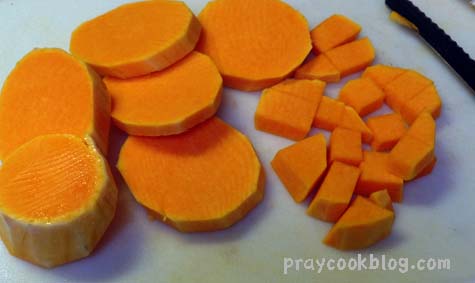 This butternut squash/pumpkin thing had me confused until I read this in wikipedia:  "although a fruit, butternut squash is used as a vegetable that can be roasted, toasted, puréed for soups, or mashed and used in casseroles, breads, and muffins. In Australia it is regarded as a pumpkin, and is used interchangeably with other types of pumpkin."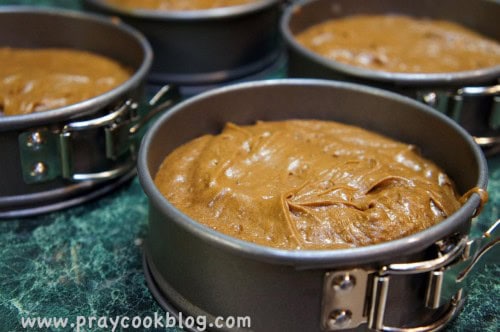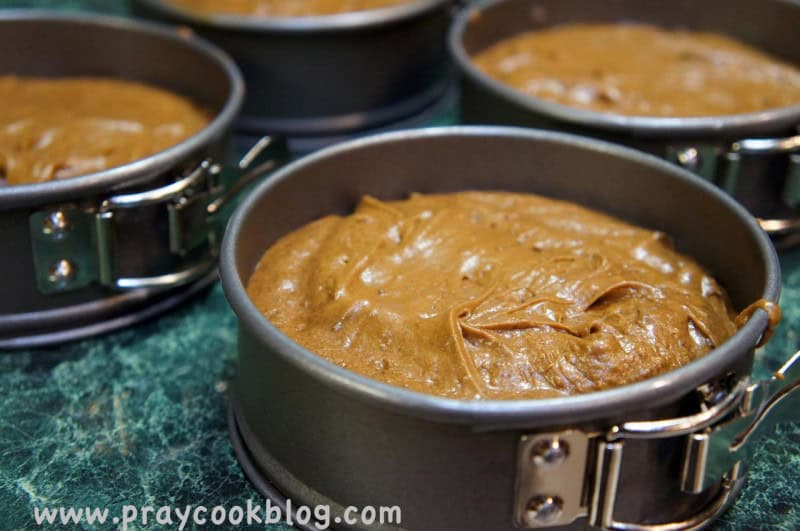 The key in this little explanation is AUSTRALIA.  Maureen is American born – living in Australia by marriage.  Now her comment makes more sense!
I followed Maureen's recipe  with a couple of exceptions.   I diced my vegetables quite small compared to hers so I could use my cute little 4 1/4″ springform pans so that I could plate these in 3 individual servings.  This picture is NOT the Quiche, I just want you to see my little pans.  These are Gingerbread Baby Cakes, but I digress.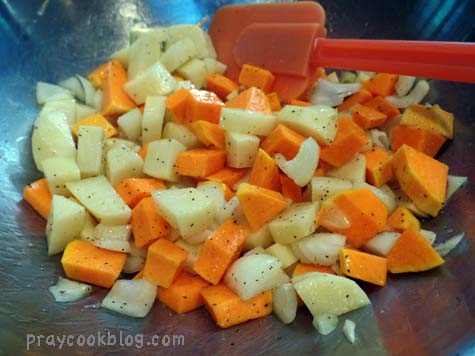 I added diced yellow and red pepper because I had some fresh from the farmer's market.  The last change came from using all cream instead of half cream and half yoghurt.  I only had "vanilla yoghurt" on hand that just didn't seem right.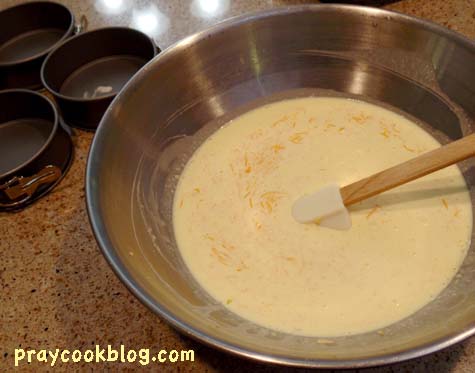 I liked the texture of the custard and so will probably stick with the cream in the future.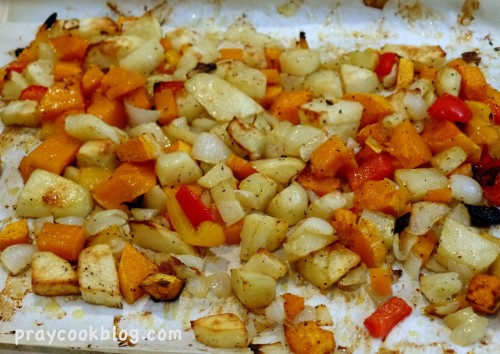 All-in-all a keeper recipe. Colorful, flavorful and the crustless part makes it low carb.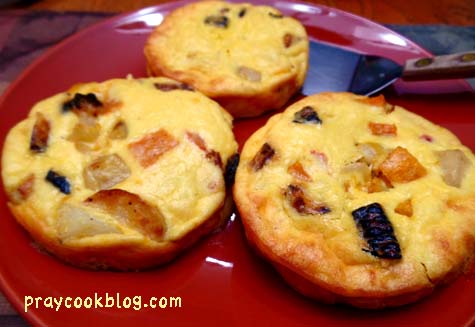 To say we "liked" this crustless Quiche is an understatement.  We really, really liked this Quiche.  All of us.  When I do it again I will dice the veggies just the same plus I can see other possibilities like adding some diced ham, or cooked chicken (oh yum) and even using Pepper Jack cheese.  Now that will just take this right over the top!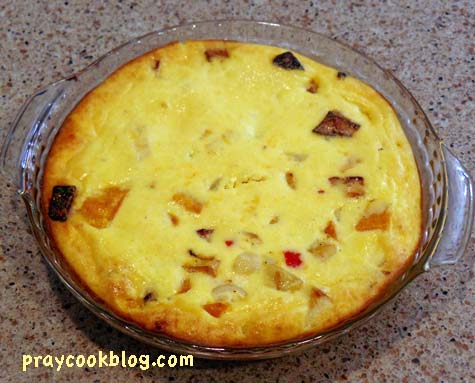 Another bonus for Quiche is that a few days in the refrigerator and the leftovers just get better and better.  I doubled the recipe listed below and had 4 mini quiches and one 9 1/2″ Quiche.
Whether brunch or lunch this Quiche is perfect for your weekend menu.  Just sayin.
Happy Baking!
~Catherine
btw – Maureen said this at the end of her blog post. "If you don't follow Chris and Scott over at The Café Sucre Farine, well, you're doing yourself a disservice. She's one of the sweetest people on the planet."
I immediately went to Chris' blog   The Café Sucre Farine to make friends with one of the sweetest people on the planet.  From her writing to her recipes and her heart for Jesus we made friends fast!  I hope you will stop by and say hi to Chris!  
Proverbs 13:20
"Whoever walks with the wise becomes wise,
but the companion of fools will suffer harm."
Butternut, Potato and Onion Crustless Quiche
Loaded with protein this low carb crustless quiche will put smiles on everyone as they enjoy the flavor and texture. A real keeper recipe!
Author:
Adapted by Catherine Daugherty
Recipe type:
Breakfast, Brunch, Light Dinner
Ingredients
1½ cups butternut squash, diced
¾ cup peeled and diced white potatoes
1 onion peeled and diced into pieces
¼ cup diced peppers, can use green, red, yellow, orange - or mixture
1 tablespoon cooking oil
salt and pepper to taste
3 eggs
1 cup cream*
¾ cup grated cheddar cheese*
Canola spray for quiche pan
Instructions
Preheat oven to 350F and line a baking sheet with paper
Place the diced butternut, potatoes, peppers and onions into a bowl. Add oil and stir to coat then place on the baking sheet. Sprinkle with salt and pepper. Roast until the vegetables are soft and just begin to take on some color. About 25 minutes, depending on size of vegetables.
While the vegetables are roasting, prepare the custard.
In a medium sized bowl, whisk the eggs, and cream. Salt and Pepper to taste.
When the vegetables are done, take out of the oven and cool for 10 minutes.
Spray the quiche pan with oil and place the vegetables at the bottom and sprinkle the cheese on top.
Pour custard over the vegetables leaving enough room for the egg mixture to expand.
Bake for about 40 minutes or until the center rises and then immediately remove it from the oven.
Let rest 5 minutes and serve!
Notes
½ cup plain yoghurt can be exchanged for half of the cream.
Cheese - your favorite cheese can replace the cheddar, such as Pepper Jack, Gruyere, a little Parmesan, or a mixture of your favorites. Experimenting with cheese can really change up the flavor in this quiche.

Recipe adapted from http://www.orgasmicchef.com/?s=butternut%2C+potato+and+onion+crustless+quiche