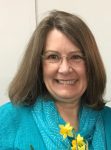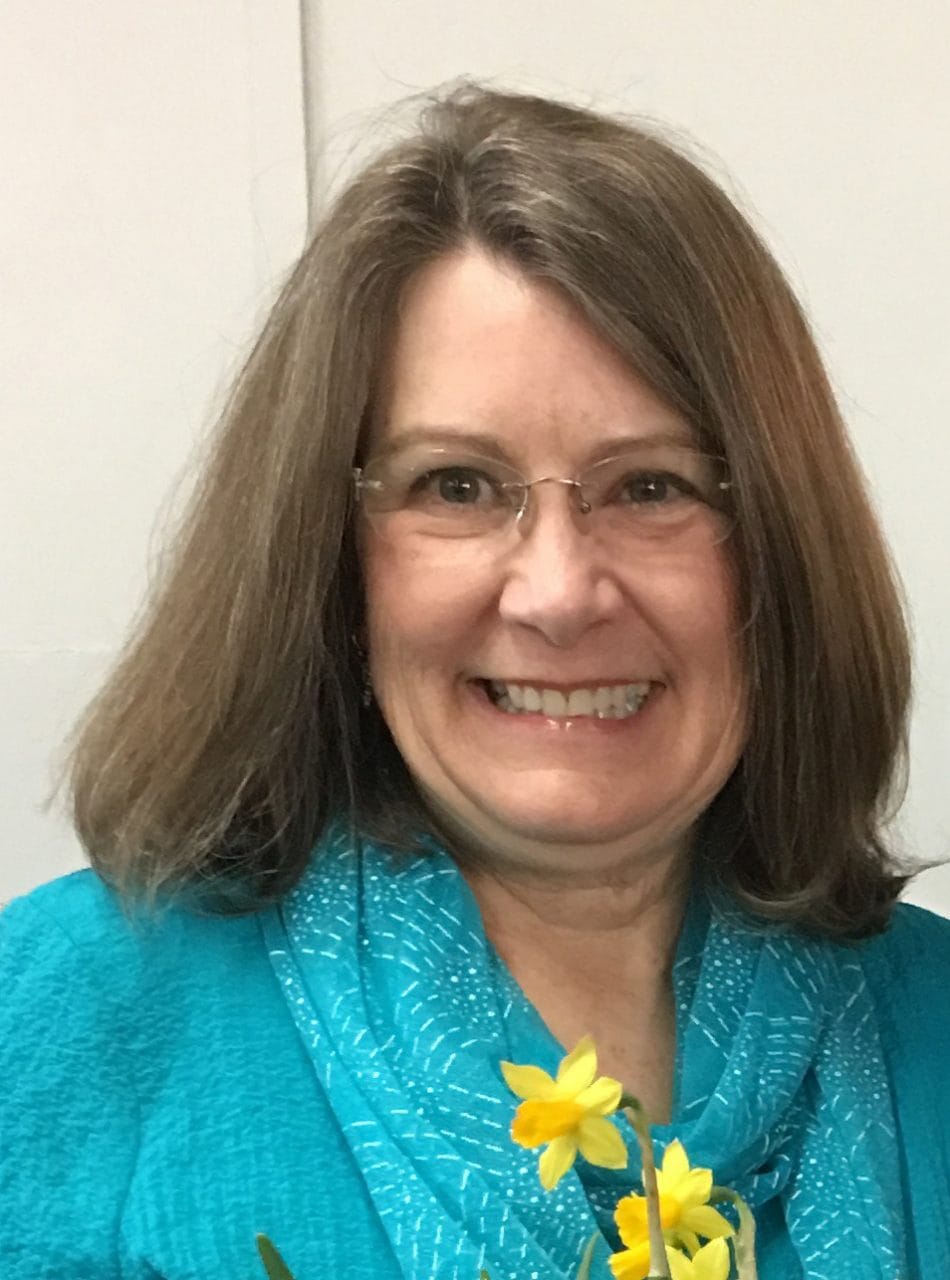 Do you make cabbage rolls?  You know, the cabbage leaf stuffed with cooked meat, rice, onions, and seasonings?   Cabbage "rolls" are popular among Europeans and traditionally served among the Jewish on  Simchat Torah. I've read that stuffed cabbage is said to have entered Jewish cooking some 2,000 years ago.  Recipes vary depending on region; Romanians and northern Poles prefer a savory sauce, while Galicia and Ukraine favor sweet-and-sour.  Unfortunately, that is all the description that I can honestly give because I have never made cabbage rolls.  Knowing this, why in the world would a recipe headline "Cabbage Roll Casserole" catch my attention?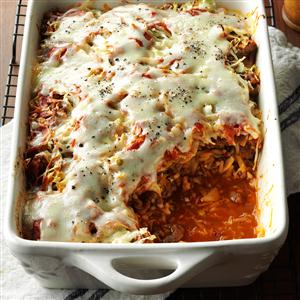 Maybe it was this picture from the Taste of Home website.
Or,  most likely it was the head of cabbage I had in the refrigerator and the looming dinner hour that was fast approaching!
A quick check of ingredients and I was good to go.  I swapped out ground turkey for the ground hamburger, and I used a can of Ro*Tel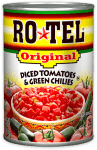 tomatoes for part of the tomato sauce.  I knew my Chief Casserole Eater would appreciate the flavor kicked up a notch.  I "hoped" my Sous-Chef Dish-washing mom could tolerate the heat.  It turned out great!  Spicy enough to please The Chief and mild enough to keep mama happy! 😜  By using ground turkey I skipped the "drain the cooked meat" stage.  I also added more bacon.  The Taste of Home recipe called for 4 strips of bacon.  Come on, really?  Four strips of bacon only wet our taste for bacon.  We could smell it cooking but couldn't find it in the casserole.  I suggest 8 strips of bacon or even better yet, "bacon to taste!"
This recipe makes a BIG 9″x13″ casserole.  Some recipes call for a 9″x13″ pan but it isn't really "full."  This isn't one of those recipes.  This will fill your pan and easily make 12 to 16 hearty servings.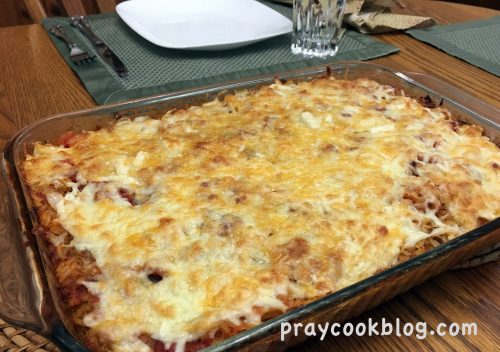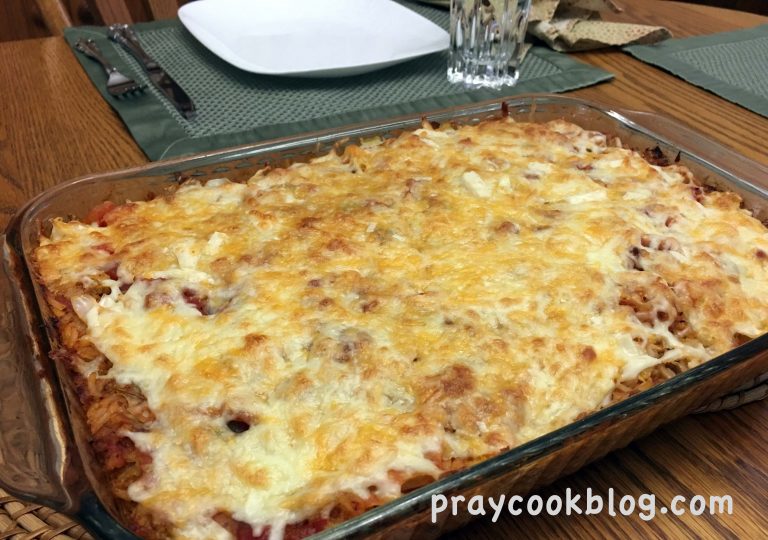 We absolutely love this casserole.  It is hearty, fragrant, and loaded with flavor.  Tomato based recipes often times improve with age and this one definitely does.  The first night we had it right out of the oven it was delicious.  The second time we had it "warmed up" the flavors had melded and improved.  But the third time we had it for a lunch meal, oh my goodness, we all agreed "this just keeps getting better and better!"  I put one-fourth of it in the freezer and anticipate yet another outstanding meal in the future.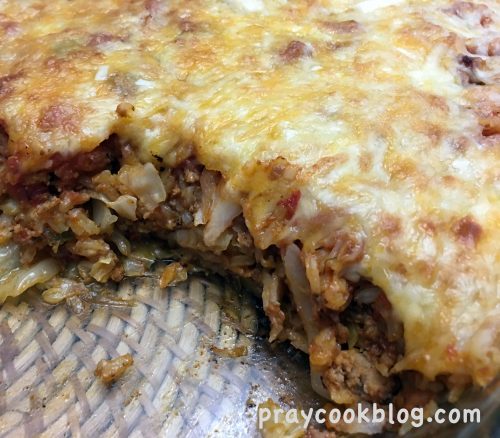 This casserole "layers" beginning with cabbage, topped with the meat sauce, another layer of cabbage, meat sauce and ending with cabbage.  A bit of the sauce is held out from the meat mixture and finishes the top.  Add the cheese the last 10 minutes of baking.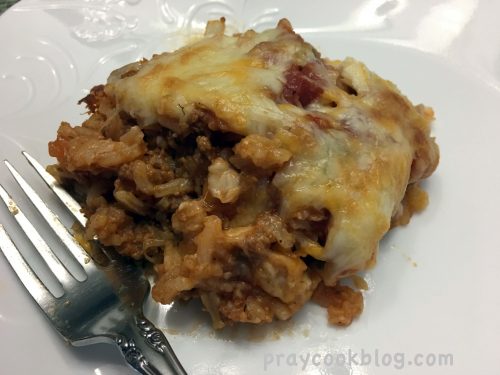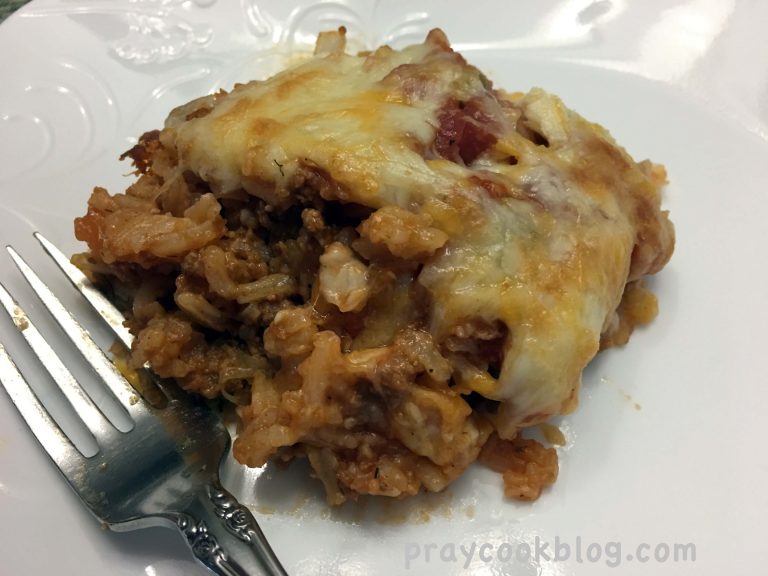 Oh yum!  I want some now.  It is a little bit past lunchtime and seriously my mouth is watering! I used a medium head of cabbage (about 2 pounds) chopped up.  However, pre-packaged coleslaw mix will work just as well and save you some time. If you and your family can take a little heat don't skip the Ro*Tel – I think it absolutely made this casserole outstanding.
Speaking of heat, it is spring in Tennessee.  It was almost 80 degrees yesterday and The Chief and I got out on the golf course.   Our peach trees have bloomed and just yesterday winter gave way to this beautiful iris.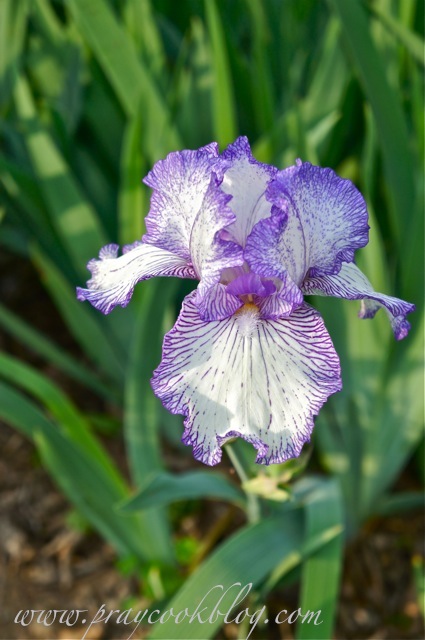 Having said that, it is cold today and we have a freeze warning tonight!  Such is the personality of Mother Nature in the spring.  Wherever you are I pray you are having a good day and a blessed week!
Happy Cooking!
~Catherine
 While the earth remains, seedtime and harvest,
cold and heat, summer and winter,
day and night, shall not cease."
Genesis 8:22
Cabbage Roll Casserole
Many European and Polish descendants will know Cabbage Rolls as a holiday favorite. But how about making them into a casserole? This is easier than making the rolls but the end result will thrill the family all the same!
Author:
Adapted by Catherine Daugherty
Recipe type:
Main Dish Casserole
Ingredients
2 pounds ground beef or ground turkey
1 large onion, chopped
3 garlic cloves, minced
2 cans (15 ounces each) tomato sauce, divided
1 can Ro*Tel Tomatoes
1 teaspoon dried thyme
½ teaspoon dill weed
½ teaspoon rubbed sage
¼ teaspoon salt
¼ teaspoon pepper
2 cups cooked rice
8 bacon strips, cooked and crumbled (Or bacon to taste)
1 medium head cabbage (2 pounds), chopped or shredded
1 cup shredded part-skim mozzarella cheese
Instructions
Preheat oven to 375°. In a large skillet, cook beef (or turkey) and onion over medium heat, crumbling until the meat is no longer pink. Add garlic; cook 1 minute longer. Drain if using beef. Stir in one can of tomato sauce, Ro*Tel tomatoes, and next five seasoning ingredients. Bring to a boil. Reduce heat; simmer, covered, 15 minutes. Stir in cooked rice and cooked and crumbled bacon; remove from heat.
Layer a third of the cabbage in a greased 13x9-in. baking dish.
Top with half of the meat mixture. Repeat layers; top with remaining cabbage. Pour remaining tomato sauce over top.
Cover and bake 45 minutes. Uncover; sprinkle with cheese. Bake until cheese is melted, about 10 minutes. Let stand 5 minutes before serving.
Yield: 12 servings.
Notes
Minimize mess by using 90% lean ground beef or ground turkey (so you can skip the draining step) and use coleslaw mix (so you don't have to chop cabbage).