Colossians 1:9    For this reason, since the day we heard about you, we have not stopped praying for you. We continually ask God to fill you with the knowledge of his will through all the wisdom and understanding that the Spirit gives,

What are you thankful for this thanksgiving season?  Please use the comment space below and share your thoughts with us.
Our sweet neighbor Kathy, wrote to say:
Three things I am thankful for is Alice, Lee and Catherine .

We are blessed to have wonderful neighbors and I appreciate Kathy joining in my blog and sharing with us!  Happy Thanksgiving to you and yours!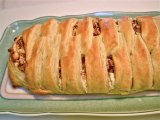 With Thanksgiving just around the corner you may be working on your dinner menu or you may be the one having a Thanksgiving brunch.  As I have mentioned before, I love baking with puff pastry.  It makes elegant and most delicious recipes every time!  For a recent brunch in our home I made Candied Pecan Cheese Braid.  Oh my word!  This is easy and every drop of it was eaten with rave reviews.  It is a versatile, unbelievably good dessert that you can serve for breakfast or brunch too.  It features tender puff pastry filled with sweetened cream cheese and candied pecans.  Serve it warm and it melts in your mouth! Starting with these candied pecans fresh out of the oven!
Two months ago: Best Ever Banana Pudding!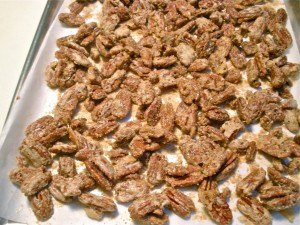 Candied Pecan Cheese Braid
Versatile, unbelievably good dessert that you can serve for breakfast or brunch too! Featuring puff pastry filled with sweetened cream cheese and candied pecans.
Author:
Pepperide Farm Puff Pastry
Ingredients
1 Egg white
¼ cup Brown Sugar
1½ teaspoon Vanilla Extract
4 cup Pecan halves
8 oz Cream Cheese
¼ cup Granulated Sugar
2 eggs
2 Pepperidge Farm Puff Pasty Sheets, thawed
1 tablespoon water
Instructions
Heat oven to 275 degrees F. Line a rimmed baking sheet with parchment paper. Beat the egg white in a medium size bowl with an electric mixer on high speed until stiff peaks form.

Gently stir in the brown sugar and ½ teaspoon vanilla extract. Add the pecans and stir to coat. Spread the pecan mixture on the baking sheet.

Bake for 25 to 30 minutes or until the pecans are browned and no longer shiny. Let the pecans cool completely on a baking sheet on a wire rack. Reserve 1½ cups candied pecans for the filling and save the rest for another use. (Store in airtight container in freezer or refrigerator.)

Beat the cream cheese and granulated sugar in a medium bowl with an electric mixer on low speed until the mixture is smooth. Add 1 egg and the remaining vanilla extract and beat until just combined.

Increase the oven temperature to 400 degrees F. Beat the remaining egg and water in a small bowl with a fork. Unfold 1 pastry sheet on a lightly floured surface. Pastry will unfold into thirds.
Spread half the cream cheese mixture down the center of the pastry square. Sprinkle the cheese with ¾ cup reserved pecans. Cut slits 1 inch apart from the 2 sides of the pastry to within ½ inch of the filling.

Starting at one end, fold the pastry strips over the filling, alternating sides, to cover the filling. Repeat with the remaining pastry sheet. Place the filled pastries onto 2 baking sheets. Brush the pastries with the egg mixture.

Bake for 20 minutes or until the pastries are golden brown. Let the pastries cool on the baking sheets on wire racks for 10 minutes. Slice and serve warm!

Notes
(1) Recipe calls for Pecan halves - I had whole pecans so I just chopped slightly before filling.

(2) Original recipe calls for ½ cup brown sugar to cover the pecans.  I changed the recipe to ¼ cup brown sugar after using ½ cup and finding it is too much sugar on the pecans.

(3)  Don't bake anything else in the oven while baking puff pastry.  If you do, the pastry dough tends not too cook evenly.