A Walk Through The Bible In One Year
Bringing the Story to Life
Week 10 reading plan per day:
Click on the colored link to read each day's scripture.
Monday (Deuteronomy 17-19) Tuesday (Deuteronomy 20-22)
Wednesday (Deut 23-25) Thursday (Deut 26-27)
Friday (Deut 28-30) Saturday (Deut 31-32)
Sunday (Deuteronomy 33-34)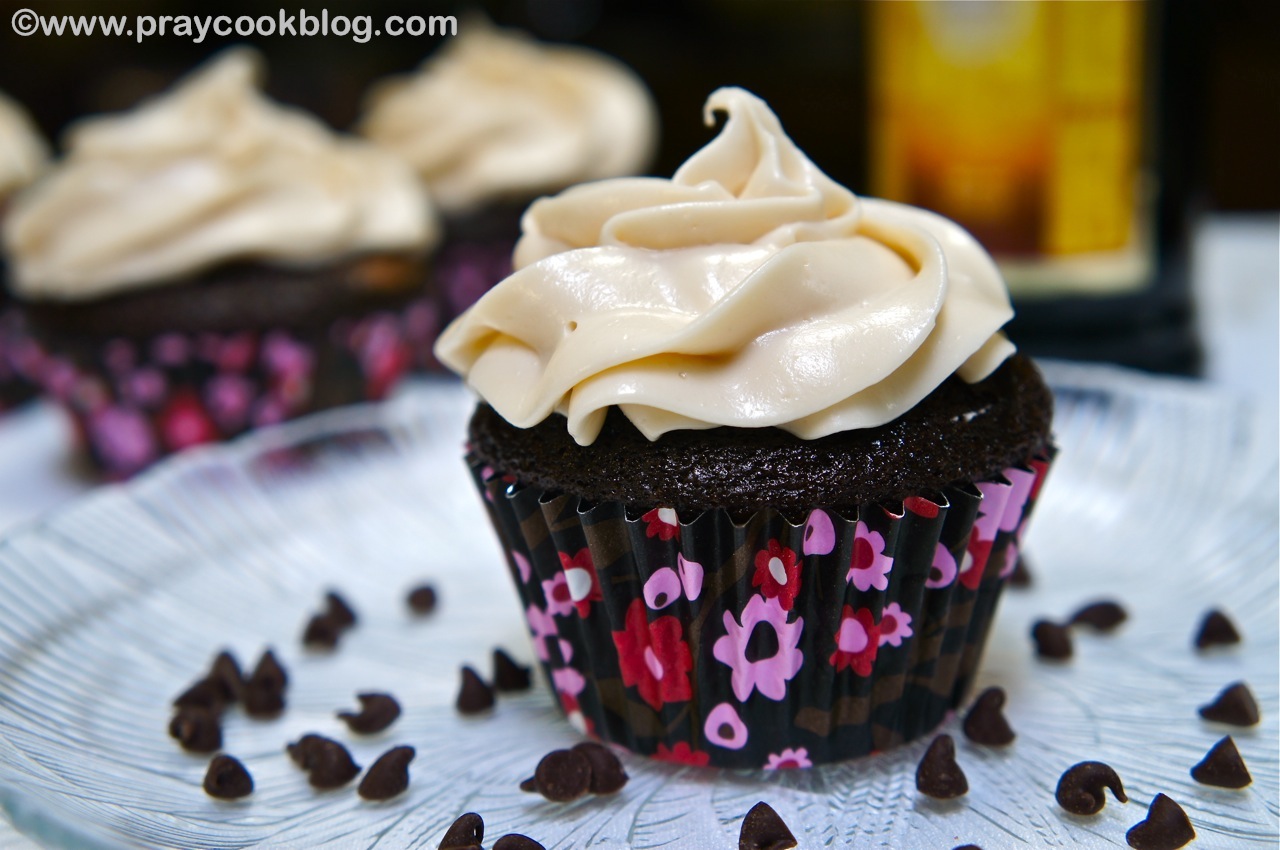 When I became an Amazon Affiliate my sous-chef dish washing mother,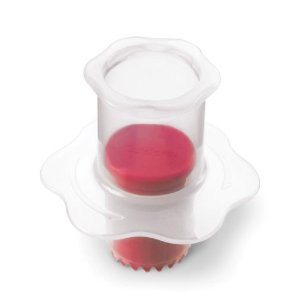 immediately did some Amazon shopping!  We had talked about making filled cupcakes and so she purchased this very cool cupcake corer.  It's kinda hard to tell how it works from the picture. I quickly began searching cookbooks, internet sites and various recipes deciding what cake and what filling I would use.  My mind ran the gamut from chocolate – fruit – Bavarian cream – coconut, well, you get the idea.  Then I came upon this recipe from www.cookstr.com – Chocolate Mousse Filled Cupcakes.  I was all in.  The liquid in the cake recipe is strong coffee which blends perfectly with chocolate.  Cookstr had topped her cupcakes with chocolate ganache but I thought Kahula Cream Cheese frosting would be the perfect topping, which I adapted from a Brown Eyed Baker recipe using Bailey's Irish Cream.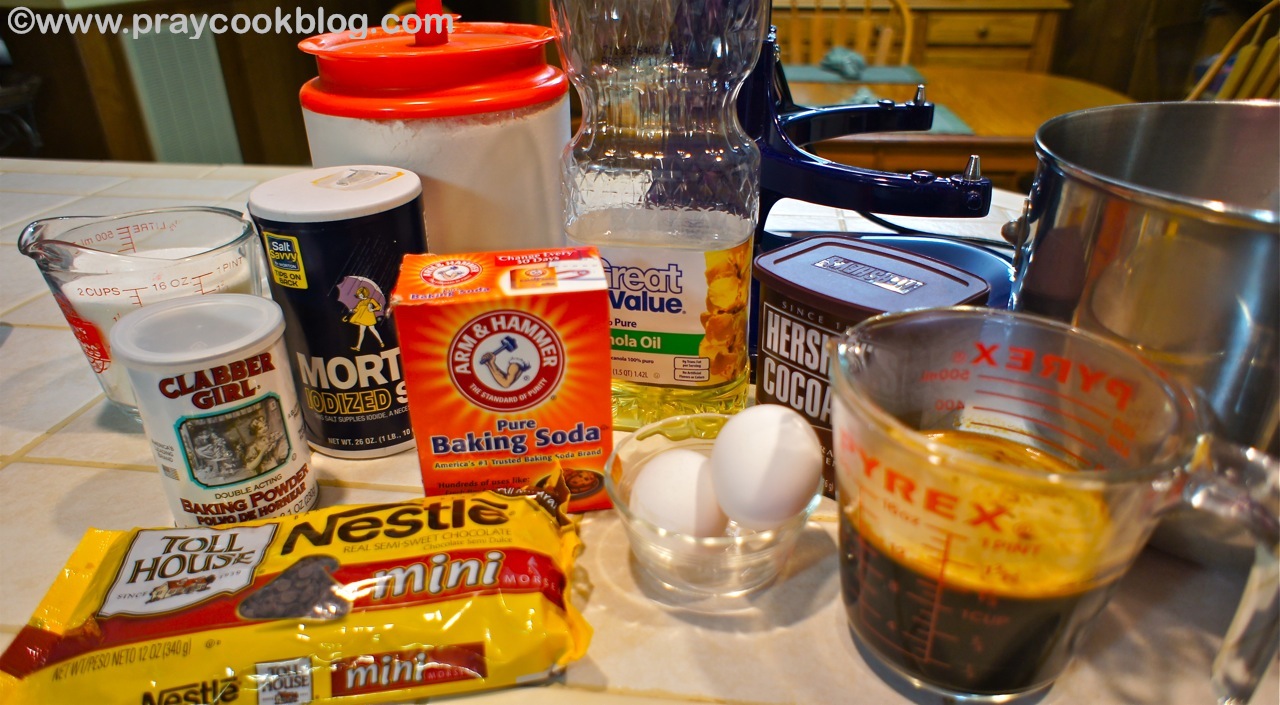 Looking down the ingredient list I was pleasantly surprised to realize I had all the needed items on hand.  Plus, I decided to add in a handful of mini chocolate chips for that chocolate fudgey taste.  I am so glad I did because they added a fun little chocolate crunch surprise in the cake.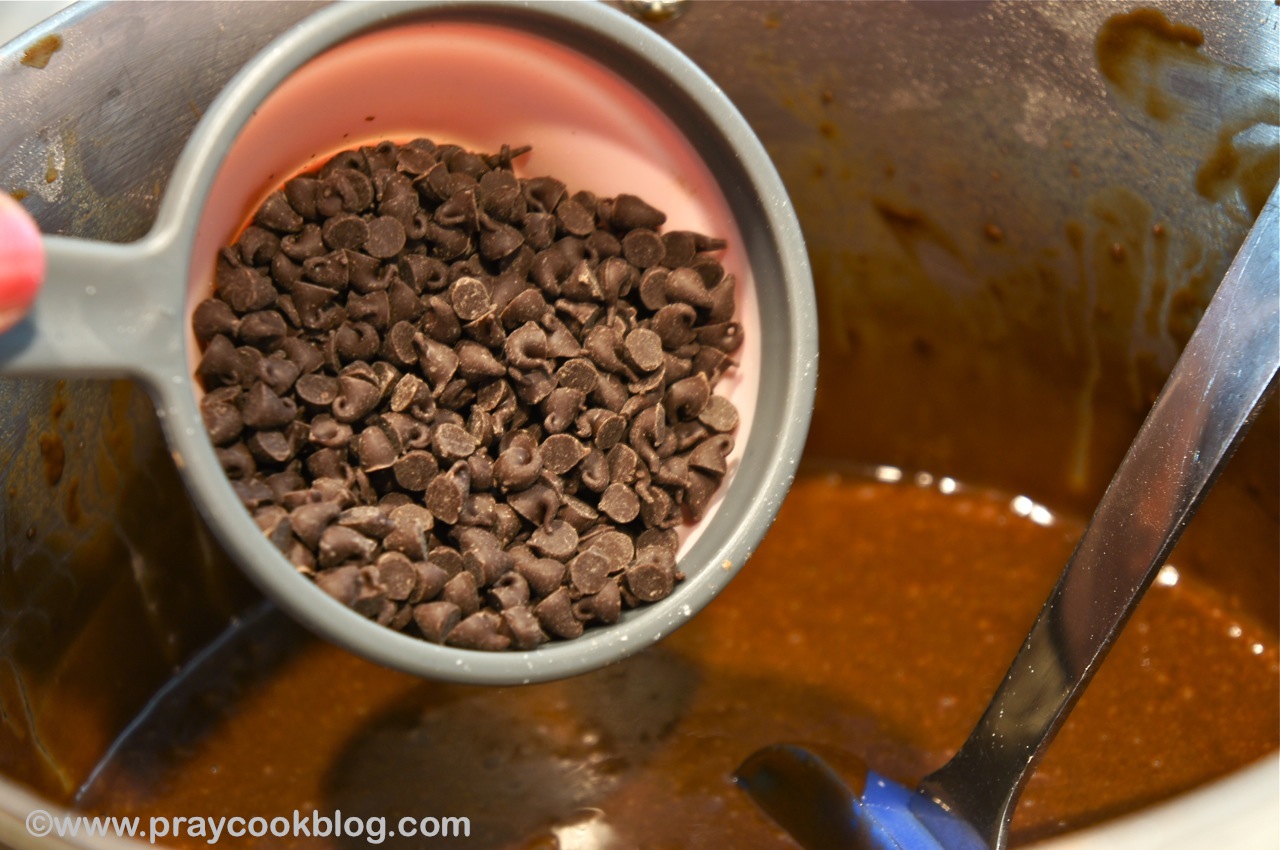 I used a 1/3 cup measure to fill the cupcake tin so the cakes would end up about the same size.  I typically have trouble with this … some too large, some too small.  Then into the oven.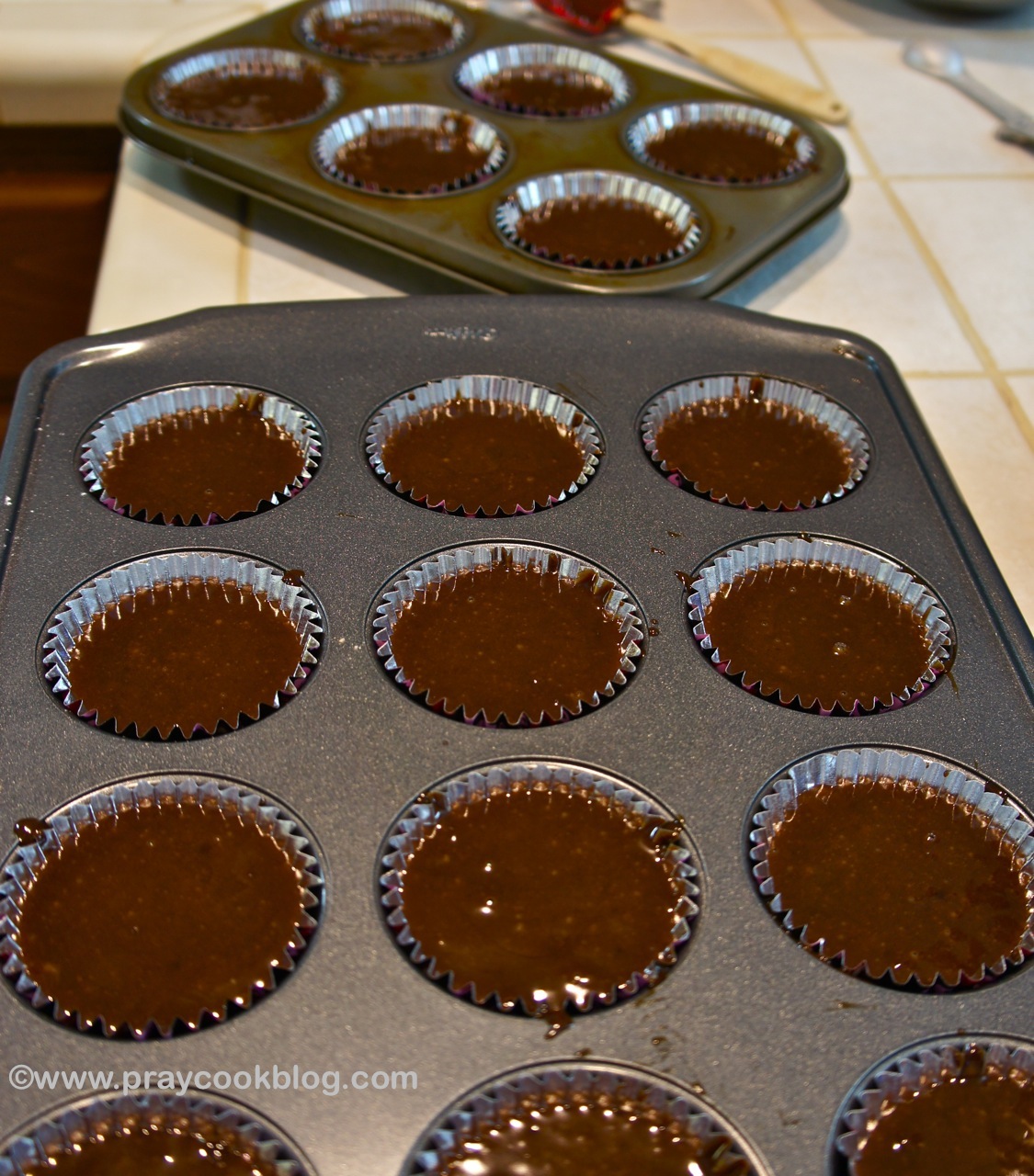 Out of the oven they came.  Wow, the looked really good.  Not over the edge of the tin, not too large, not too small, but just right 🙂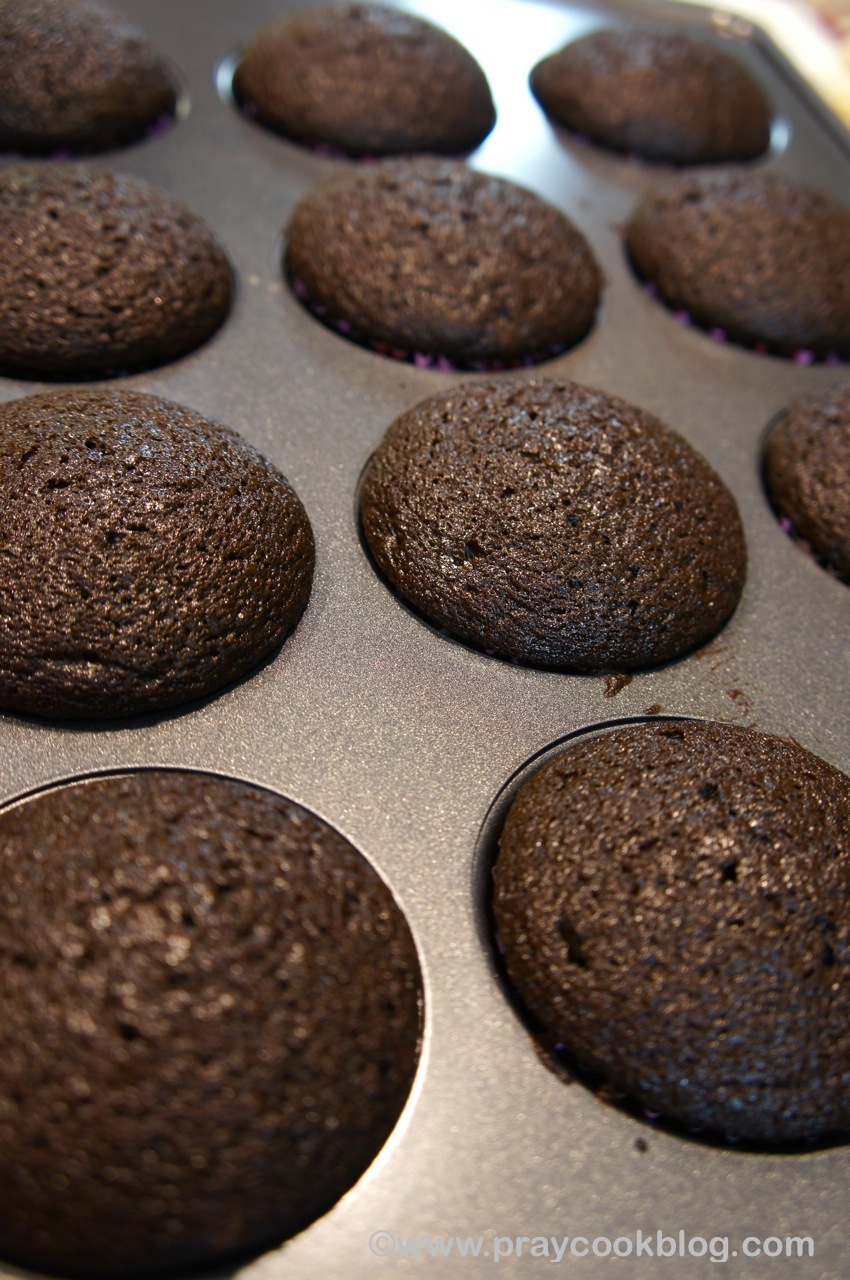 Then, the moment of truth – does the cupcake corer actually work?  The little plug can come from the top of the cupcake or from the bottom.  I decided to go from the top so I wouldn't lose any "mousse" from the bottom.  Inside the corer into the cake … pull gently and out it comes!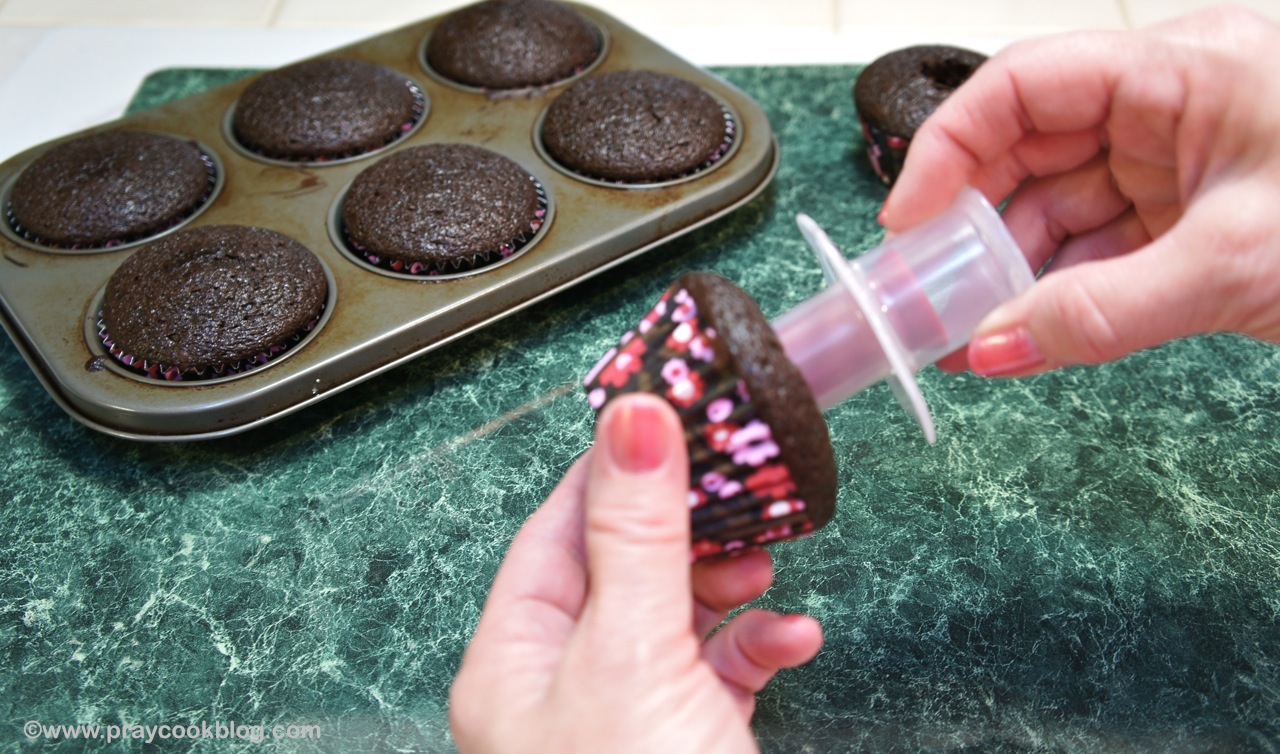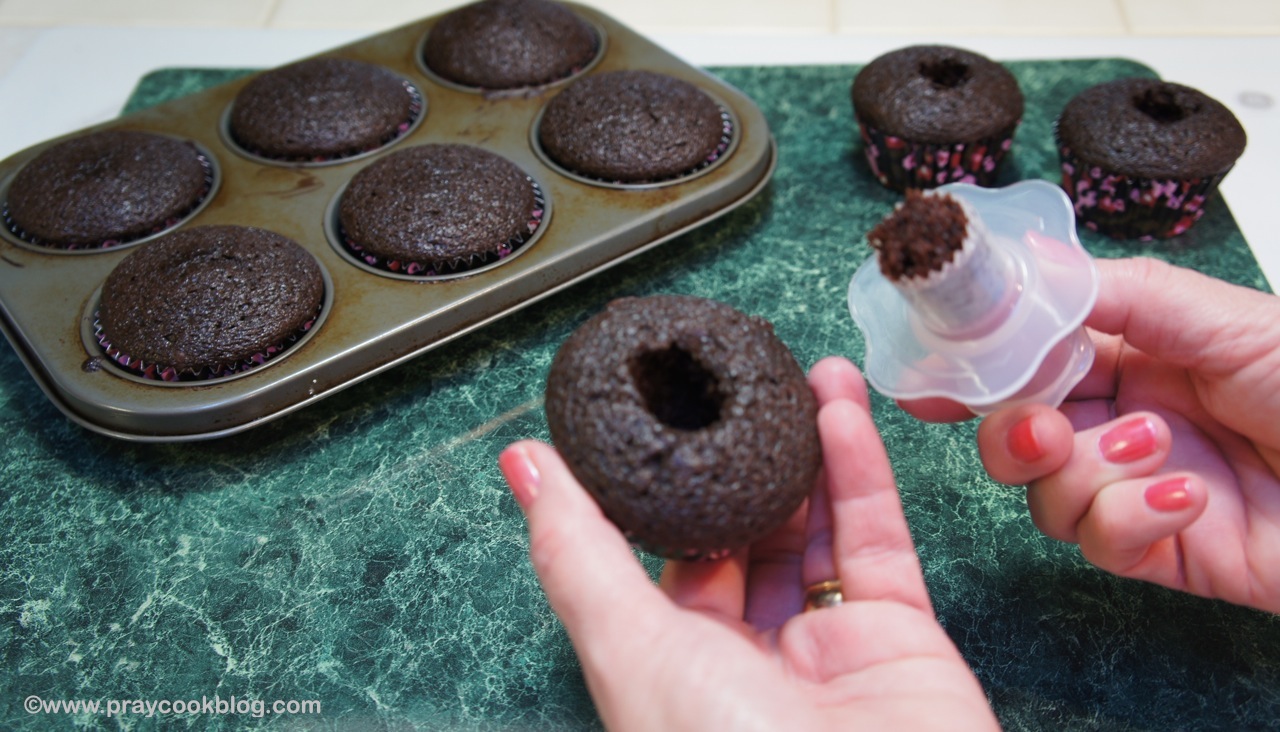 As I pulled out the first plug I popped it into my mouth. (huh? what would you have done?)  Yum, this is delicious cake!  On to the second cupcake, out comes the center, and pop! into my mouth.  WAIT! I can't eat every one of those little pieces of cake!  Whew, luckily I came to my senses before I had eaten a dozen.  Instead I set them aside … for later.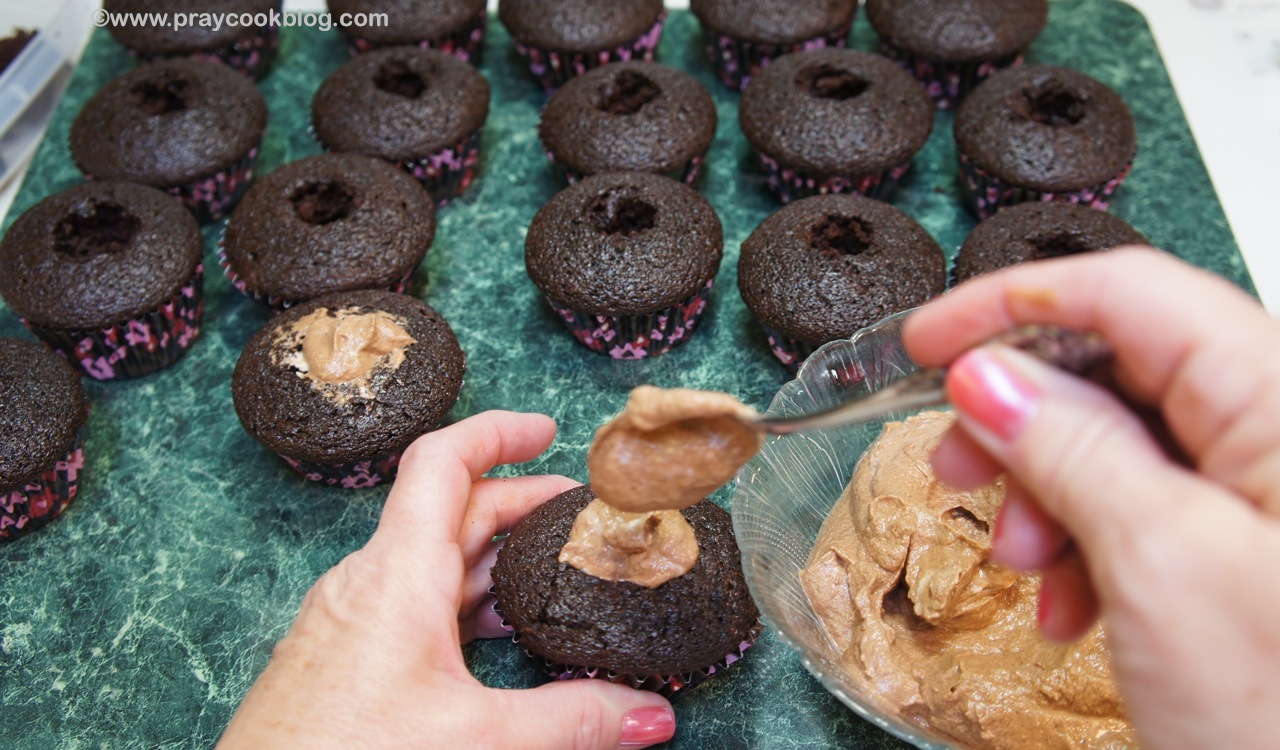 While the cupcakes were baking I whipped up the mousse and it is light,  fluffy and luscious and easily spooned into the center of the cupcakes.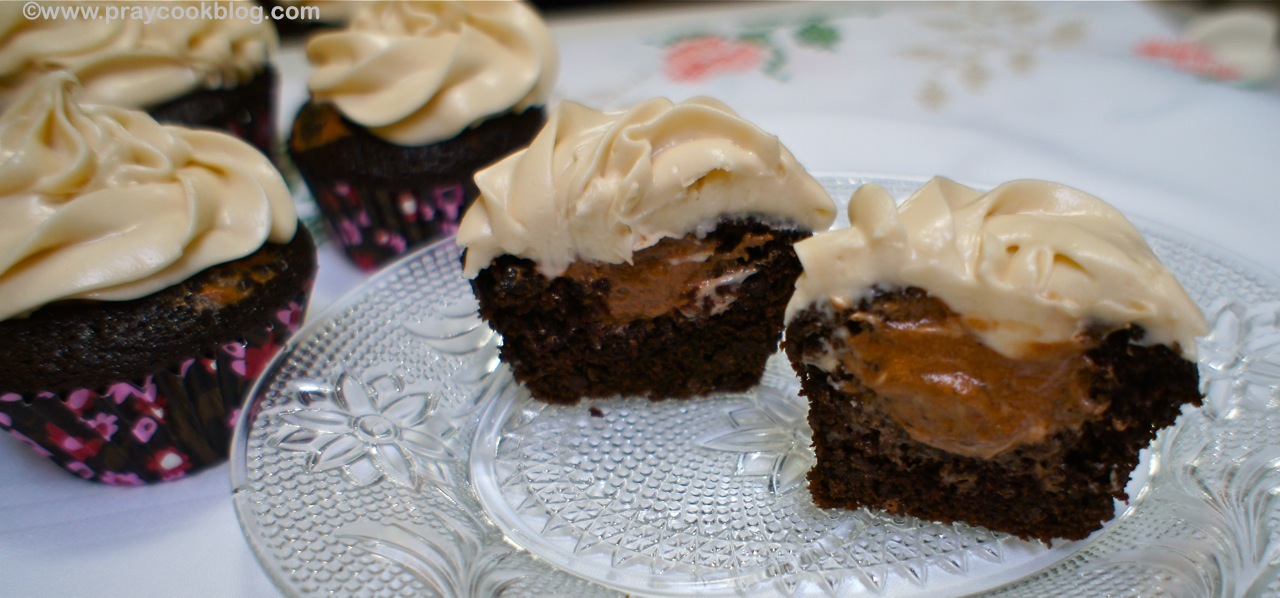 While the cupcakes were cooling I made the  Kahlua Cream Cheese.  Anytime you put together butter, cream cheese, powdered sugar and Kahlua you are going to hit a home run.  I piped on the frosting.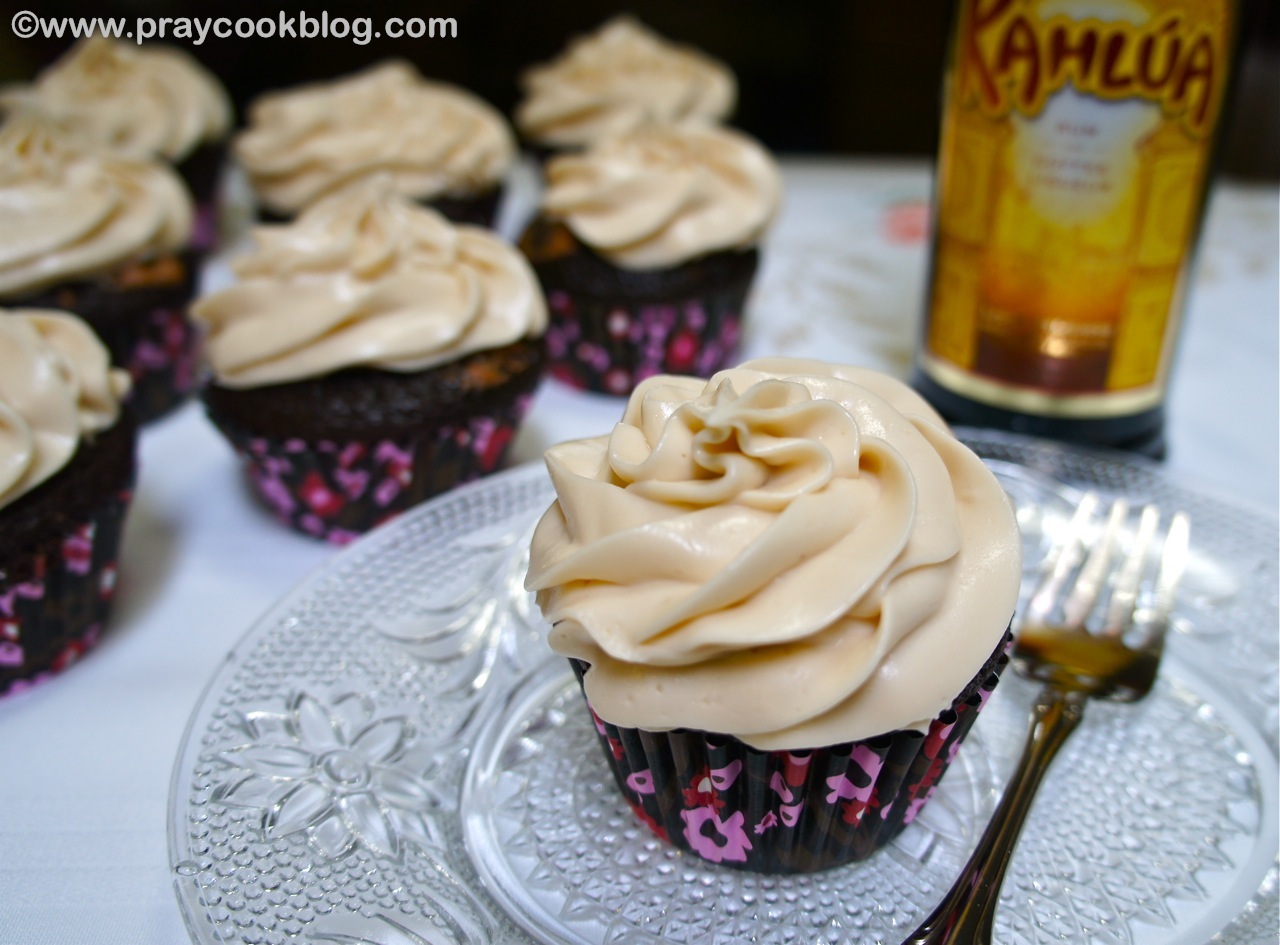 Our friends Patra and Ron were the recipients of these cupcakes as we celebrated Patra's birthday.  I kid you not, so far this is my favorite new recipe of the year.  Oh, and what did I do with the little plugs of chocolate cake that came out of the center of the cupcakes?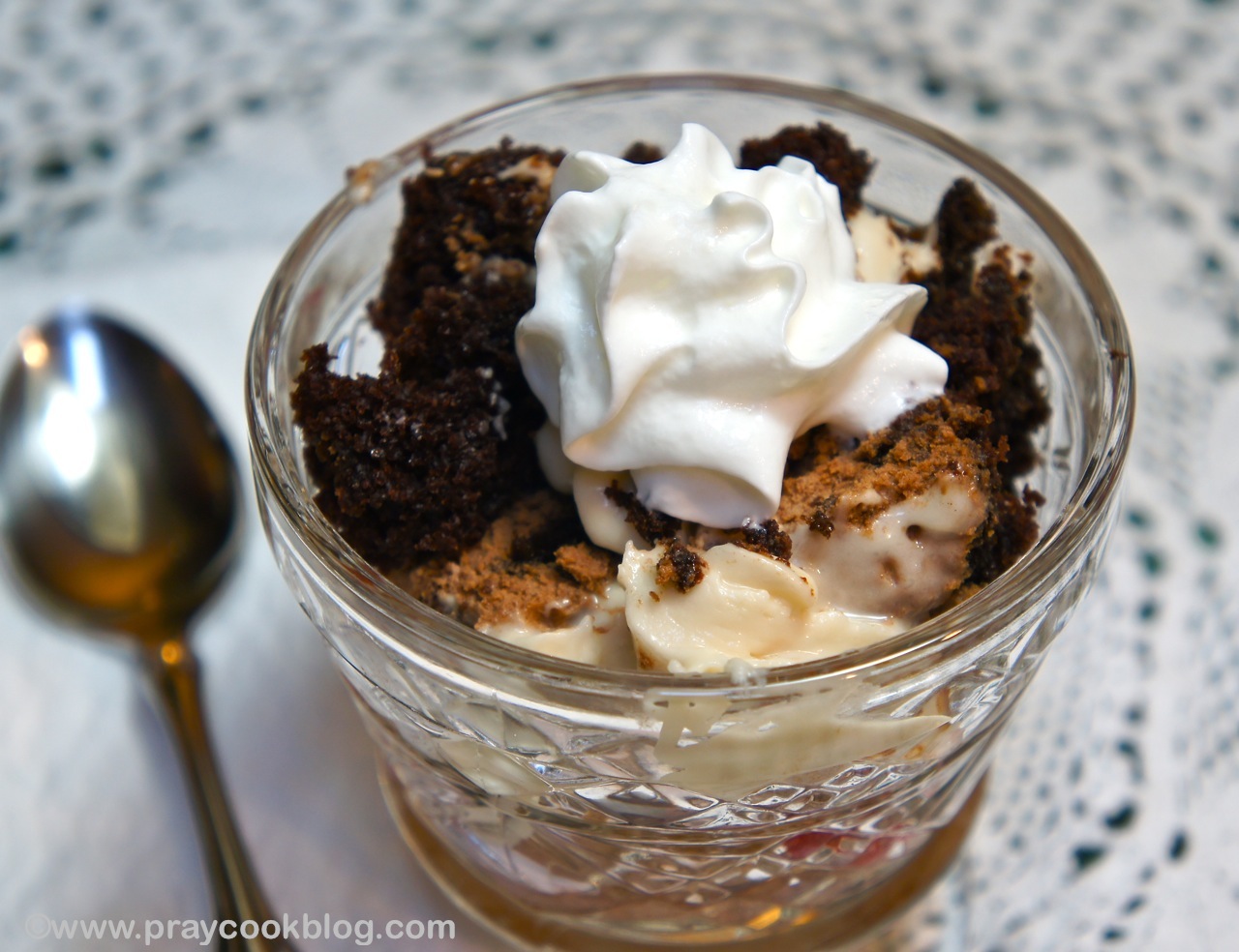 I layered the cake, a spoonful of mousse, a dollop of frosting and another layer until I filled this little dish — times three.  I put it in the refrigerator to "meld" overnight and the next day I treated my chief culinary consultant, my sous-chef dishwasher and myself to one awesome Layered Leftovers Dessert!  (Yes, I just made up that name.)
Bake it – bookmark it – keep it for a rainy day recipe — PIN it! 
Whatever you do — this is a keeper recipe!
Chocolate Chip Mousse Cupcakes with Kahlua Cream Frosting
Chocolate - chocolate chip - deep rich cupcakes sent over-the-top with Kahlua cream cheese frosting! Absolutely as good as they look!
Author:
Adapted From Cookstr.com
Ingredients
1½ cup All-Purpose Flour
¾ cup Unsweetened Cocoa Powder
1 teaspoon Baking Soda
1 teaspoon Baking Powder
¼ teaspoon Salt
2 large Eggs
1¾ cup Granulated Sugar
½ cup Canola Oil
1 teaspoon Pure Vanilla Extract
1¼ cup Strong Brewed Coffee
½ cup Mini Milk Chocolate Chips
Frosting
16 oz Cream Cheese, room temperature
½ cup Butter, room temperature
7 tablespoon Kahlua
6 cup Powdered Sugar
Mousse
⅓ cup Semisweet Chocolate Chips
1 tablespoon Strong Brewed Coffee
¾ cup Heavy Whipping Cream
1 tablespoon Confectioners Sugar
Instructions
In a medium bowl, sift together flour, cocoa powder, baking soda, baking powder, and salt.

In a large bowl, using electric mixer, beat eggs, sugar, oil, and vanilla until creamy. Add flour mixture beating just until combined. Beat in coffee until smooth. Do not overbeat. Stir in mini chips.

Fill 18 prepared muffin cups with ⅓ cup batter each.

Bake in preheated 350 degree F. oven for 22 to 24 minutes, until cupcakes are just firm to the touch and a tester inserted into center of cupcake comes out clean. Let cool in pans on racks for 10 minutes. Remove from pans and let cool completely on racks.

In a large bowl, using electric mixer, whip cream and confectioner's sugar until almost stiff peaks. Add melted chocolate mixture, beating just until incorporated. Finish mixing by hand with a rubber spatula. Using a sharp paring knife, or a cupcake corer, gently cut a ¾-inch core from the top or bottom of each cupcake.

Gently remove the center.

Using a small spoon, fill each hole with chocolate cream filling and replace reserved cones. Place on prepared baking sheet and refrigerate while preparing glaze.

In a mixing bowl, blend together the cream cheese, butter, and Kahlua on medium speed until completely smooth and combined. Gradually add the powdered sugar on medium-low speed until it has all been added. Increase speed to medium-high and beat until the frosting is smooth and thoroughly mixed. Pipe frosting onto cupcakes.