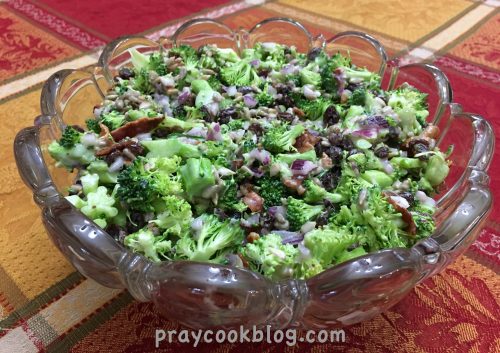 I used to really, really like to clean my house.  I loved starting with some dusty shelves, really shine them up, standing back and feeling totally satisfied with a job well done.  👏
Mopping floors? No problem! Love it!  The nice clean smell when it was all done and the beautiful hardwood and shiny tile and that revealed my hard work.  I cannot tell you exactly when the change occurred but I no longer enjoy cleaning my house!  😳
I just don't want to spend the time cleaning.  There are other things I prefer to do.  Watch the Olympics.  Cook (thank heavens, I still love cooking and being in the kitchen). Bible Study. Bible devotions. Pray. Read.  Write. Take a walk. Think.  Did I mention the Olympics?
For many years I really thought it was odd how much I enjoyed digging in and cleaning my house.  Now I think it is really odd that my desire has changed and I would rather do anything besides clean.  As a matter of fact, today is my cleaning day.  Well, that is not exactly true.
Monday was my cleaning day.  Then I got busy doing laundry and didn't clean.  Cleaning got bumped to Tuesday. Then to Wednesday.  Thursday I was in Community Bible Study, can't clean that day!  Friday – well, I don't want to clean on Friday because after all, its FRIDAY!
Today is my cleaning day but I decided to treat my sous-chef dish-washing mom and my super sweet Valentine husband to a Quiche breakfast.  Every time I made Quiche it is slightly different because I use whatever I have leftover from the week's cooking.  Today I made  Quiche with ham, Pecorino cheese, Monterey Jack cheese, and onions.  Oh my goodness, it was good!
Here are a few earlier recipes I have shared that are equally delicious.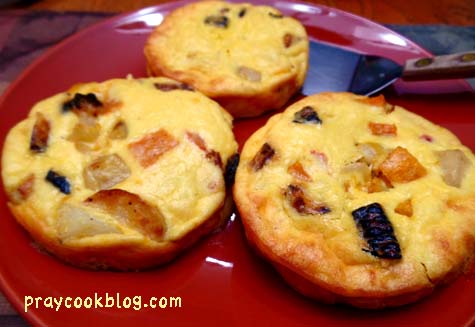 Butternut, Potato and Onion Quiché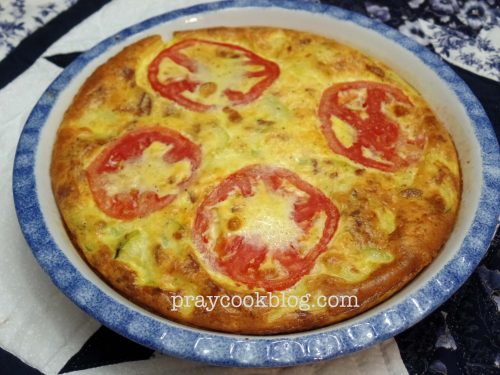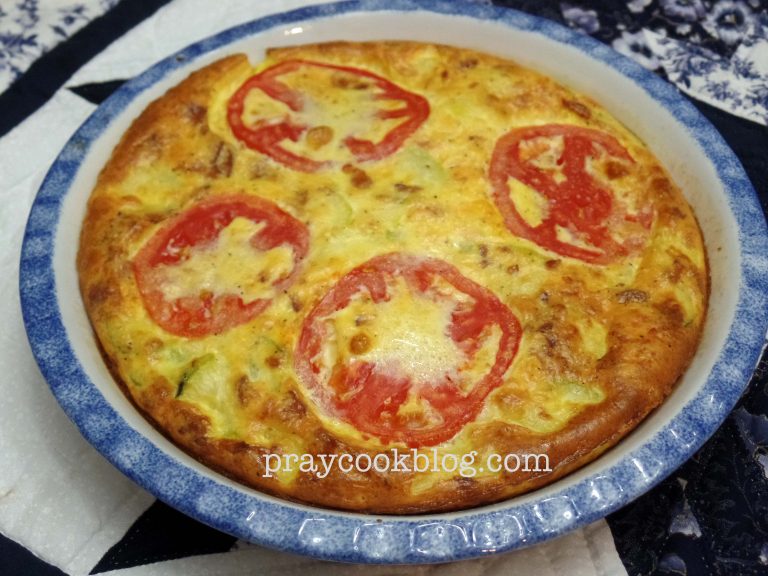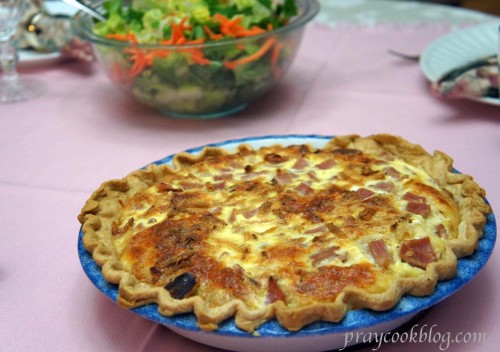 Quiché with French Fried Onions
Okay, now I really am dragging my feet.  For more wonderful Quiche recipes just check out this link to all things Breakfast and Brunch!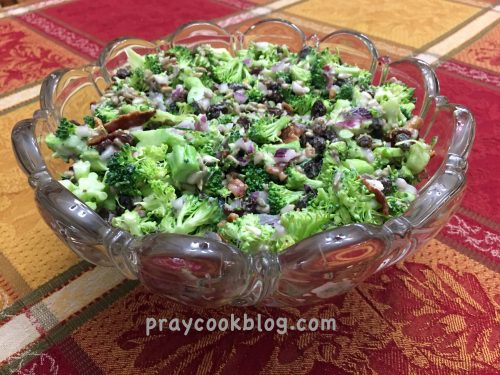 Recently I wanted to make my sous-chef dish-washing mom's delicious broccoli salad.  I click on praycookblog.com and typed in broccoli.  Whaaat?  I've never shared this recipe?  How can that be?
For year's I would forget how to make this salad and I have asked my mother for the ingredient list at least 20 different times, usually calling from the grocery store!  Finally, I wrote it down and taped it to the inside of my cupboard.  It is a popular recipe and easily found with many variations on the Internet.  But for us, this is the one we love!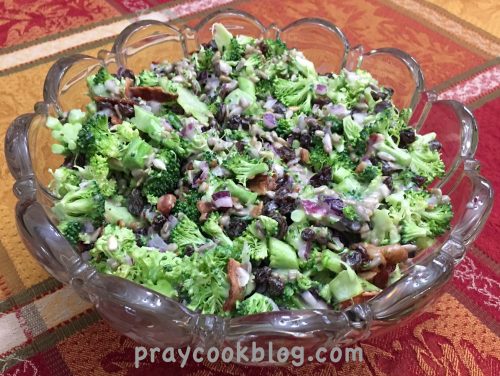 It is so easy to make and the combination of the red onion, bacon, raisins, and sunflowers really jazz up the fresh broccoli.  The sweet and sour dressing is what makes this a wonderful salad go well with almost any lunch or dinner menu.
I could probably wax poetically about broccoli (I LOVE broccoli) but alas I really do have to clean my house.  Today.
Happy cooking, cleaning, or whatever makes you happy!
Blessings, Catherine

Alice's Delicious Broccoli Salad
My mom has been making this for years. Now, I have been making it for years. We love it from the first bite to the last.
Author:
Adapted by Catherine Daugherty
Ingredients
2 bunches of broccoli, washed, cleaned and diced up
¼ to ½ diced red onion (amount depending on your taste)
6 slices bacon, cooked crisp and crumbled
1 cup raisins
1 cup sunflower seeds
Dressing
2 Tablespoons vinegar (white, apple, balsamic, your choice)
¼ to ⅓ cup sugar
1 cup mayonnaise or Miracle Whip Salad Dressing
Instructions
Mix together the first five ingredients.
Stir the vinegar, sugar, and mayo together making sure the sugar dissolves.
Pour dressing over the broccoli mixture and stir well. Place in refrigerator for at least 2 hours or as much as overnight.
Stire and Enjoy!