Walk Through The Bible In One Year
Week 13 reading plan per day
Click on the colored link to read each day's scripture.
Monday 1 Samuel 1-4, Tues 1 Samuel 5-10, Wed 1 Samuel 11-14,
Thursday 1 Samuel 15-17, Friday 1 Samuel 18-21,
Saturday Samuel 22-25, Sunday 1 Samuel 26-31
Blessings as you read!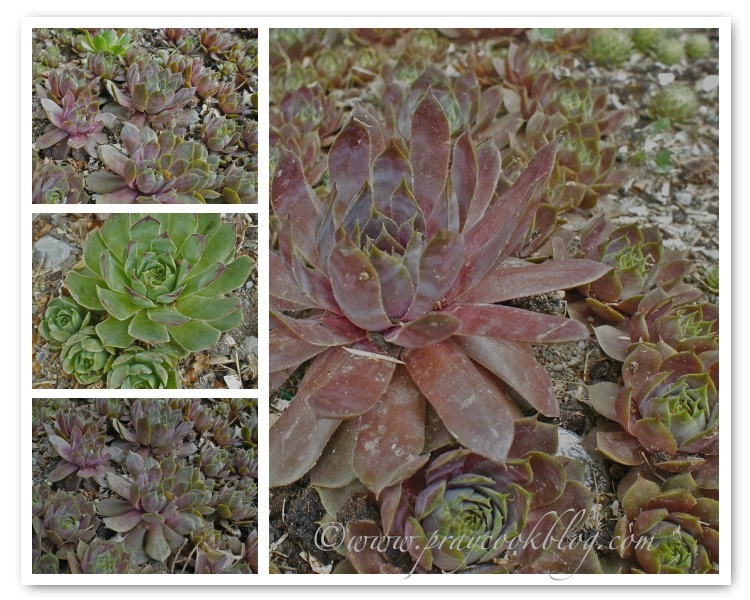 Last week I told you a bit about being "hen and chick" challenged through the years. I really enjoy watching my little garden multiply and I hope you like these pictures too.  A big shout-out thank you to Carmen at Baking is my Zen for showing me how to put together pictures in a collage like this.  Carmen has a wonderful website filled with beautiful food pictures and recipes!  If you want to jazz up your digital pictures, check out the free software at Big Huge Labs. It is easy and lots of fun.  Speaking of pictures — last week Mary at Deep South Dish had the audacity to post a recipe for Lemon Ice Box Pie.  As if the whole LEMON and then ICEBOX followed by PIE wasn't enough to get my attention she followed it up with this: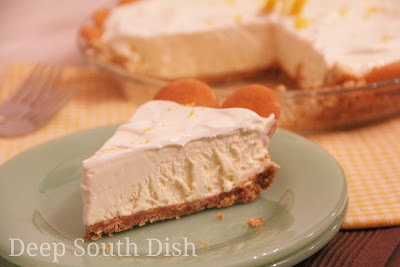 Wowza!  I can see the creaminess of this pie with my eyes and my taste buds are really aching to taste the sweet and tart.  I love Lemon Icebox Pie and I really like it after it has been in the freezer for a bit, kinda half frozen – half creamy.  The old-timey (southern slang for "original") version of lemon icebox pie used raw egg yolks in the filling.  I prefer eggs that are cooked,  so this version sans the raw eggs is perfect for me!  I have been blabbering on about this recipe since last week when I first saw her post.  Last night my chief culinary consultant and sous-chef dish-washing mom said "enough talk — make it!"  So I did.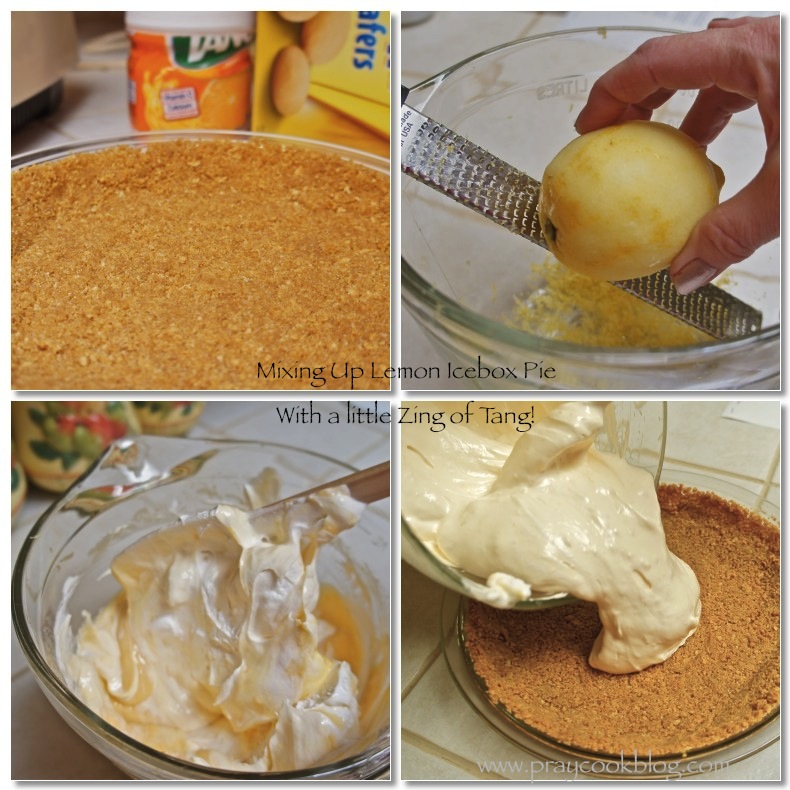 I made a graham cracker crust in a 9″ pie plate.  Zested some lemons.  Oh how I love my microplaner … what did I ever do without it?  Mary suggests a packet of Lemonade Koolaid in her recipe.  I have Tang on hand – from Mom's Fruit Salad!  So,  I added 1 tablespoon of Tang to my mixture and after tasting the end result, I won't make it again without Tang.  The tangy flavor (sorry, couldn't pass up the pun) blends so well with the lemons and sweetened condensed milk the result is a perfectly sweet and tart mixture.  The Nilla wafers add a tasty and finished look to the pie.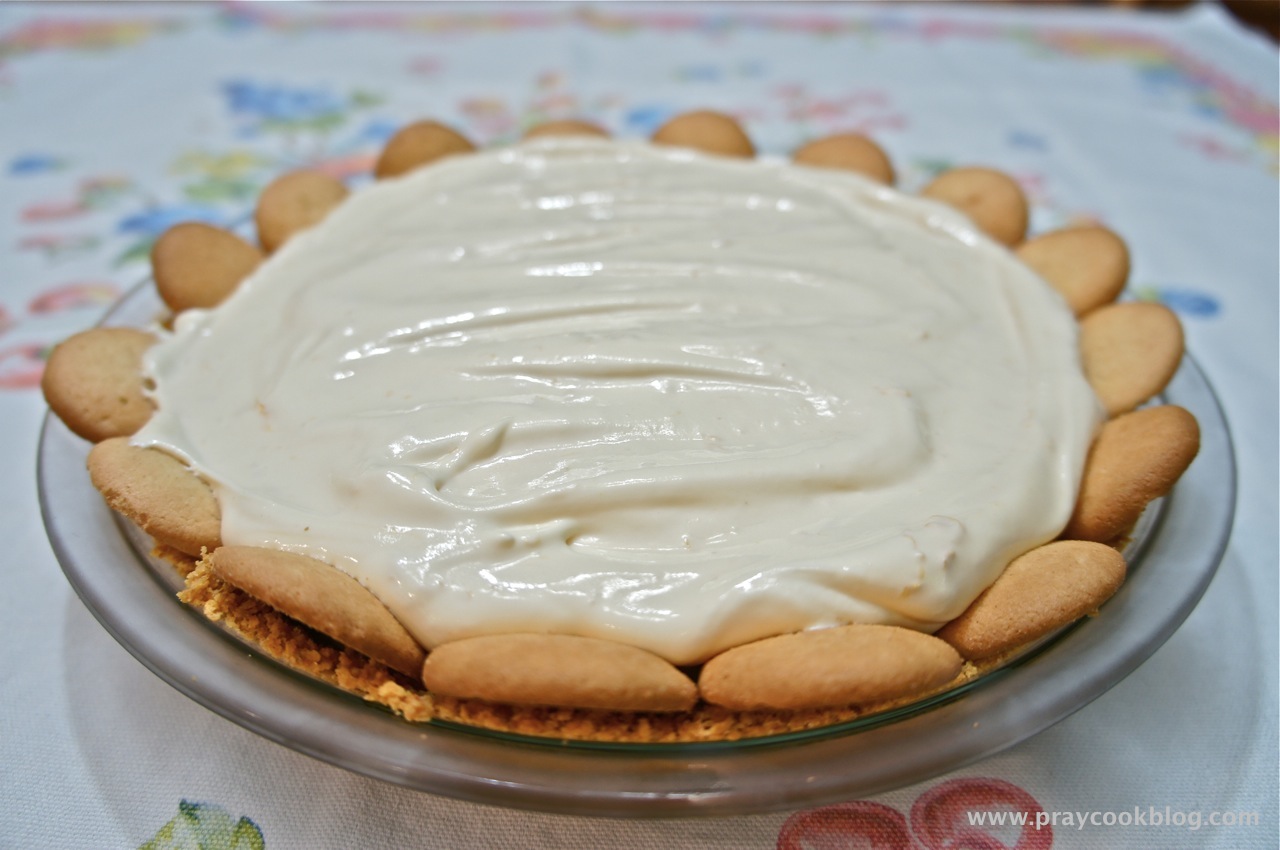 Once everything is mixed and in the pie crust you have a couple of choices.  Into the freezer for about two hours and the pie will be set, creamy and only slightly frozen.  This is how my chief culinary consultant likes to eat his Lemon Icebox Pie.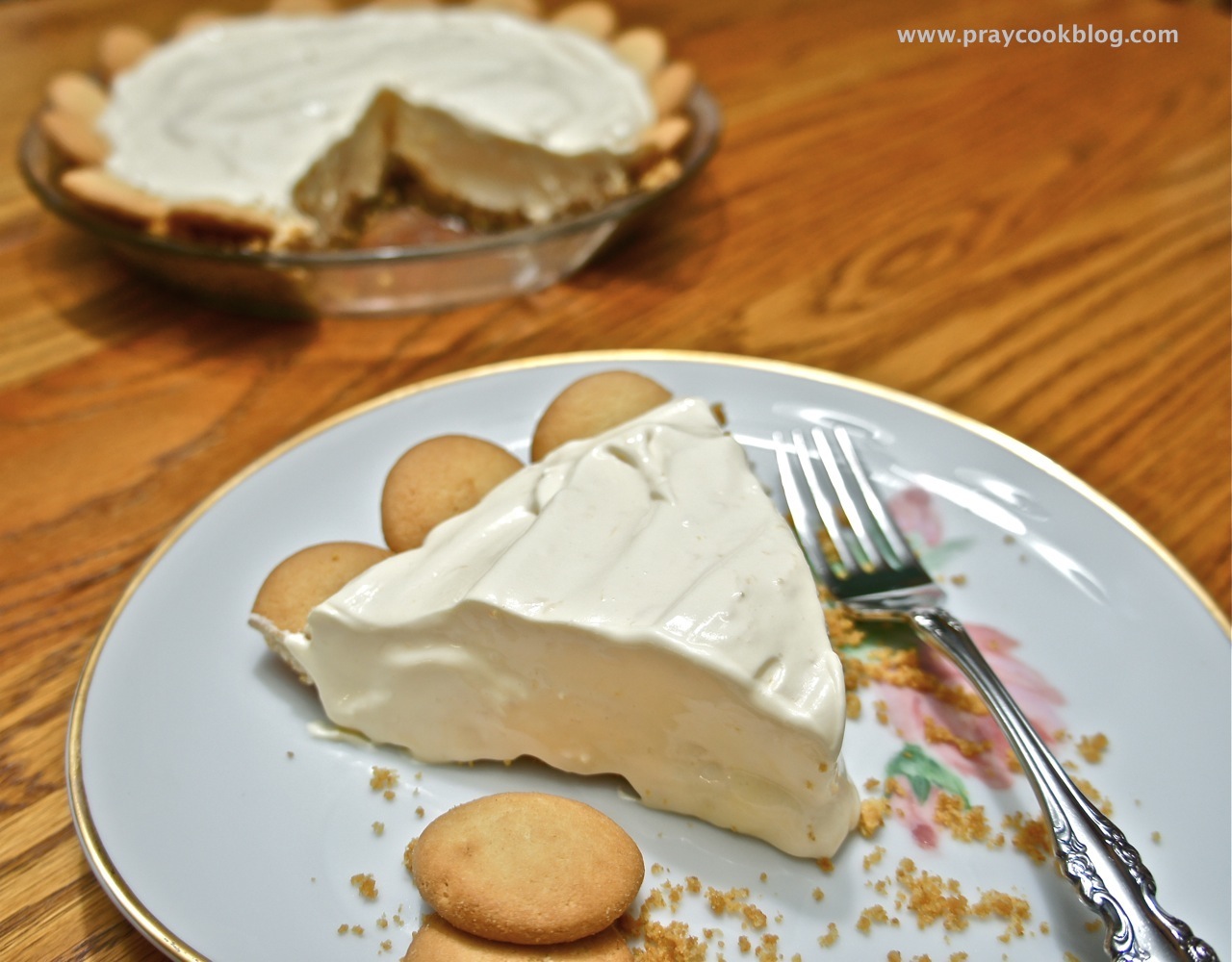 But for me, there is only one way to eat Lemon Icebox Pie … and that is after it has been in the freezer for 8 to 24 hours.  I love biting into the tangy frozen mixture and tasting the sweet and tart and very cold pie!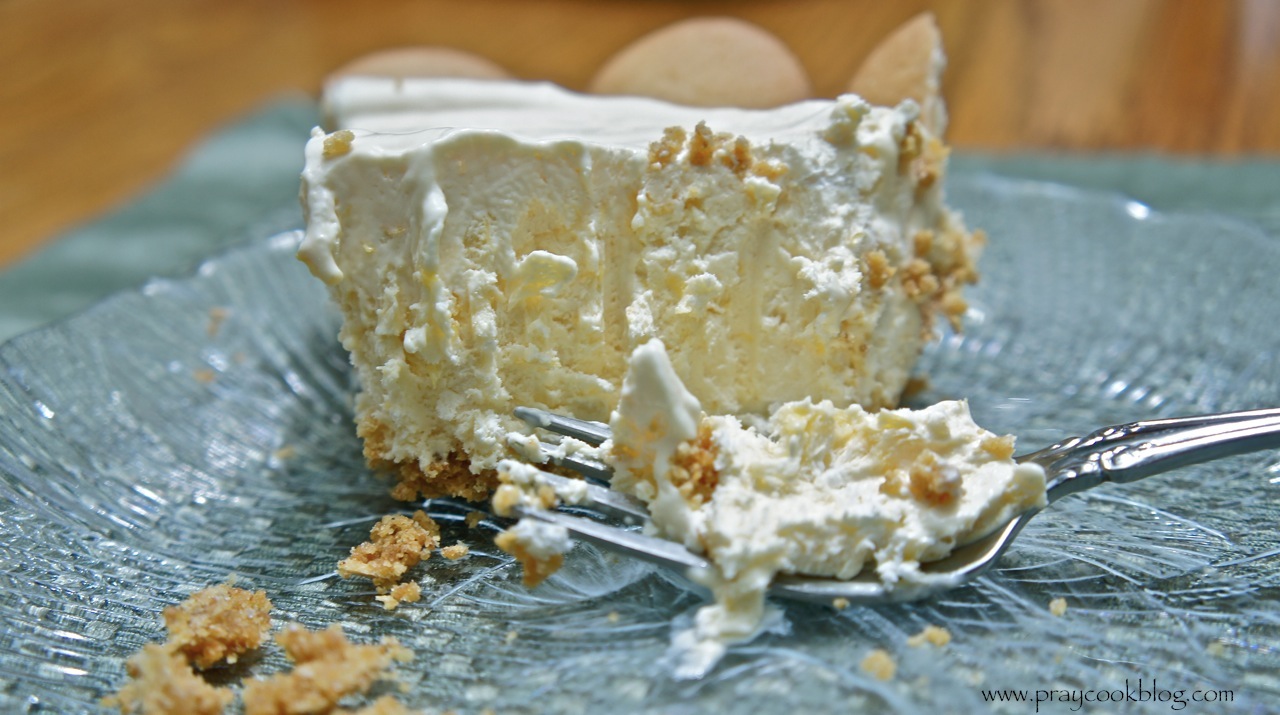 After waiting 24 hours for the perfectly frozen dessert I was half-way through before I remembered …. THE PICTURE 🙂 !!!  Summer's coming- keep this one close at hand!
Many Blessings and Happy Cooking!
Lemon Icebox Pie
Lemon Icebox Pie made with sweetened condensed milk, whipped topping, fresh lemon juice and zest, gets an extra tangy boost from the addition of a Tang!
Author:
Adapted From Deep South Dish
Ingredients
1 Homemade or Commercial Graham Cracker Pie Crust*
⅛ cup Zest of 2 lemons
½ cup Juice of 3 lemons
1 Tablespoon Tang
14 ounces Sweetened Condensed Milk
8 ounce Cool Whip
16 Vanilla wafer cookies
Instructions
To make a graham cracker crust, combine 1-1/2 cups of graham cracker crumbs, about 8 planks or roughly one package, with ½ cup (1 stick) of melted butter, and press into a 9" pie plate. Can use as is, or bake in a 350 degree F preheated oven for about 5 minutes to toast, if desired. Can also substitute a cookie crust, or prebaked regular pastry crust.

Zest and juice the lemons, setting aside a pinch of the lemon zest for garnish. In a medium bowl, combine the sweetened condensed milk, lemon juice, lemon zest, and Tang, whisk until smooth.

Remove about ½ cup of the whipped topping from the tub and set that aside in the refrigerator for garnish. Gently fold the remaining whipped topping into the lemon mixture until well blended. Pour this into the crust and place vanilla wafers all around the rim of the pie plate. Place pie into the freezer for several hours, or preferably overnight, before serving.

Before serving, let stand at room temperature for about 15 minutes to thaw. Spread the reserved whipped topping over the top of the pie, leaving just a small edge around the outside. Garnish with the zest. Store leftovers in the refrigerator, or re-freeze.

Notes
(1)  TANG or a packet of Lemonade Kool-Aid  provides a little color and extra tang but you can eliminate it for a less tart lemon flavor. For a more vibrant color, add a drop or two of yellow food coloring to the filling.

Tip: To make it easier to remove from the pan, grab a large skillet or pan and place a small amount of very hot water in it. Gently set the pie plate into the hot water, taking care that water does not go over the rim! Let it sit for about 30 seconds, and this will help to release the crust for easier serving.