"Behold, the virgin shall conceive and bear a son, and they shall call his name Immanuel"  (which means, God with us).
Matthew 1:23
My husband regularly receives Starbucks cards as gifts from friends and family. On a recent trip to New York he and our friend Russ were on a grocery run. A grocery "run" in Manhattan means just that. They head out on foot, rain or shine, and make the 3 block walk to the grocery store. They buy just the amount of groceries they can carry back home. This particular day it was cold, windy, and a little rainy. They stopped at the corner Starbucks for something warm. My chocolate-loving sweetheart ordered hot chocolate. When he arrived back to Hephzibah House where we were staying, he exclaimed "Starbucks hot chocolate is some of the best I've ever had!" I thought this must be pretty special hot chocolate since he KNOWS his chocolate!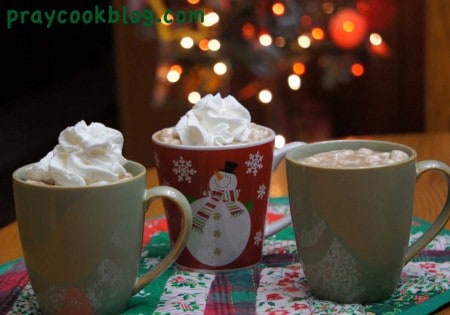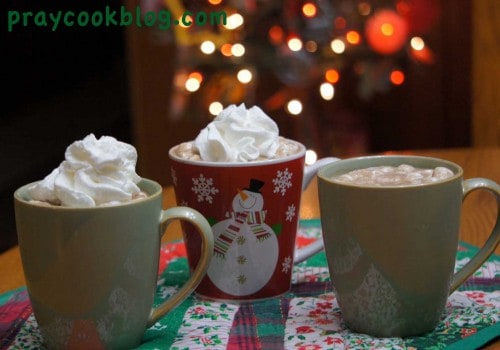 After arriving back in Tennessee, armed with a newly gifted Starbucks card, he headed to Starbucks to purchase a can of their hot chocolate to enjoy in the comfort of home. Sadly, there was no hot chocolate to be found among all the stocking stuffers and Christmas-blend coffee.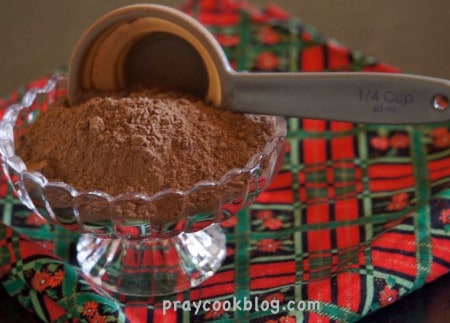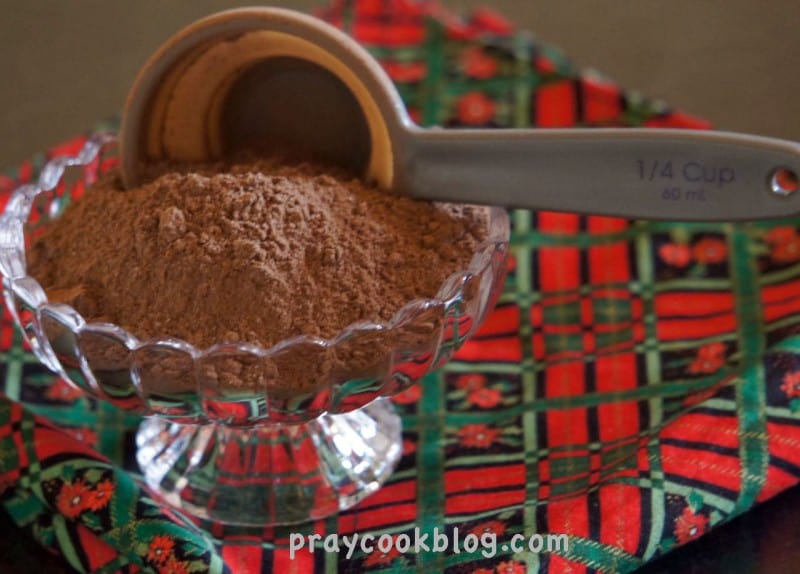 Not to be discouraged from his quest for Starbucks Hot Chocolate we made a stop at the corner Starbucks in a town a few miles down the road where my sous-chef dish-washing mom had an appointment. We were quickly told by the clerk stocking the ample supply of coffee mugs that Starbucks "decided not to stock the Hot Chocolate in their stores. But, we could buy it online!"

 Ah, I did feel sorry for my chocolate-loving husband and I suggested he just use his gift card to buy a hot chocolate to drink there, since we had driven 30 miles to get there and all. "No thanks" he quietly said. He was out of the mood. He slipped his gifted Starbucks card back into his wallet and headed for the door.  I won't go so far as to say he was pouting …
On the way back home I did what I usually do in the car and that is to read up on some of my favorite blog posts. When what to my startling eyes did appear "Easy Homemade Hot Chocolate Mix" posted by the Brown Eyed Baker. The recipe came from Cooks Illustrated. That is when the idea popped into my head that I could make better than Starbucks hot chocolate.
I started with the basic recipe as created by Cooks Illustrated and posted by the Brown Eyed Baker. But my hot chocolate mix has to extraordinary. It has to be so rich and creamy my chocolate-loving husband will say, "now this is better than Starbucks!"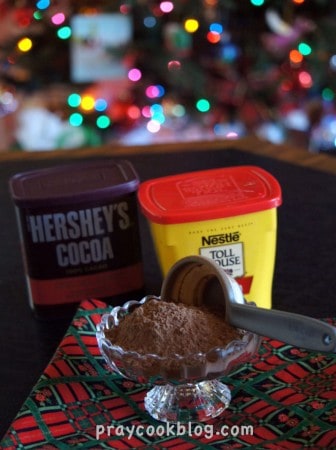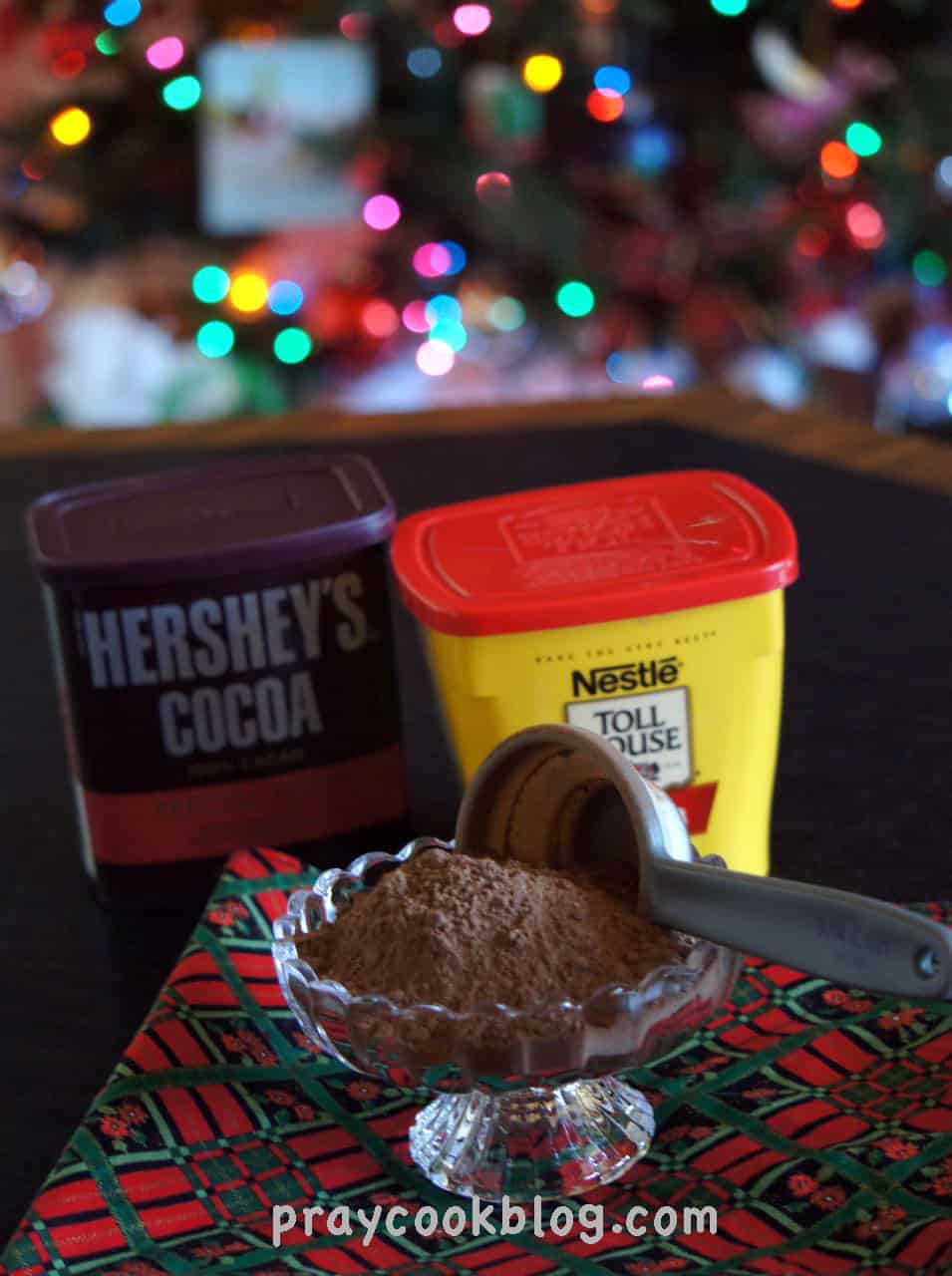 I changed two ingredients to make that happen. I used half dark chocolate cocoa and semi-sweet chocolate bakers bar.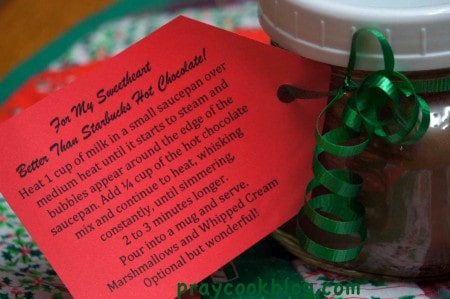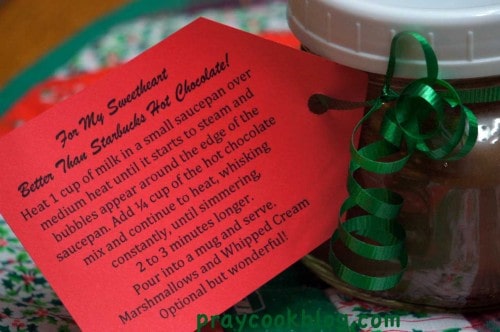 The result – "Babe! This is better than Starbucks hot chocolate!"
End of story.
Happy Baking,
~Catherine
P.S.  What a fabulous and easy Christmas gift this makes!

DIY Better Than Starbucks Hot Chocolate
A decadent and delicious hot chocolate perfect for gift giving!
Author:
Adapted by Catherine Daugherty
Ingredients
1 cup granulated sugar
6 ounces semi-sweet chocolate, chunked or chopped
½ cup unsweetened cocoa powder
½ cup unsweetened dark cocoa powder
½ cup nonfat dry milk powder
5 teaspoons cornstarch
1 teaspoon vanilla extract
¾ teaspoon kosher salt
Instructions
Process all of the ingredients in a food processor until ground to a powder, 30 to 60 seconds. Transfer to an airtight container and store at room temperature for up to 2 months.
To Make Hot Chocolate: Heat 1 cup of milk in a small saucepan over medium heat until it starts to steam and bubbles appear around the edge of the saucepan. Add ¼ cup (4 Tablespoons) of the hot chocolate mix and continue to heat, whisking constantly, until simmering, 2 to 3 minutes longer. Pour into a mug and serve. Marshmallows and whip cream optional but wonderful.
Notes
(Recipe adapated from Cook's Illustrated via The Brown Eyed Baker)