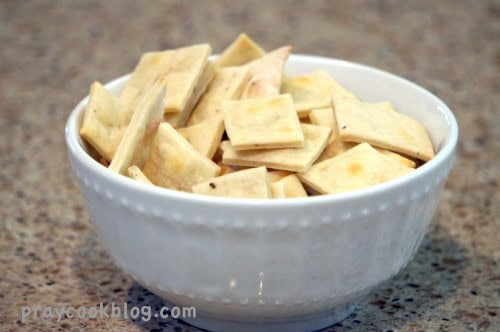 Why in the world would anyone make homemade crackers?
I'm bored.  No.  Absolutely no.   I am never bored.
I'm curious.  Maybe.
It's snowing and I just made Chili Soup and I have no soup crackers.  Bingo!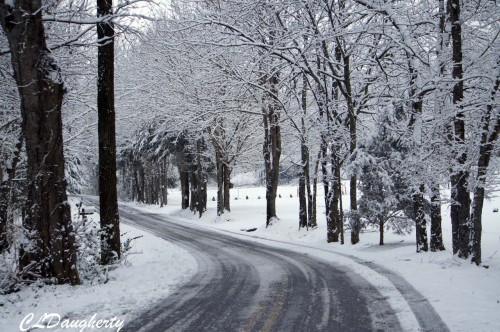 I didn't want to drive 10 miles on this road to get "crackers."  Here is what I learned —  crackers are insanely easy to make AND they taste so much better than the store-bought.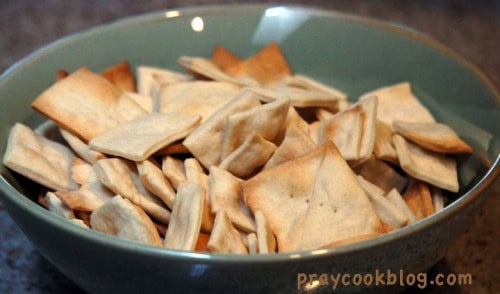 Less than 1 hour start to finish. Also, sprinkling the dough with toppings like sea salt, kosher salt, pepper, Parmesan cheese or other spices really crank a cracker up a notch!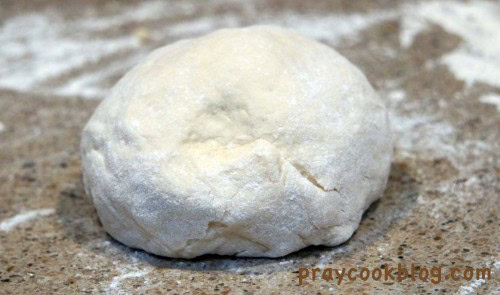 These crackers are made with flour, olive oil, sea salt.  Simple and inexpensive!  I used a food processor which made the mixing a snap. The dough came out perfect with little kneading necessary.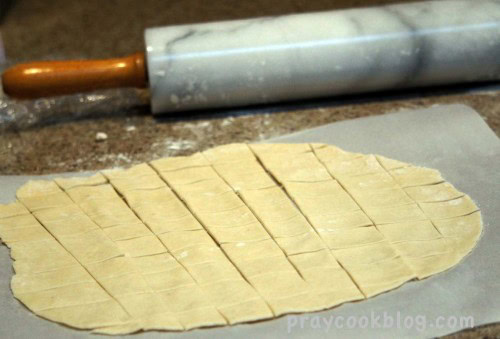 Really fun to see how easy it is to get to this point.  The hardest part of this recipe …. reading through the recipe!  I rolled the dough out on parchment paper so that it was very easy to move to the baking sheet.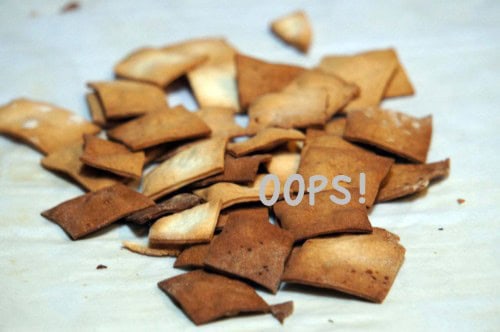 They bake fast.  In this case I took a phone call and when I turned around … over-baked.  I saved these because I know my Chief Cracker Taster happens to love toast and now crackers … a little "over-done."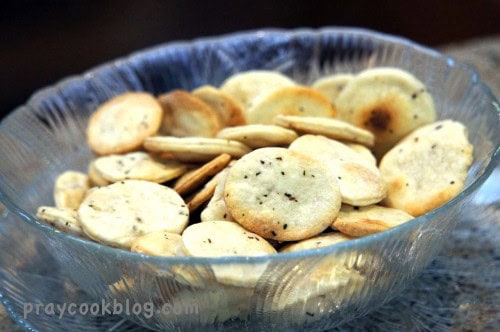 Since I wanted "soup crackers" I took time to cut out these little round peppered crackers.  I took the regular dough and kneaded in a teaspoon of pepper and these crackers are our favorites.  These crackers were made with butter instead of olive oil.  I didn't prick them with a fork so they puffed a bit.  Just perfect.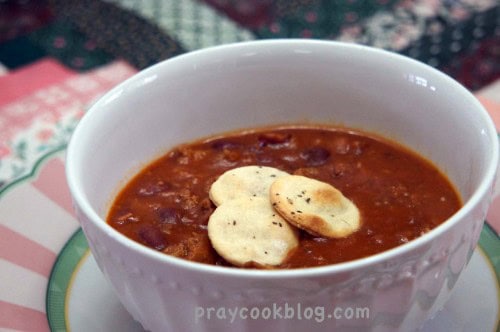 On this cold, snowy day chili soup with homemade crackers was a warm and cozy hit!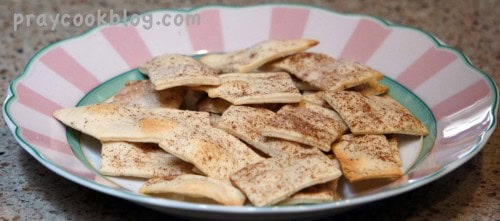 The last of the dough I rolled thin, sprinkled with cinnamon and sugar.  Dessert.
Since these crackers are all fresh ingredients with no preservatives they need to be eaten up within a couple of days or stored in the freezer.  We munched on them for snacks and put some in the freezer for another rainy (or snowy) day!
I highly recommend making homemade crackers.  I have included the two recipes I used.  You can dress 'em up to your liking!  You will wow your family and friends!
Happy Baking!
~Catherine

DIY Buttery Crackers
Once you serve homemade crackers your family will never want to go back to store bought! These are insanely easy to make and fabulously delicious. Use your imagination to put your own flavor stamp on your crackers.
Author:
Adapted by Catherine Daugherty
Ingredients
2 cups flour, plus more as needed
¾ teaspoon sugar
¾ teaspoon salt
½ teaspoon baking powder
4 tablespoons (1/2 stick) unsalted butter, at a cool room temperature
½ cup hot tap water, or as needed
Instructions
Preheat the oven to 450 degrees.
Lightly flour a work surface and a rolling pin.
Combine the flour, sugar, salt and baking powder in a food processor. Add the butter and pulse several times to combine. ** May add favorite spice or pepper at this time. With the machine running, add enough hot water to form a smooth, soft ball, stopping to check the texture before you add all of the water; you might not need all of it. (Alternatively, whisk the dry ingredients together in a large mixing bowl and use a fork or pastry cutter to cut in the butter, then stir in the hot water.)
Turn the dough out onto the work surface and knead it quickly and lightly. Divide into fourths and wrap in plastic wrap. Let the dough rest at room temperature for about 10 minutes.
Use the floured rolling pin to roll the dough out as thinly as possible on the work surface (re-flour as needed). Ideally, the dough should be translucent enough so that you can see the work surface underneath it. You can pick up the dough and rotate it as needed in between rollings, but don't turn it over.
Sprinkle the dough with a little flour. Fold the dough carefully into 2 or 3 pieces, transfer it to a baking sheet and unfold it to cover the sheet. Use a pastry cutting wheel or sharp knife to quickly slice the dough into approximately 1½-inch squares (or smaller if desired) cutting the whole sheet in one direction first, then the other. Use the tines of a fork to prick each cracker several times. You can remove any trimmed-off pieces at the edges and re-roll them later, though they will be a little tougher in texture.
Bake for 6 to 10 minutes or until the crackers turn golden and are light brown around the edges. (You might need to bake the crackers on the inside of the sheet a little longer, because they will not brown as readily.) Transfer to a wire rack to cool. Repeat to use all of the dough.
Cool completely before serving or storing.
Notes
Roll the dough out on parchment paper for ease of moving to baking sheet.
Serve with cheese as snacks, as appetizers or with an after-dinner cheese plate. They're also good with a variety of other toppings, or even unadorned. The recipe can be doubled.
** Crackers that seem a little tired after defrosting or a little past their prime can often be revived by a brief stay in a 300-degree oven.
DIY Olive Oil Crackers
The hardest part of making these crackers is reading the recipe. These are insanely easy to make and delicious to eat!
Author:
Adapted from The KITCHN by Catherine Daugherty
Ingredients
3 cups all-purpose flour, or a mix of all-purpose and whole grain flours
2 teaspoons sugar
2 teaspoons salt
4 tablespoons extra-virgin olive oil
1 cup water
Optional topping: 1 tablespoon sesame seeds, 1 tablespoon fennel seeds, 1 tablespoon poppy seeds, 1 teaspoon sea salt
Instructions
Heat the oven to 450°F: Place a rack in the lower third of the oven and heat to 450°F. Sprinkle a baking sheet lightly with flour and set aside.
Mix together the dry ingredients in your food processor, pulsing on and off the flour, sugar, and salt.
Add the oil and water to the flour mixture. Mixing until a soft, sticky dough is formed. If a lot of loose flour remains in the bottom of the bowl and the surface of the dough, add more water a tablespoon at a time until all the flour is incorporated.
Divide and shape the dough into a square: Divide the dough into two halves and set one half aside. Sprinkle your work surface lightly with flour and set the other half on top. Pat it into a thick square with your hands.
Roll out the dough: Working from the center of the dough out, roll the dough into a rectangle roughly ⅛-inch thick or thinner. If the dough starts to shrink back as you roll it, let it rest, uncovered, for 5 minutes and then continue rolling.
Sprinkle dough with topping (optional): Brush the surface of the dough very lightly with water. Combine the seeds in a small bowl and sprinkle half of them (roughly 1½ tablespoons) evenly over the surface of the dough.
Cut the dough into cracker-sized rectangles: Using a pizza cutter or a sharp knife, cut the dough into individual crackers roughly 1-inch by 2-inches (or smaller if desired.) Alternatively, cut the crackers into squares, diamonds, or use cookie cutters.
Transfer crackers to baking sheet and prick with fork: Transfer the crackers to the baking sheet using a metal dough scraper or spatula. It's fine to crowd the crackers very close to each other. Prick each cracker with the tines of a fork to prevent them from puffing during baking.
Bake for 12-15 minutes: Bake the crackers in the oven for 12-15 minutes, until the edges are browned. Thinner crackers will bake more quickly than thicker ones; you can remove the crackers as they brown to your liking and continue baking the rest. While the first batch of crackers is baking, roll out and cut the remaining dough.
Cool and store the crackers: Transfer the baked crackers to a wire rack to cool completely. The crackers will crisp further as they cool. Store the crackers in an airtight container on the counter for 3-5 days. If you're crackers are a little old and less-than-crispy, lay them on a baking sheet and put them in a 350°F oven for a few minutes to re-crisp.
Notes
Roll dough on parchment paper for ease of movement to baking sheet.
Recipe from: The KITCHN
Other Ideas for Toppings: dried herbs, chili powder, pepper, sea salt