The Easiest German Chocolate Cake In The U.S.A. (and The Cookbook Winner Is…)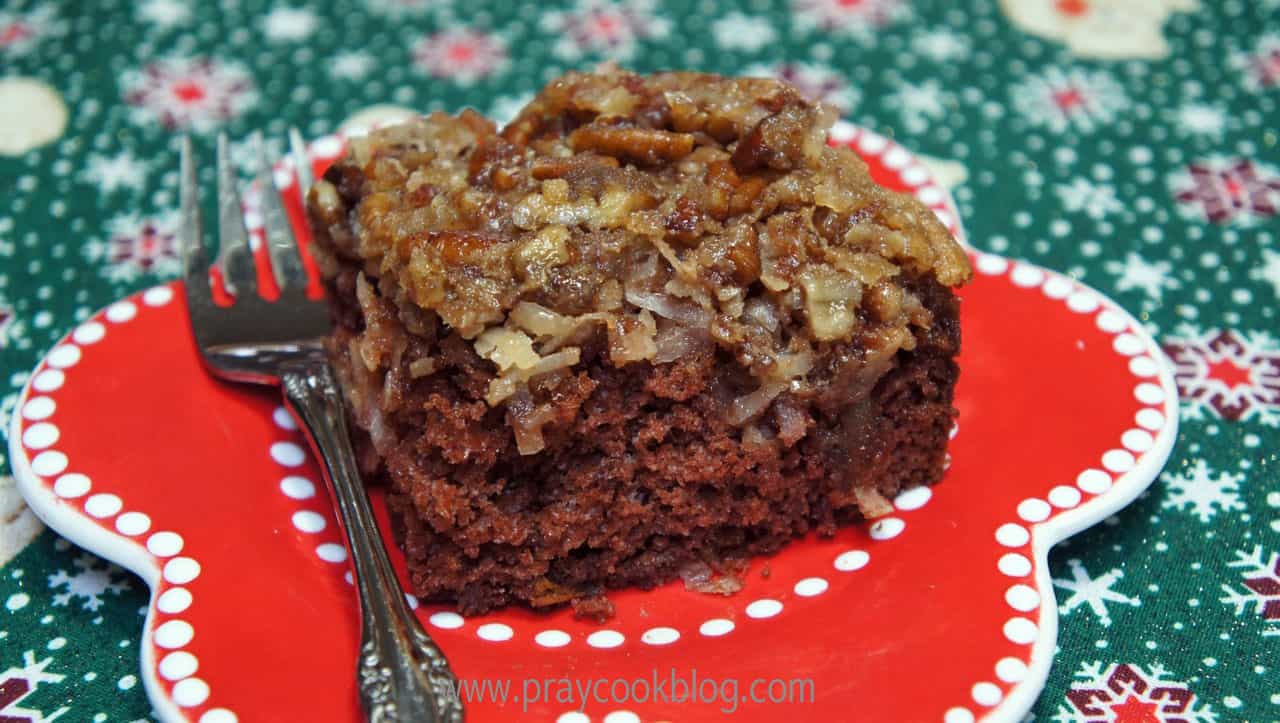 1 Duncan Hines German Chocolate Cake Mix (16.5 oz)
1¼ cups water
½ cup vegetable oil
3 large eggs
1 cup brown sugar
¼ cup butter
1 cup chopped pecans
1½ cup flaked coconut
½ cup evaporated milk
PREHEAT oven to 350°F for metal or glass pans, 325°F for dark or coated pans. GREASE sides and bottom of 9" x 13" baking pan with shortening. Cut a piece of parchment paper and lay on the bottom of baking pan.
IN a saucepan over low heat, cook and stir brown sugar and butter until sugar is dissolved and butter is melted. Spread into the greased 9"x"13" baking pan.
SPRINKLE with chopped pecans and coconut.
DRIZZLE with evaporated milk. Set aside.
BLEND dry mix, water, oil and eggs in large bowl at low speed until moistened (about 30 seconds). BEAT at medium speed for 2 minutes. Pour over topping.
BAKE at 350 degrees F. for 38 to 44 minutes or until a toothpick inserted near the center comes out clean.
COOL for 2 minutes before inverting onto a serving plate.
SERVE at room temperature with whipped cream, if desired.
Recipe by
Pray Cook Blog
at https://praycookblog.com/the-easiest-upside-down-german-chocolate-cake-and-the-cookbook-winner-is/