Healthified Tiramisu Mini-Parfaits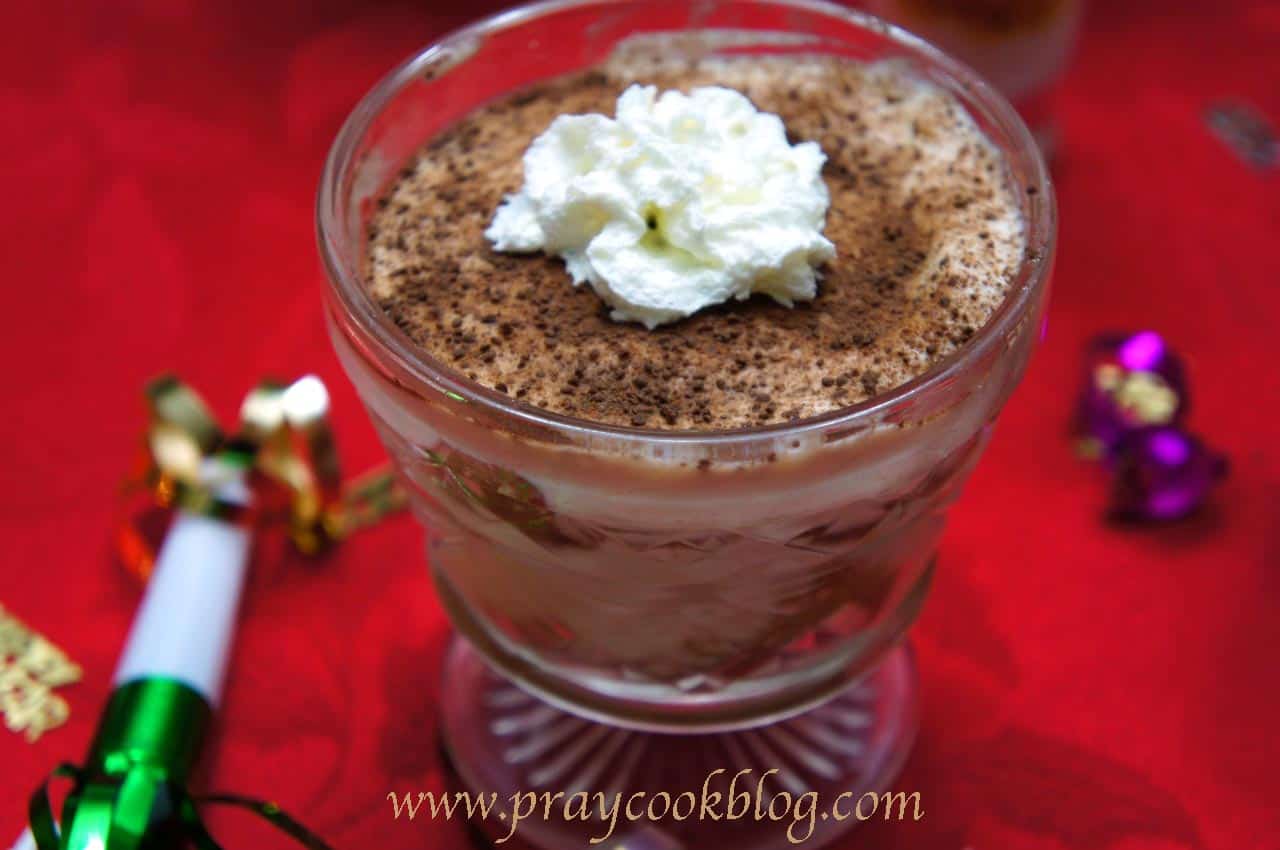 4 ounce Neufchatel cream cheese softened, (1/3 less-fat)
¾ cup reduced-fat ricotta cheese
½ cup powdered sugar
1 teaspoon vanilla
1 container (6 oz.) Yoplait Original 99% Fat-free French Vanilla yogurt
⅓ cup cold brewed espresso or strong coffee
2 tablespoons coffee-flavored liqueur (i.e. Kahlua)
2 tablespoons Baileys Irish Cream (optional)
1 package (3 oz.) soft ladyfingers, cut into ½ inch cubes
1 oz. semisweet baking chocolate, grated (1/4 cup)
In a medium bowl, beat cream cheese with electric mixer on medium speed until smooth. Beat in ricotta cheese, powdered sugar and vanilla until creamy. Beat in yogurt until well blended.
In a small bowl, mix espresso, liqueur, and Baileys Irish Creme.
In 8 small parfait glasses or small dessert dishes, layer half of the ladyfingers, half of the espresso mixture and half of the cheese mixture. Sprinkle each with about ¾ teaspoon grated chocolate. Repeat layers.
Cover and refrigerate for at least 1 hour. Top with a dollop of whip cream to serve.
Store covered in refrigerator.
*Baileys Irish Cream is an optional ingredient adding richness to the parfait.

Instead of ladyfingers, you can use 4 cups of angel food cake cubes.

A sprinkle of baking cocoa in place of the chocolate on each layer is a nice substitute.

Recipe adapted from www.livebetteramerica.com
Recipe by
Pray Cook Blog
at https://praycookblog.com/healthified-tiramisu-mini-parfaits/