Brussels Sprouts and Bacon Au Gratin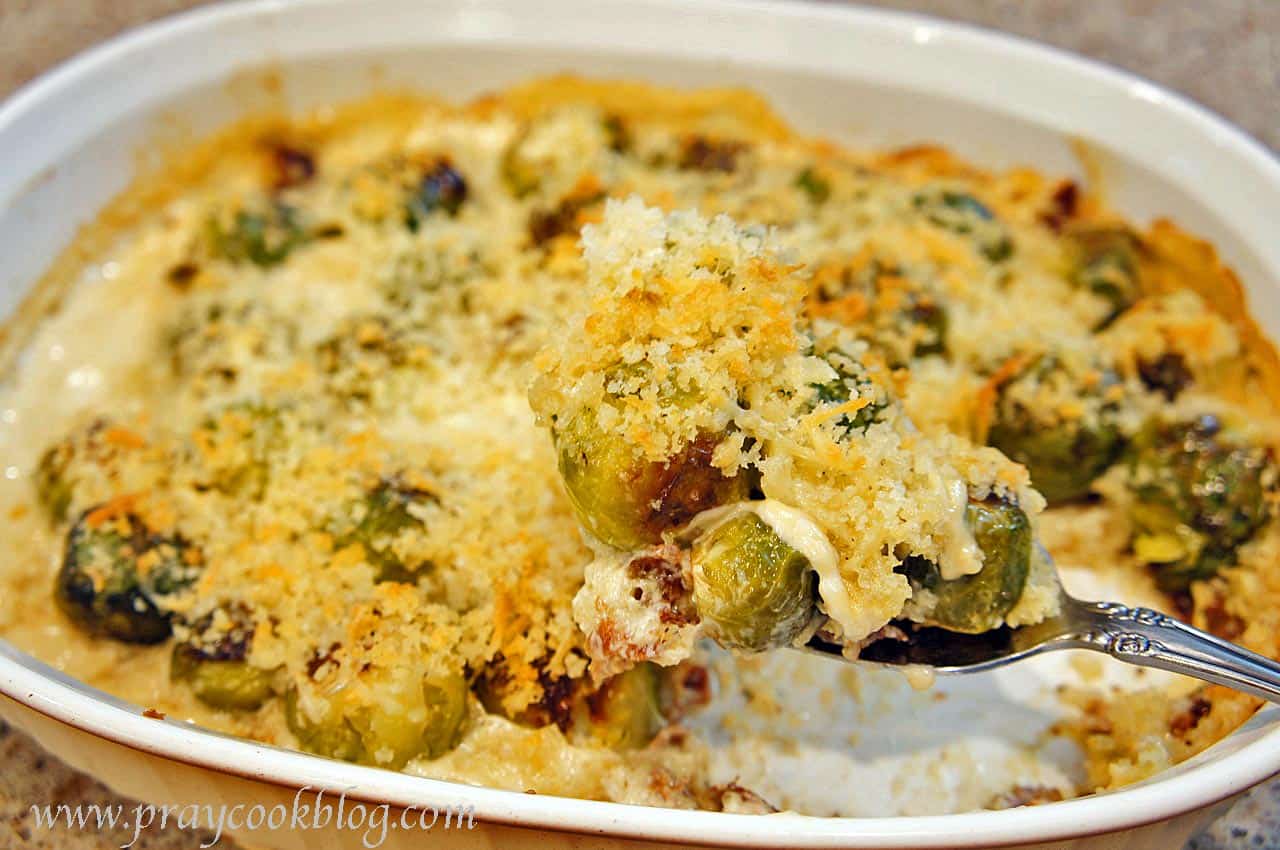 2 pounds Brussels sprouts
6 ounces bacon, cooked crispy and crumbled
2 tablespoons unsalted butter, melted
¾ teaspoon salt
Fresh ground pepper to taste
1 cup plus 2 Tablespoons Half & Half
1 cup Panko bread crumbs
6 tablespoons grated Parmesan cheese
3 tablespoons unsalted butter, melted
½ teaspoon salt
½ teaspoon ground pepper
Preheat oven to 425 degrees F. with rack in middle position.
Remove outer leaf layers of the Brussels sprouts, slice off the stem ends. Wash and set aside to drain.
In a medium bowl, toss together the Brussels sprouts, cooked bacon, melted butter, salt and pepper. Arrange in a single layer in a 9" x 13" baking dish sprayed with canola oil (or your favorite spray.) Bake for 25 minutes.
Meanwhile, toss together all of the ingredients for the topping in a small bowl; set aside.
Remove baking dish from the oven and pour the Half & Half over top of the Brussels sprouts; use a spoon to toss together, ensuring all of the sprouts are coated in the cream. Arrange them again in a single layer in the pan. Sprinkle the topping evenly over the top of the Brussels Sprouts. Return to the oven for an additional 15 to 20 minutes, until the cream is bubbling and the topping is golden brown. Let rest for 5 minutes before serving.
Adapted from The Brown Eyed Baker.
Recipe by
Pray Cook Blog
at https://praycookblog.com/brussels-sprouts-and-bacon-au-gratin/