Sour Cream Coconut Cake Roll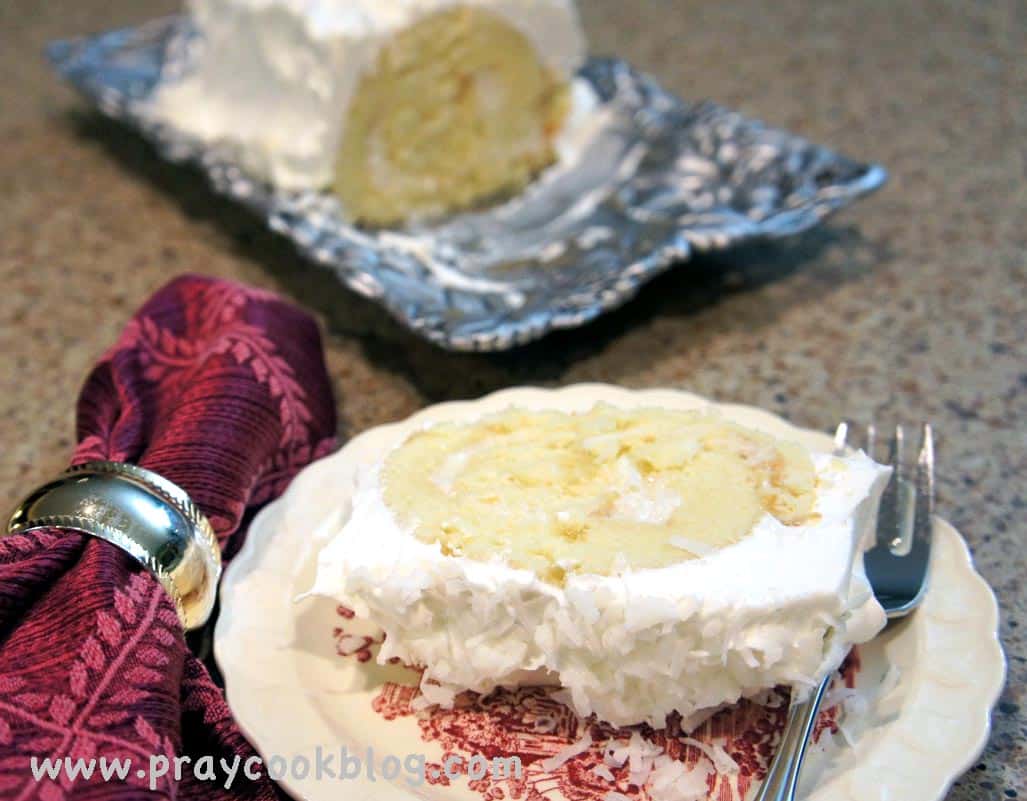 1 Duncan Hines Yellow Butter Cake Mix
Eggs, oil, and water according to cake mix directions.
16 oz. sour cream
2 cups granulated sugar
2 packages frozen coconut
8 oz. Cool Whip
1 cup flaked coconut
Powdered sugar for sprinkling
Mix cake mix according to directions on the package. Grease two 10" x 15" baking sheets and lay parchment paper over the greased sheet. Spray parchment lightly with canola spray. Divide batter between the two sheets, bake for 12 to 15 minutes until cake is puffy and brown. Do not over bake.
While cake is baking prepare two cotton towels by sprinkling with powdered sugar.
Remove cakes from oven and carefully turn over onto each prepared cotton towel. Slowly remove parchment paper and starting at the short end roll the warm cake and towel jelly roll style. Leave each rolled cake to cool on the counter or cooling rack.
While cake is cooling, in a medium size bowl, mix together sour cream, sugar, and thawed coconut. Set aside one cup of this mixture and add it to the cool whip to use as frosting.
When cake roll is cool, slowly unroll the toweled cake being careful not to tear the cake. Once it is unrolled spread each cake roll with half the sour cream/sugar mixture.
Starting at the short end roll the cake roll tightly jelly-roll style. Frost each roll and sprinkle with half of the flaked coconut. Place in air tight container such as Tupperware. Store in refrigerator for 1 to 7 days.
Slice and enjoy!
Recipe makes 2 cake rolls which will serve 8 people per roll.

Cake rolls can be stored in the freezer for 1 to 2 months, without frosting, but with coconut mixture inside the roll. Thaw, top with frosting and enjoy!

Step by step instructions found at
https://praycookblog.com/2013/01/16/sour-cream-coconut-cake-roll/ ‎
Recipe by
Pray Cook Blog
at https://praycookblog.com/sour-cream-coconut-cake-roll/