Summer's Harvest Fresh Peach Pie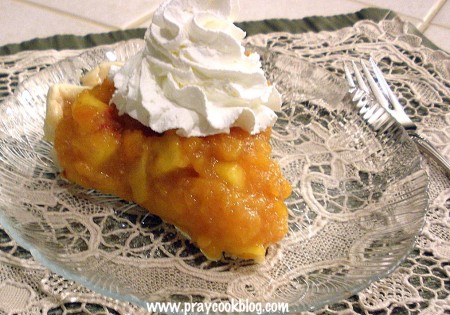 1 cup Fresh peaches, mashed
½ cup Water
1 cup Granulated Sugar
3 tablespoon Corn Starch
2-3 cup Fresh peaches, sliced
1 Pie crust
Bake pie crust and cool.
Mix 3 Tablespoons corn starch in a bowl with ¼ cup of cold water. Set aside.
In a pot mix 1 cup of fresh diced peaches with ¼ cup of water and 1 cup of sugar. Mash the pot of fruit while bringing contents to a boil. Boil for 5 minutes at a rumble (full rolling boil) stirring constantly.

Add the corn starch mixture into the pot of boiling peaches all at once and stir until thickened (about 2 minutes). Pour hot peach mixture over 2 to 3 cups of fresh sliced peaches. Mix well and pour into the baked pie crust.

Allow to cool/refrigerate for a few hours then enjoy. Serve with a dollop of whipped cream!
Notes:

1. You can vary the amount of sugar depending on the sweetness of the fruit and to taste.

2.  You may use 1 cup frozen fruit to make the mash. Just thaw and follow the recipe.
3.  This recipe works equally well for other fruits and berries!
Recipe by
Pray Cook Blog
at https://praycookblog.com/the-garden-harvest-and-fresh-peach-pie/