Stay Cool With Melt-In-Your-Mouth Pot Roast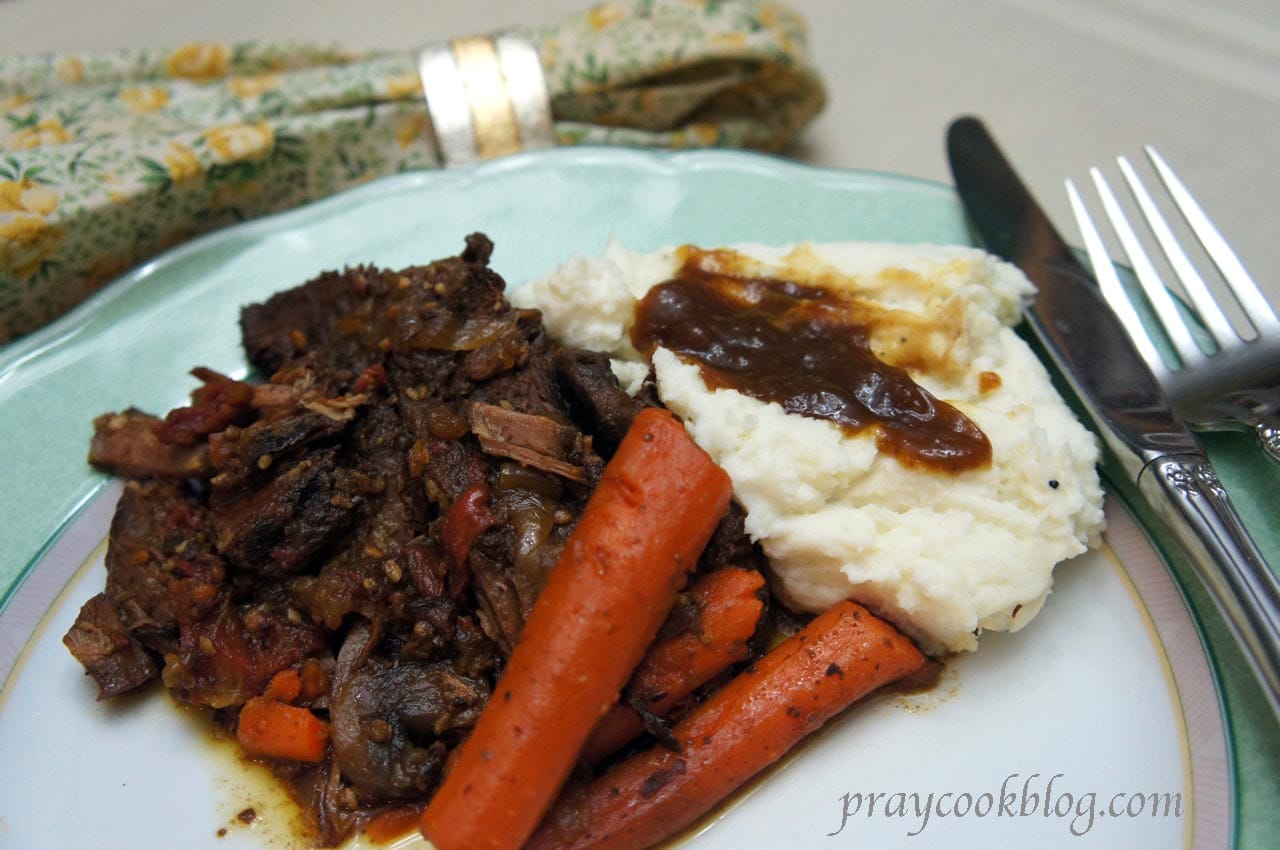 3½ to 4 lb. chuck roast
1 large onion, sliced
1 (8 oz.) package sliced baby bella mushrooms
1 (3 oz.) package sun-dried tomatoes
2 cups beef broth or stock
⅓ cup balsamic vinegar
¾ cup red wine
3 cloves garlic, minced
½ teaspoon smoked paprika
Salt and Pepper to taste
Preheat BBQ grill. Sprinkle roast with salt and pepper and any other favorite seasonings. On medium heat cook the roast for 15 minutes, turning at 5 minute intervals.
Mix together beef broth, vinegar, red wine, garlic, and paprika. Slice onion.
Pour a small amount of the broth mixture into the bottom of a crock-pot. Add one half of the sliced onion rings.
Remove roast from the BBQ grill and slice into chucks the width of the roast and about 1" to ½" wide. Place pieces of meat in the crock-pot on top of the onion rings.
Sprinkle sun-dried tomatoes over the meat.
Add sliced mushrooms to the remaining broth mixture and pour over the meat.
Top with remaining onion slices. Add salt and pepper to taste.
Bake on HIGH for 1 hour then turn crock-pot on LOW for an additional 7 to 8 hours.
Remove meat and drain off the juices to make gravy or ladle juice over the meat to serve.
Carrots and/or potatoes can be added 2 to 3 hours before serving.
Try experimenting with different combinations of liquids and spices. 3 cups of liquid and 2 to 3 teaspoons of seasoning is a good rule of thumb for a 4 lb. roast. Water, red wine, beef stock or beer are excellent liquid options. Garlic, rosemary, thyme and paprika make wonderful spice additions to your roast.
Recipe by
Pray Cook Blog
at https://praycookblog.com/stay-cool-with-melt-in-your-mouth-pot-roast/