Cream of Fresh Tomato Soup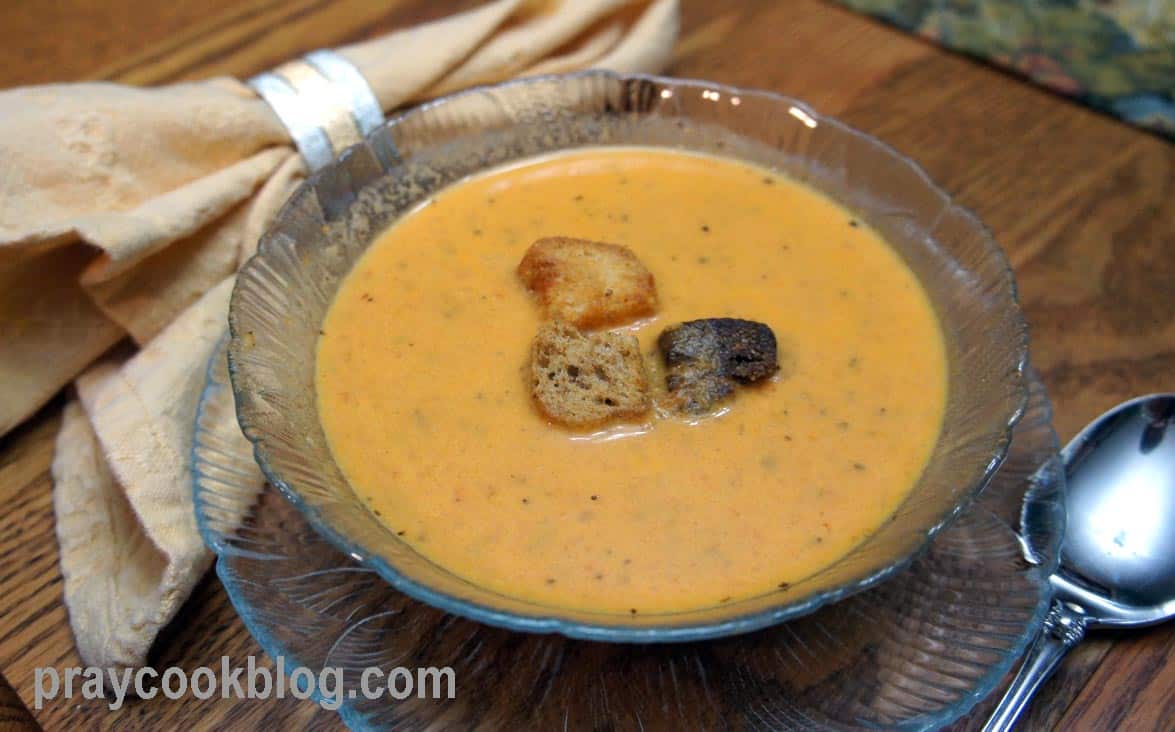 3 tablespoons good olive oil, can used flavored such as basil olive oil
1½ cups chopped red onions (about 2 small onions)
2 carrots, peeled and chopped
1 tablespoon minced garlic (3 cloves)
4 pounds vine-ripened tomatoes, peeled and coarsely chopped (about 5 large or 10 Roma)
1½ teaspoon sugar
¼ cup packed chopped fresh basil leaves, or 1 tablespoon dried basil
3 cups chicken stock
1 tablespoon Kosher salt
2 teaspoons freshly ground black pepper
¾ cup heavy cream
Croutons, for garnish
Heat olive oil in a large, heavy-bottomed pot over medium-low heat. Add the onions and carrots and saute for about 10 minutes, until very tender. Add the garlic and cook for another minute.
Add tomatoes, sugar, basil, chicken stock, salt and pepper and stir well. Bring the soup to a boil, lower the heat and simmer, uncovered, for 30 minutes or until the tomatoes are very tender.
Remove from heat and allow to cool slightly. Add soup to a blender at about 2 cups at a time. Keep the blender lid slightly skewed to let the heat escape. Pulse the soup off and on for a minute to puree. Do the same with remaining soup. Pour everything back into the pot and slowly reheat adding heavy cream. Reheat just until hot.
Garnish with croutons and enjoy!
Adapted from Barefoot Contessa, The Food Network
Recipe by
Pray Cook Blog
at https://praycookblog.com/cream-of-fresh-tomato-soup/