Roasted Banana Bars With Cream Cheese Frosting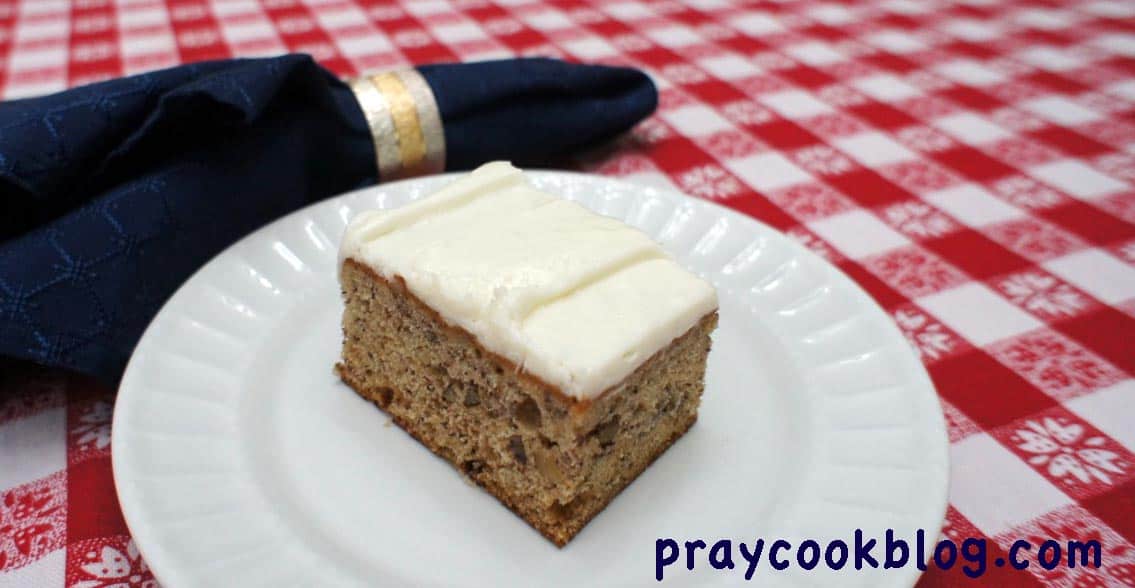 4 cups sliced ripe bananas (about 6 medium)
⅔ cup packed dark brown sugar
2 Tablespoons butter, cut into small pieces
2¼ cups all-purpose flour
2¼ cups cake flour
1 teaspoon baking powder
1½ teaspoons baking soda
½ cup buttermilk (non-fat or regular)
½ cup butter, softened
2 cups granulated sugar
4 large eggs
½ cup crushed pecans
⅓ cup butter, softened
4 ounces cream cheese
4 cups powdered sugar
2 teaspoon vanilla extract
1 to 2 Tablespoons Milk to desired consistency
Preheat oven to 400 degrees F.
Combine sliced bananas, brown sugar and butter in a 9" x 13" baking pan, roast at 400 degrees F. for 35 minutes, stirring about half way through. Cool slightly.
Reduce the oven to 375 degrees F.
In the bowl of the electric mixer combine butter and sugar. Beat until light and fluffy. Add eggs, beating until well mixed.
Combine flours, baking soda, pecans, and baking powder, in the bowl of the electric mixer.
Combine cooled roasted bananas with buttermilk and vanilla.
Alternate banana mixture and flour mixture into the butter/sugar/eggs in electric mixer until all ingredients are combined.
Pour batter into a bakers half sheet that has been prepared with baking spray. Bake at 375 degrees F. for 25 to 30 minutes or until wooden pick inserted in center comes out clean. Cool completely on wire rack.
Prepare frosting: Combine butter and cream cheese in bowl of electric mixer. Beat until well combined. Add powdered sugar and vanilla. Beat well. Add milk 1 tablespoon at a time until desired consistency is reached.
Frost cooled banana bars and enjoy!
Vanilla Coffee-Mate is an excellent substitute for the milk in the frosting.
Recipe by
Pray Cook Blog
at https://praycookblog.com/roasted-banana-bars-and-christmas-in-july/