Pecan Pie Jack Daniel-Style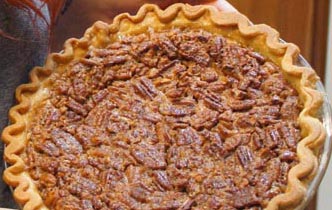 ¼ cup Butter
⅔ cups Brown Sugar, firmly packed
¼ teaspoon salt
1 cup corn syrup (Light or dark)
3 eggs, slightly beaten
1 teaspoon Vanilla Extract
1 to 1½ cups Pecan halves or pieces (can be roughly chopped if you prefer)
¼ cup Jack Daniel Whiskey (Optional)
1 Pie Crust ( I use Pillsbury, but homemade is good too!)
Lightly spray pie plate with canola oil. Line pie plate with pastry shell, flute edges and sprinkle with pecans.
Cream butter and sugar until fluffy using a mixer or food processor. Add in next four ingredients mixing well.
Pour filling over pecans.
Cover outer pie crust with a pie ring or loosely with tin foil.
Preheat oven to 375 degrees F. Bake 40 to 50 minutes, or longer if needed, until a tester inserted in the middle comes out clean.
Serve warm or room temperature with whipped cream.
(1) Pie will set slightly as it cools.
(2) The pie ring or foil is necessary or the outer pie crust will brown too much during cooking.
Recipe by
Pray Cook Blog
at https://praycookblog.com/abbey-and-her-first-pecan-pie-jd-style/