DIY Better Than Starbucks Hot Chocolate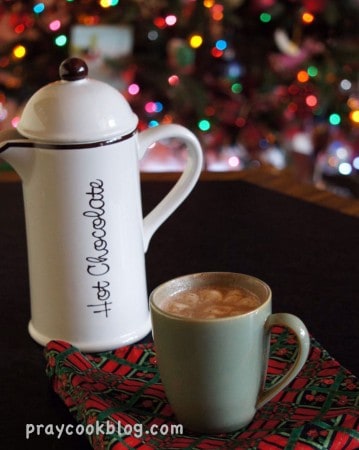 Author:
Adapted by Catherine Daugherty
1 cup granulated sugar
6 ounces semi-sweet chocolate, chunked or chopped
½ cup unsweetened cocoa powder
½ cup unsweetened dark cocoa powder
½ cup nonfat dry milk powder
5 teaspoons cornstarch
1 teaspoon vanilla extract
¾ teaspoon kosher salt
Process all of the ingredients in a food processor until ground to a powder, 30 to 60 seconds. Transfer to an airtight container and store at room temperature for up to 2 months.
To Make Hot Chocolate: Heat 1 cup of milk in a small saucepan over medium heat until it starts to steam and bubbles appear around the edge of the saucepan. Add ¼ cup (4 Tablespoons) of the hot chocolate mix and continue to heat, whisking constantly, until simmering, 2 to 3 minutes longer. Pour into a mug and serve. Marshmallows and whip cream optional but wonderful.
(Recipe adapated from Cook's Illustrated via The Brown Eyed Baker)
Recipe by
Pray Cook Blog
at https://praycookblog.com/diy-better-than-starbucks-hot-chocolate/