For The Love of My Family - Tuna Noodle Casserole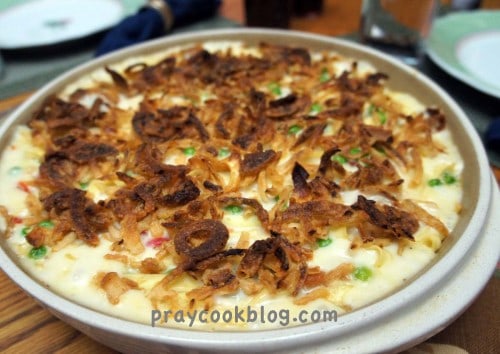 Author:
Adapted by Catherine Daugherty
Recipe type:
Main Dish Casserole
1 can (10-3/4 ounces) cream of chicken soup, undiluted
½ cup milk
2 cups cooked Egg noodles
1 cup frozen peas, thawed
1 can (6 ounces) white albacore tuna, drained and flaked
1 jar (2 ounces) diced pimientos, drained
1 cup french-fried onions
In a large saucepan cook noodles until just cooked, not over-cooked. Drain.
In a large bowl, combine soup and milk until smooth. Add the noodles, peas, tuna and pimientos; mix well.
Pour into a 1-1/2-qt. baking dish coated with cooking spray. Sprinkle with french-fried onions.
Bake, uncovered, at 400° for 25 minutes or until browned and bubbly.
Yield: 4 servings.
Recipe can easily be doubled. Cook time 35 minutes or until brown and bubbly.
Recipe by
Pray Cook Blog
at https://praycookblog.com/for-the-love-of-my-family-tuna-noodle-casserole/