Bacon, Egg & Biscuit Casserole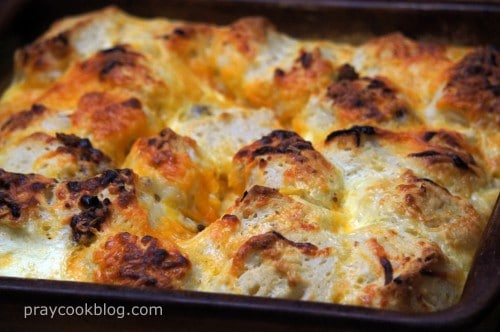 Author:
Adapted by Catherine Daugherty
Recipe type:
Breakfast, Brunch, Dinner
1 can buttermilk biscuits or 6 frozen biscuits
½ pound sausage, pork or turkey, cooked, drained and crumbled
1 cup cooked, drained, and crumbled bacon
6 eggs
¾ cup milk
1 cup shredded mozzarella cheese
1 cup shredded cheddar cheese
Salt and Pepper to taste
Preheat oven to 425 degrees F. Grease 8" x 8" baking dish.
Cut biscuits into fourths. Place in greased pan.
Sprinkle cooked sausage and bacon over the biscuits.
Beat eggs and milk together. Add salt and pepper to taste. Pour mixture over the meat and biscuits. Sprinkle both cheeses over the top.
Bake at 425 degrees. F for 30 to 35 minutes or until top is brown and casserole is set. Let sit 5 minutes before serving.
I think you can start with the basic recipe and add or subtract anything you want or don't want. I can see this as an all-cheese recipe, onions and green peppers added, or how about some spicy Chorizo sausage served with salsa?

Let your imagination and taste buds run a little wild with this tasty casserole!

Adapted from myrecipes.com
Recipe by
Pray Cook Blog
at https://praycookblog.com/bacon-egg-biscuit-casserole-breakfast-brunch-or-dinner-john-2112/