Honeyed Sweet Pepper Chicken Breasts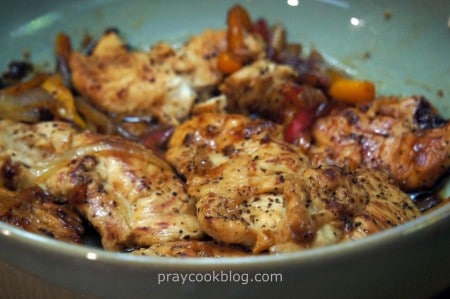 Author:
Adapted by Catherine Daugherty
Cuisine:
American - Cajun Spiced
4 boneless skinless chicken breasts or 1 lb. of chicken strips
2 cups homemade or bottled Italian dressing
2 teaspoons lime juice
1 tsp. Slap Ya Mama Cajun seasoning
Salt and pepper to taste
2 Tablespoons butter or cooking oil
1 cup chicken bouillon or chicken broth
½ cup honey
1 to 2 cups thinly sliced green, yellow and/or red peppers (to taste)
1 to 2 cups thinly sliced sweet onion (to taste)
Make marinade by mixing together dressing, lime juice, cajun seasoning and salt and pepper.
Using a meat mallet flatten chicken slightly so pieces are even thickness. Place chicken and marinade in a ziplock bag and return to refrigerator for at least 2 hours or longer.
Heat butter/oil in large skillet over medium high heat. Remove chicken breasts, without draining, and brown on both sides in hot skillet.
Remove chicken and lay flat in a dish or on a pan. Drizzle honey over both sides of chicken. Cover with foil.
Add onions and peppers to the skillet. Cook for 5 minutes stirring as they brown. Add chicken bouillon and return chicken to the skillet. Cover and continue to cook until chicken is cooked through and reaches at least 165 degrees. This should take about 10 to 15 more minutes, depending on the thickness of the chicken.
Serve over rice or mashed potatoes topping with the sauce.
Original recipe from deepsouthdish.com

Actual cooking time will depend on thickness and size of chicken.
Recipe by
Pray Cook Blog
at https://praycookblog.com/honeyed-sweet-pepper-chicken-breasts/