Homemade Apple Balsamic Vinaigrette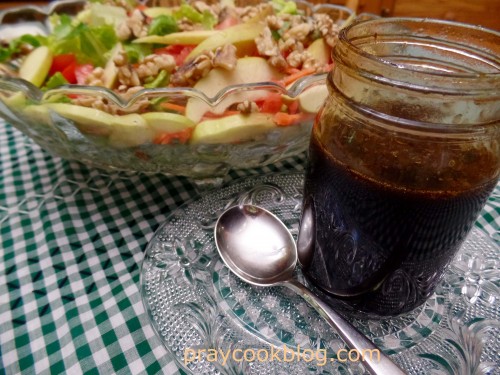 Author:
Adapted by Catherine Daugherty
Recipe type:
Lunch or Dinner
1 Tablespoon onion, finely minced
2 teaspoons garlic, minced
¼ cup apple cider*
¼ cup apple cider vinegar*
½ cup balsamic vinegar*
½ teaspoon dried basil
¼ teaspoon pepper
½ teaspoon salt
1 Tablespoon honey
½ cup extra-virgin olive oil**
1 cup apple balsamic vinegar can be substituted for the apple cider, apple cider vinegar, and balsamic vinegar
½ cup flavored olive oil (such as a blood orange oil) can be substituted for the extra-virgin olive oil
Mix together all ingredients except the olive oil. This can be done with an immersion blender for 30 seconds, a regular blender, or shaking well in a jar.
Slowly add olive oil in a steady stream as the ingredients are blending. If using a jar instead of a blender, add olive oil and shake well for a minute or two.
Place dressing into a lidded jar and refrigerate until ready to use.
Pour over salads, vegetables, or use as a meat marinade.
Use within 2 weeks.
Don't have an immersion blender? Combine all ingredients into a lidded container and shake well. Be sure and shake again well before serving.

This recipe adapted from Emily Levenson.com
Recipe by
Pray Cook Blog
at https://praycookblog.com/homemade-apple-basalmic-dressing-on-an-apple-walnut-salad/