Fresh Blueberry Crumble Tarts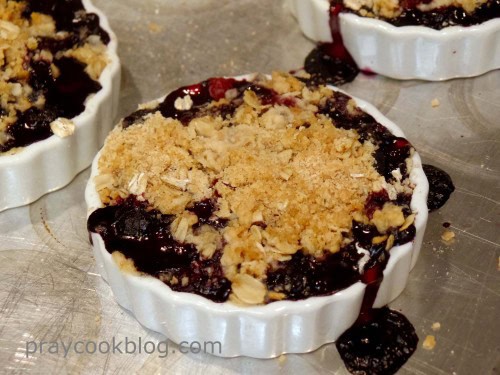 Author:
Adapted by Catherine Daugherty
2 cups fresh blueberries
¼ cup white sugar
1 Tablespoon cornstarch
6 tart shells - about 4 to 5" each, Can use packaged graham cracker tart shells also
¼ cup all-purpose flour
¼ cup oats
¼ cup brown sugar
2 Tablespoons cold unsalted butter
Ice cream or whipped cream optional
Preheat oven to 375 degree F.
In a bowl, toss blueberries with sugar and cornstarch. Lightly spray non-stick cooking spray in 6 tart dishes. If using prepackaged graham cracker tart shells no spray is necessary.
In a small bowl mix flour, oats, brown sugar; cut in butter until crumbly. Sprinkle over blueberries distributing evenly between 6 dishes.
Place tarts on a baking sheet. Bake 20 to 25 minutes or until topping is golden brown and filling is bubbly.
Serve warm or at room temperature. Top with ice cream or whipped cream if desired.
Recipe from Taste of Home.
Recipe by
Pray Cook Blog
at https://praycookblog.com/fresh-blueberry-crumble-tarts/