Aunt Jamie's Cookies from the Home of P. Allen Smith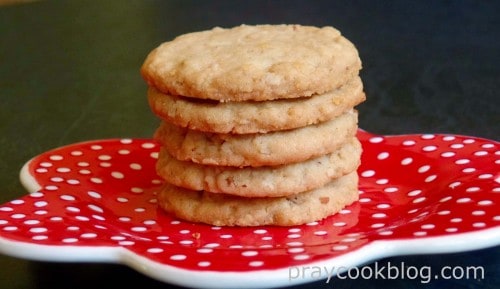 Recipe type:
Dessert Cookie
1 cup (2 sticks) butter, at room temperature
1 cup granulated sugar
1 cup firmly packed light brown sugar
1 large egg
1 cup vegetable oil
1 Tablespoon vanilla
1 cup rolled oats
1 cup crushed corn flakes
½ cup shreddded sweetened coconut
1 cup chopped pecans
3½ cups sifted all-purpose flour
1 teaspoon baking soda
1 teaspoon salt
Preheat oven to 325 degrees F.
In a large mixing bowl, blend the butter with both sugars until creamy. Blend in the egg and mix together well, followed by the vegetable oil and vanilla extract.
To this mixture add the oats, corn flakes, coconut and pecans, stirring thoroughly.
Mix the flour, baking soda and salt; stir into the other cookie ingredients.
Using a small cookie scoop place equal amounts of dough onto ungreased cookie sheet and bake for 12 minutes. Allow the cookies to cool completely on the cookie sheet before removing them.
From P. Allen Smith's cookbook.
These cookies will keep at room temperature for a couple of weeks (if they last that long!) or for a couple of months in an airtight container in the freezer.
Recipe by
Pray Cook Blog
at https://praycookblog.com/aunt-jamies-cookies-from-the-home-of-p-allen-smith/