Spinach and Feta Stuffed Chicken Breasts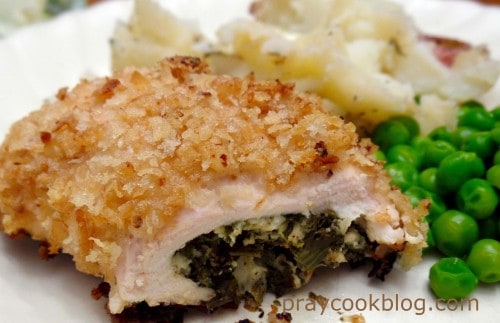 Author:
Adapted by Catherine Daugherty
1 lb. skinless chicken breasts (approximately 2 breasts) or 4 chicken cutlets
1 cup Greek salad dressing (your choice)
5 oz. frozen chopped spinach, thawed and juice squeezed out (1/2 of the 10 oz. package)
½ cup (2.5 oz.) crumbled Feta cheese
1 cup crushed cracker crumbs or Panko bread crumbs
1 teaspoon Cavender's greek seasoning (or your favorite seasoning)
1 Tablespoon olive oil or canola oil
Salt and Pepper to taste
Cut chicken breasts in half, making 4 pieces. Flatten slightly, being careful not to pound clear through the chicken. Season with salt and pepper to taste.
Dip each piece of chicken in bowl of greek salad dressing.
Combine dry spinach and feta cheese in a small bowl.
Combine Panko bread crumbs and Cavender's seasoning in a small bowl.
Put ¼ of the spinach mixture on each piece of chicken.
Gently roll up chicken. Roll each piece of chicken in seasoned crumbs.
Add oil to baking dish. Place each piece of chicken in baking dish.
Bake on medium high BBQ grill for 25 minutes or until chicken is done. OR bake in 375 degree F. oven for 20 to 25 minutes, until chicken done and nicely browned.
Serve immediately.
Crumbs for coating can be crushed saltine crackers, Panko bread crumbs, or a combination of the two.
These stuffed chicken breasts can be made the day before, covered and in the refrigerator until ready to bake.
Recipe by
Pray Cook Blog
at https://praycookblog.com/spinach-and-feta-stuffed-chicken-breasts/