Deep Dish Chocolate Chip Cookies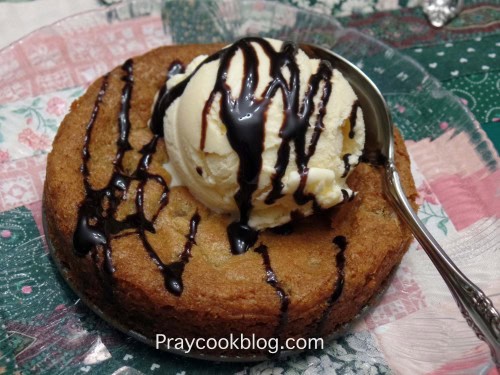 Author:
Adapted by Catherine Daugherty
1 cup all-purpose flour
½ teaspoon salt
½ teaspoon baking soda
1 stick unsalted butter, softened (1/2 cup)
½ cup packed light brown sugar
⅓ cup granulated sugar
1 teaspoon vanilla extract
1 large egg
¾ cup milk chocolate chips
¾ cup dark chocolate chips
Vanilla Ice Cream * Optional for serving
Preheat the oven to 375 degrees F.
In a large bowl beat butter with an electric mixer until creamy. Add the sugars and beat until light and fluffy, about 2 minutes. Add the vanilla extract and egg and beat well.
Add in the flour, salt, and baking soda. Mix on low speed until dry ingredients are incorporated.
Mix in chocolate chips by hand.
Divide the batter evenly between 6 lightly greased ramekins or springform pans. Spread evenly through each pan.
Place ramekins or small pans onto a baking sheet and bake for 15 minutes or until golden-brown on the edges and still a little golden and soft in the middle.
Remove from oven and cool for at least 5 minutes before serving.
Serve with or without a scoop of vanilla ice cream.
Cookie recipe adapted from thekitchn recipe.

Ghirardelli chocolate is an excellent choice for this recipe, but your favorite chocolate works well too!
Recipe by
Pray Cook Blog
at https://praycookblog.com/deep-dish-chocolate-chip-pizookie/