Butternut, Potato and Onion Crustless Quiche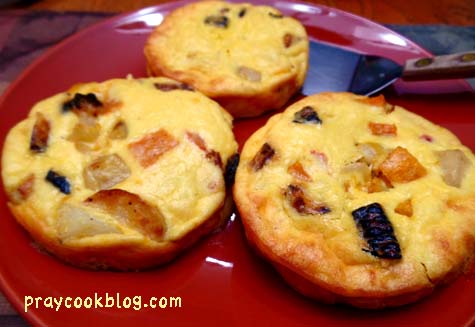 Author:
Adapted by Catherine Daugherty
Recipe type:
Breakfast, Brunch, Light Dinner
1½ cups butternut squash, diced
¾ cup peeled and diced white potatoes
1 onion peeled and diced into pieces
¼ cup diced peppers, can use green, red, yellow, orange - or mixture
1 tablespoon cooking oil
salt and pepper to taste
3 eggs
1 cup cream*
¾ cup grated cheddar cheese*
Canola spray for quiche pan
Preheat oven to 350F and line a baking sheet with paper
Place the diced butternut, potatoes, peppers and onions into a bowl. Add oil and stir to coat then place on the baking sheet. Sprinkle with salt and pepper. Roast until the vegetables are soft and just begin to take on some color. About 25 minutes, depending on size of vegetables.
While the vegetables are roasting, prepare the custard.
In a medium sized bowl, whisk the eggs, and cream. Salt and Pepper to taste.
When the vegetables are done, take out of the oven and cool for 10 minutes.
Spray the quiche pan with oil and place the vegetables at the bottom and sprinkle the cheese on top.
Pour custard over the vegetables leaving enough room for the egg mixture to expand.
Bake for about 40 minutes or until the center rises and then immediately remove it from the oven.
Let rest 5 minutes and serve!
½ cup plain yoghurt can be exchanged for half of the cream.
Cheese - your favorite cheese can replace the cheddar, such as Pepper Jack, Gruyere, a little Parmesan, or a mixture of your favorites. Experimenting with cheese can really change up the flavor in this quiche.

Recipe adapted from http://www.orgasmicchef.com/?s=butternut%2C+potato+and+onion+crustless+quiche
Recipe by
Pray Cook Blog
at https://praycookblog.com/butternut-potato-and-onion-crustless-quiche/