Alice's Apple Goodie Dessert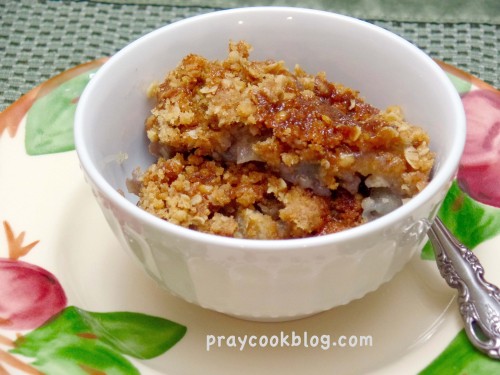 Author:
Adapted by Catherine Daugherty
8 to 10 cup Apples*, peeled and sliced thin
1 cup Granulated Sugar
2 tablespoon All-purpose Flour
1 teaspoon Cinnamon
½ cup Walnuts, chopped
½ cup Raisins
½ cup Maple Syrup
1 cup Quick cooking oats, uncooked
1 cup All-purpose Flour
1 cup Brown Sugar, firmly packed
½ cup Butter or Margarine, melted
¼ teaspoon Baking Soda
½ teaspoon Baking Powder
½ cup Walnuts, chopped
⅓ cup Caramel syrup for drizzlings (Optional)
Mix the first six ingredients together and put into a greased 9" x 13" baking dish. Pour ½ cup maple syrup over all the mixture.
Mix together the topping ingredients and spread over the apple mixture.
Drizzle top of oats mixture with caramel syrup.(optional)
Preheat oven to 350 degrees F. Bake for 45 minutes or until nicely browned and bubbly all over.
Cool slightly and serve or serve at room temperature with whipped cream or ice cream.
Any variety of apples from Winesap, Granny Smith, Fuji, Gala, Pink Lady or any combination work well in this recipe.

Caramel syrup on top is optional, but wonderul!
Recipe by
Pray Cook Blog
at https://praycookblog.com/alices-apple-goodie-dessert-2/