Apple Bread Pudding With Luscious Vanilla Sauce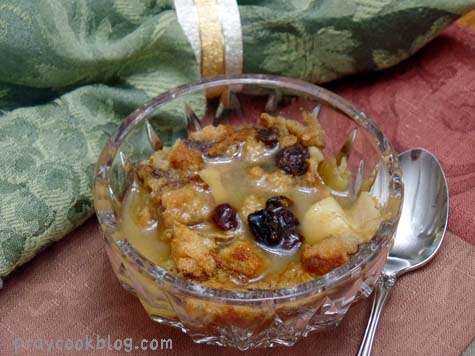 Author:
Adapted by Catherine Daugherty
¼ cup white sugar
¼ cup brown sugar
½ cup milk
½ cup unsalted butter or margarine
2 teaspoons vanilla extract
Preheat oven to 350 degrees F (175 degrees C). Grease a 9" x 13" inch baking dish.

In a large bowl, combine bread, raisins, walnuts and apples.

In a small saucepan over medium heat, combine 1 cup brown sugar, 2½ cups milk, and ¼ cup butter/margarine. Cook and stir until butter/margarine is melted. Pour over bread mixture in bowl.

In a small bowl, whisk together cinnamon, 1 teaspoon vanilla, and eggs. Stir into bread mixture and pour into prepared dish.

Bake in preheated oven 45 to 55 minutes, or until center is set and apples are tender.

While pudding is baking, mix together sugar, ¼ cup brown sugar, ½ cup milk, and ½ cup butter and/or margarine in a saucepan. Bring to a boil, then remove from heat, and stir in 2 teaspoons vanilla.

Serve over bread pudding.
<span class="mceItemHidden" data-mce-bogus="1"><span></span>Bread pudding can be served warmed or at room temperature. Warm the vanilla sauce slightly to serve.

Recipe adapted from Allrecipes.com</span>
Recipe by
Pray Cook Blog
at https://praycookblog.com/apple-bread-pudding-with-luscious-vanilla-sauce/