My New Favorite Mixed Veggie Casserole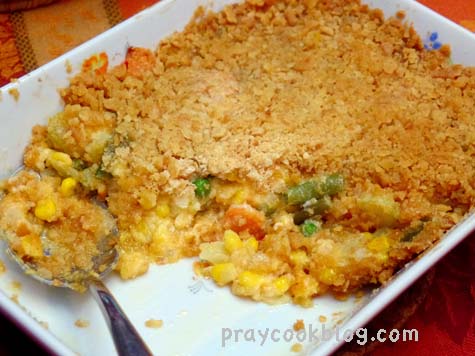 Author:
Adapted by Catherine Daugherty
Recipe type:
Vegetable Side Dish
Preheat oven to 350 degrees F.
Lightly spray an 8" x 8" baking dish with canola oil.
Mix first 5 ingredients together and spoon into prepared baking dish. Top with crushed crackers.
Bake uncovered for 30 to 35 minutes or until heated through and bubbly.
Serve immediately and enjoy!
*This recipe can easily be doubled or tripled!

UPDATE! My friend Maribeth says she chopped up cooked chicken breast to add to the dish and made a main dish meal out of it. She also added a sprinkling of dry ranch dressing to the mayonnaise before mixing up. I'm making this again with chicken! YUM! I think chopped ham will work wonderfully as well.
Recipe by
Pray Cook Blog
at https://praycookblog.com/my-new-favorite-veggie-casserole-thanksgivings-coming/