Golden Harvest Healthy Chunky Soup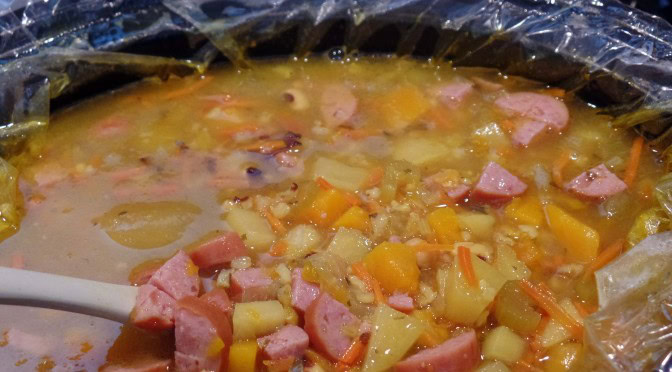 Author:
Catherine Daugherty
Recipe type:
Main Dish Soup
1 cup soup blend: beans, rice, lentils, dried whole-grains
4 cups water
1 cup diced onion
1 cup diced celery
1 cup diced carrots
1 cup diced white potato
1 cup diced sweet potato
2 Tablespoons chicken base or bouillon
1 teaspoon turmeric
½ teaspoon black pepper
½ teaspoon parsley flakes
2 to 3 cups diced turkey & beef smoked sausage*
Soak the soup blend of dried grains, beans and lentils overnight in 3 cups of water. Drain off the water and add 4 cups fresh water into a medium size pot.* Add chicken base and simmer until tender, about 2 hours.
Add remaining ingredients and continue to simmer until vegetables are tender, at least 30 to 45 minutes.
Serve with salad and crusty bread!
* Grains can be cooked on low in Crock Pot for about 4 hours, then add remaining ingredients until ready to serve.
** Cooked diced chicken, turkey or ham can be used in placed of smoked sausage.
Easily doubled or tripled. Can freeze in airtight container for up to 3 months.
Recipe by
Pray Cook Blog
at https://praycookblog.com/golden-harvest-healthy-chunky-soup/