Ham Salad Appetizers or Sandwiches, You Choose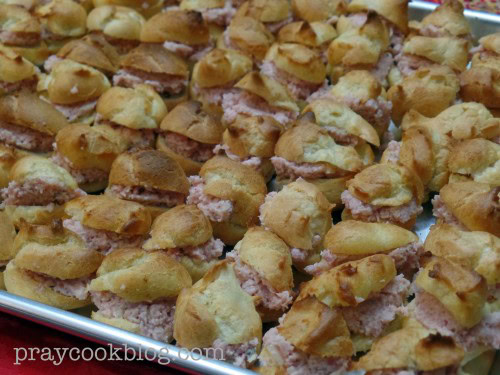 Author:
Adapted by Catherine Daugherty
Recipe type:
Appetizer or Sandwich Spread
1 lb. cooked chopped ham
½ cup dill pickles
2 Tablespoons sweet pepper relish
1 teaspoon Dijon mustard
2 Tablespoons minced celery
2 Tablespoons minced sweet onion or 1 Tablespoon dried onion
⅓ to ½ cup mayonnaise to taste
1 hard-boiled egg, minced* optional
In the bowl of a food processor, place ham and pulse off and on for about 8 to 10 times. This will produce a medium chop but not too fine. Do not pulse the ham into a paste.
Add all other ingredients, except mayonnaise. Pulse several times to chop up the pickles and blend all ingredients.
Add mayonnaise and pulse several more times to mix thoroughly.
Serve on sandwich rolls, fresh sliced bread, or use as a filling for appetizers.
*I chose not to include a hard-boiled egg, but many recipes do use it.

This recipe adapted from A Family Feast.com
Recipe by
Pray Cook Blog
at https://praycookblog.com/ham-salad-appetizers-or-sandwiches-you-choose/