Jack Bac Jam for Holiday Gift Giving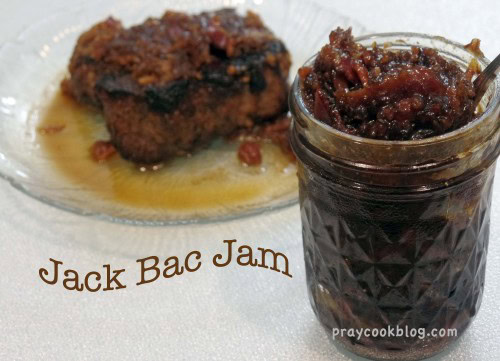 Author:
Original Recipe By Catherine Daugherty
1½ pounds of bacon
2 cups Vidalia onion, or any sweet onion, medium-fine chopped
4 garlic cloves, finely chopped
1½ teaspoon chili powder
½ teaspoon cayenne pepper* Optional
½ cup Jack Daniel Whiskey
½ cup maple syrup
½ cup balsamic vinegar
½ cup brown sugar
Cook the bacon until crispy. Bacon can be fried in a skillet on the stove, in batches in the microwave, or my personal favor, on a baking sheet in a 400 degree F. oven.
Transfer to paper towels to drain excess fat off. Set aside.
Pulse onions in the food processor or cut them by hand to a medium chop.
In a large skillet place 1 tablespoon of bacon grease heating over medium heat. Add onions to the pan, cook until they start to caramelize. Add the garlic and cook for about one more minute.
Add the chili powder and stir.
Increase heat to high and add the Jack Daniels Whiskey (carefully) and maple syrup. Bring to a boil, stir and scrape the pan as you continue boiling for about 2 to 3 minutes.
Add vinegar and brown sugar, continue to boil for about 3 minutes.
Using a sharp knife cut the bacon into small pieces or crumble it by hand.
Toss the bacon into the pan, reduce heat to low and simmer for about 10 minutes, the mixture will thicken turning into luscious jam.
Remove from stove and let sit a few minutes. Drain excess fat off the bacon by blotting with a paper towel or spooning off if needed.
If the mixture is chunkier than you like, a couple pulses in a food processor will thin it down. I prefer it chunkier.
Transfer to jars and store in the fridge.
Heat it up in the microwave whenever you want to top something with the jam!
Enjoy!
Really delicious on steak, fish, chicken, pork or even brats!
The cayenne pepper is optional but adds a nice kick!
If you aren't inclined to use alcohol in your cooking, no problem. Just substitute an additional amount of balsamic vinegar in place of the ½ cup Jack Daniels.
Recipe by
Pray Cook Blog
at https://praycookblog.com/jack-bac-jam-for-holiday-gift-giving/