A Hearty and Healthy Brunswick Stew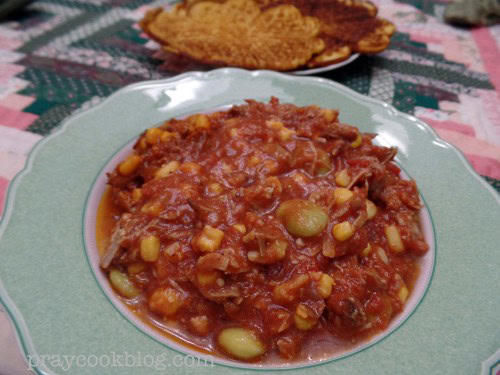 Recipe type:
Soups and Stews
Cuisine:
<g class="gr_ gr_87 gr-alert gr_spell undefined ContextualSpelling ins-del multiReplace" id="87" data-gr-id="87">American South
4 tablespoons (1/2 stick) butter
3 cloves garlic, minced
1 large Vidalia onion, finely chopped
One 15-ounce can fire roasted tomatoes (with their juices)
4 cups chicken stock
1½ cups barbecue sauce
2 tablespoons Worcestershire sauce
1 tablespoon light brown sugar
¼ teaspoon cayenne pepper
1½ pounds smoked pulled pork
10 ounces frozen corn
10 ounces frozen baby lima beans
Pinch salt and ground pepper
Hot sauce, for serving
Cornbread or soda crackers, for serving
Melt the butter in a large Dutch oven over medium-high heat.
Once melted and foamy, add the garlic and onions and saute until soft, about 4 minutes.
Stir in the tomatoes, chicken stock, barbecue sauce, Worcestershire, brown sugar, cayenne, smoked pork, lima beans, corn and a big pinch of salt and pepper.
Bring the mixture to a boil, reduce to a simmer and cook over medium-low until thick and ContextualSpelling ins-del multiReplace" id="93" data-gr-id="93">stewey, about 1½ hours, stirring on occasion.*
Serve with hot sauce, cornbread or soda crackers.
* All ingredients can be added to Crock Pot and cooked on low for 6 to 8 hours.

Recipe courtesy of Jamie Deen, The Food Network.
Recipe by
Pray Cook Blog
at https://praycookblog.com/a-hearty-and-healthy-brunswick-stew/