Mocha Chocolate Chip Cookies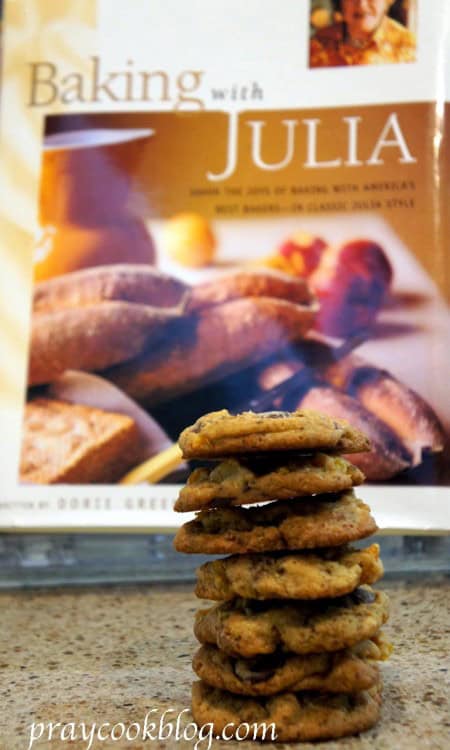 Author:
From Baking With Julia Adapted by Catherine Daugherty
Recipe type:
Dessert, Cookies
2 cups unbleached all-purpose flour
2 to 3 tablespoons instant coffee powder (according to your taste)
1 teaspoon baking soda
1 teaspoon salt
2 sticks (8 ounces) unsalted butter, cut into chunks
¾ cup granulated sugar
¾ cup (packed) dark brown sugar
2 large eggs
1 teaspoon pure vanilla extract
1 pound chocolate (bittersweet, milk, or white, or a combination), cut into larger-than-chocolate-chip-size chunks or 16 oz. of chocolate chips
½ pound plump, moist apricots, coarsely chopped (optional)
Whisk the flour, coffee powder, baking soda, and salt together in a medium bowl to blend; set aside.
Put the butter in the bowl of a mixer fitted with the paddle attachment (or work with a hand-held mixer) and beat on medium speed until the butter lightens in color. Add the granulated sugar and beat for about 30 seconds, just to blend. Add the brown sugar and beat for another 30 seconds.
Add the eggs one at a time, beating for a minute after each addition. The mixture should be light and fluffy; if necessary, beat 1 more minute. Add the vanilla and beat until blended.
Turn the mixer speed down to low and add the dry ingredients, mixing only until they are incorporated. Remove the bowl from the mixer and clean the paddle and the sides of the bowl with a rubber spatula. Add the chocolate chunks and the apricots, and stir them with the spatula to distribute evenly.
Chilling the Dough: Wrap the dough in plastic and chill for several hours, or overnight, to firm.
When you are ready to bake, position the racks to divide the oven into thirds and preheat the oven to 350ºF. Line two heavy-duty baking sheets with parchment paper. (If you do not have very heavy baking sheets, double up the pans – these cookies need heavy sheets so that their bottoms don't burn.)
Using a heaping tablespoon of dough for each cookie, drop the dough onto the lined sheets, leaving at least 2 inches of space between each mound of dough so that the cookies have room to spread. Bake for 10 to 12 minutes, rotating the pans front to back and top to bottom halfway through the baking period, until the center is just baked – they'll still be soft to the touch. Use a wide metal spatula to transfer the cookies to cooling racks to cool to room temperature. Repeat with the remaining dough.
Storing: Wrapped in plastic bags or in tins, the cookies will keep at room temperature for 2 days. They can be frozen for up to a month and should be thawed at room temperature.
Recipe by
Pray Cook Blog
at https://praycookblog.com/mocha-chocolate-chip-cookies-2/