Whole Wheat and Rye Bread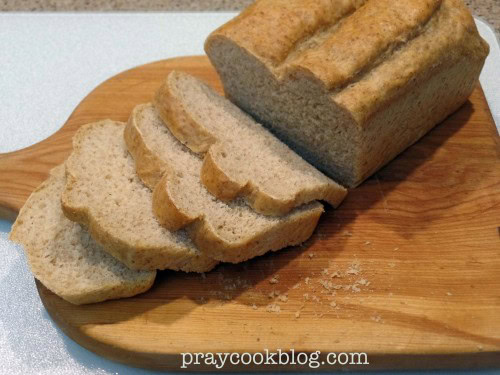 Author:
Adapted from Natasha of Natasha's Kitchen
2¼ cups luke-warm water
½ Tbsp salt
1½ Tbsp sugar
2 tsp active dry yeast
¾ cup whole wheat flour
¾ cup rye flour
¾ cup bread flour
plus 2½ cups bread flour
2 Tbsp canola oil plus more to grease counter and pan
In a large Kitchen Aid mixer bowl, combine 2¼ cups warm water (about 100˚F), 1½ Tbsp sugar and ½ Tbsp salt; stir to dissolve.
Sift the ¾ cup wheat flour, ¾ cup rye flour and ¾ cup bread flour with 2 tsp yeast into the salted water. Whisk together until well blended. Let it rise on the counter uncovered for about an hour, stirring the batter about once. It will be bubbly.
Using the dough hook attachment, add ½ cup all-purpose flour until well blended, scraping down the bowl if needed. Blend in the rest of your flour (2 cups) ½ cups at a time, letting the dough dissolve the flour in between each spoon (this can take 10 minutes or so.)
Once all the flour is incorporated, add 2 Tbsp canola oil. Let the mixer run for an additional 10 to 15 minutes or until dough is no longer sticking to your bowl. Note: after you add the oil it will look like it's coming off the walls and then it will appear to get stickier. Just keep mixing, it will actually stop sticking to the walls as it mixes. You will know when it is dough because it will form a ball in the middle of the bowl and not stick to the sides.
Remove dough hook and let it rise in the bowl, uncovered, until double in volume (45 min).
Grease your bread pans, the countertop and your fingers with a little canola oil and transfer the dough to the oiled counter
Pinch the dough in the center to form two sections with your hands. Grease your pan lightly with oil. Place dough into each prepared bread pan and mold the dough to the base of the pan (no gaps in the corners). Let it rise on the counter until 2½ to 3 times in volume (about 1½ hours) or
/2 inches above the edge of the pan. Bake at 360˚F for 55 minutes.
When done, brush the tops with butter as soon as bread comes out of the oven. Remove bread immediately from the pans and cool on a wire rack. If you leave bread in the pans, it will get too moist from the steam in the pan.
The original recipe allows the first dough mixture to rise on the counter for 3 hours. I didn't find that to be necessary.

Adapted from Natasha's Kitchen
Recipe by
Pray Cook Blog
at https://praycookblog.com/whole-wheat-and-rye-bread/