White Chocolate Cheese Ball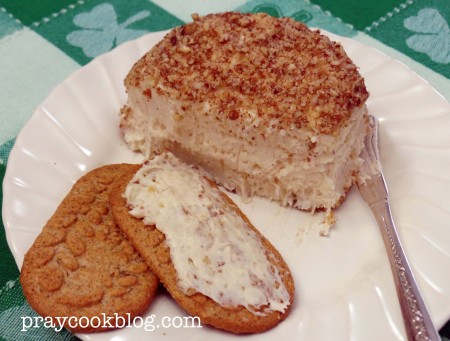 Author:
Adapted by Catherine Daugherty
Beat softened cream cheese, butter, and vanilla until fluffy.
Gradually add sugar until well combined.
Add in chocolate chips.
Cover and refrigerate for at least 2 hours.
Place cream cheese mixture on a large piece of plastic wrap. Shape into a ball and wrap completely in the plastic wrap. Refrigerate for at least 1 hour or longer.
Remove from refrigerator and roll in crushed pecans.

This makes one large ball and can be divided into two smaller ones.

Serve with graham crackers or a favorite sweet cracker.
<span></span>This cheese ball mixes in a couple of minutes in a food processor!

Adding food color to the mixture will add a festive touch for St. Patrick's Day (green), red dye for Valentine's or Christmas or even blue dye for the 4th of July!

I like to serve with brown sugar and cinnamon belVita crackers. Just delicious!
Recipe by
Pray Cook Blog
at https://praycookblog.com/white-chocolate-cheese-ball/