Create Your Own Ice Cream Cake!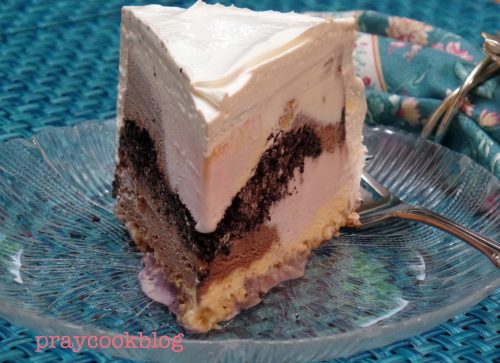 Author:
Adapted by Catherine Daugherty
A variety of ice creams (vanilla, chocolate, strawberry, butter pecan, rocky road, caramel, etc.) totaling somewhere around a gallon, depending on the size of cake pan you choose.
Vanilla or chocolate cookies, crumbled* Optional
12 ounces Cool Whip
Cover the inside bottom of an angel food pan with plastic wrap. This is to keep the ice cream from sticking to the pan once it is frozen.
Scoop ice cream into the cake pan alternating flavors with each scoop. About halfway up the pan pat the ice cream down to get out any air pockets.
Sprinkle a layer of crumbled cookies on the ice cream.
Continue scooping ice cream until the cake pan is filled or until desired amount of ice cream is used.
Cover with plastic wrap and freeze for at least 8 hours, overnight is good.
Remove ice cream cake from freezer and using a thin knife or spatula slide down the sides of the pan to separate the ice cream from side of the cake pan. Invert onto serving platter.
Rather quickly frost the cake with Cool Whip. Return to freezer for at least an hour or until ready to serve. At this point the ice cream cake can stay tightly covered in the freezer for several weeks.
Remove from freezer, slice and serve immediately.
Pan size and shape is optional depending on how many you want to serve. This recipe works great in a loaf pan and will serve about 8. A 9"x13" cake pan will serve 18-20. A bundt pan will work great and serve 12-14 and this angel food cake pan easily served 20.
Recipe by
Pray Cook Blog
at https://praycookblog.com/happy-5th-blogiversary-and-create-your-own-ice-cream-cake/