Baked Blueberry Cream French Toast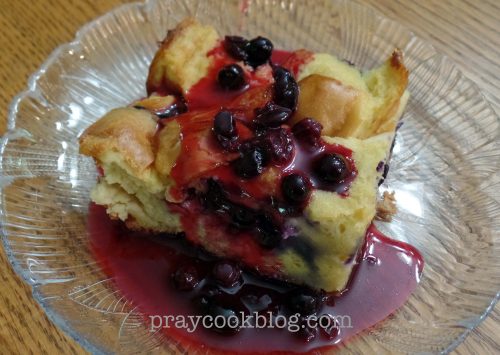 Author:
Adapted by Catherine Daugherty
Recipe type:
Breakfast or Brunch
1 loaf Italian bread, cut into 1" cubes
8 ounces cream cheese, cubed
1 cup fresh or frozen blueberries
12 large eggs,
2 cups milk
2 teaspoons vanilla extract
⅓ cup maple syrup or honey
1 cup sugar
1 cup water
2 Tablespoons cornstarch
1 cup fresh or frozen blueberries
1 Tablespoon butter
Cut bread into 1" cubes; place half in a greased 13" x 9" baking dish. Cut cream cheese into small cubes; place over the top. Top with 1 cup blueberries, sprinkling over all the cheese and bread. Top with remaining bread cubes.
In a food processor or mixer combine eggs, milk, vanilla and syrup until well beaten and mixed well. Pour over bread mixture. Cover and place in refrigerator overnight.
Remove from the refrigerator 30 minutes before baking. Cover with foil and bake 350 degrees for 30 minutes. Uncover and continue to bake for 25 minutes or until a knife inserted near the center comes out clean.
While the french toast is baking make the syrup. Combine the sugar, water, and cornstarch until smooth in a small saucepan. Bring to a boil over medium heat; cook and stir for 3 minutes or until thickened. Stir in blueberries; bring to a boil. Reduce heat and simmer for 8 minutes or until the berries burst (maybe sooner than 8 minutes.)
Remove from heat; stir in butter. Serve warm with french toast.
Recipe by
Pray Cook Blog
at https://praycookblog.com/baked-blueberry-cream-french-toast/