Going For The Gold - A Winning Cherry Coca Cola Salad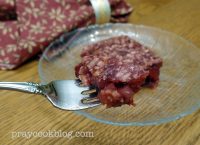 Author:
Shared by Catherine Daugherty
20 oz. can of crushed pineapple
½ cup water
2 - 3 oz. boxes black cherry Jello
1 can cherry pie filling
12 ounces regular coca cola
¾ cup chopped pecans
Drain pineapple and combine the juice with the water. Bring to a boil.
Remove from heat and stir in jello. Stir well and add pie filling and the cola.
Refrigerate for 20 minutes or until slightly thick, stirring once during this time.
Add pineapple and pecans. Stir well. Pour into a jello mold or a 9" x 13" dish.
Chill overnight or until completely set.
Enjoy!
Recipe by
Pray Cook Blog
at https://praycookblog.com/going-for-the-gold-a-winning-cherry-coca-cola-salad/