Lemon Blueberry Coffee Cake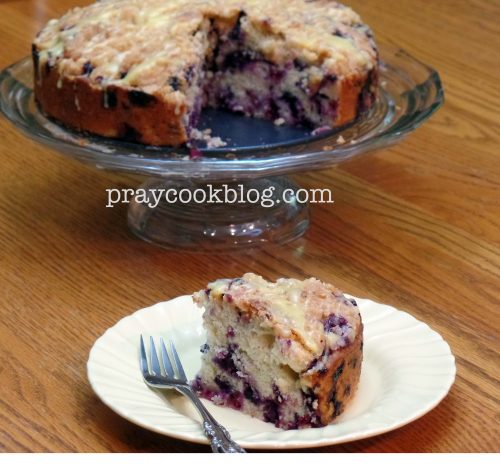 Author:
Adapted by Catherine Daugherty
Recipe type:
Coffee Cake, Brunch or Breakfast,
2 cups all-purpose flour
1½ teaspoons baking powder
½ teaspoon salt
½ cup (1 stick) unsalted butter, softened
1 cup sugar
2 large eggs
2 teaspoons vanilla extract
½ cup whole milk
1 tablespoon lemon zest
2 cups blueberries, fresh or frozen
½ cup sugar
¼ cup all-purpose flour
3 tablespoons butter, melted
1 cup powdered sugar
¼ cup butter, softened
1 - 2 tablespoons lemon juice
Preheat oven to 350 degrees F. Spray a 9" springform pan with cooking spray.
In a small bowl, mix together the crumb topping ingredients, sugar, flour and 3 T. butter. Set aside.
In a large mixing bowl, beat butter and sugar until light and fluffy. Add eggs, vanilla, milk and lemon zest. Add in flour, baking powder, and salt and mix just until combined. Gently stir in the blueberries.
Spread batter evenly into the prepared pan. Sprinkle with the crumb topping.
Bake at 350 degrees F. for 45 minutes or until a toothpick inserted into the middle comes out clean.
Cool the cake for 10 minutes and then gently run a knife around the edges and remove the ring.
With whisk or electric mixer combine the powdered sugar, softened butter and 1 tablespoon lemon juice. Add more lemon juice, 1 teaspoon at a time until desired consistency. Drizzle over cooked cake.
Optional: I added a sprinkle of yellow food coloring to the frosting to give it the lemony-look!

This recipe came from Barbara at www.barbarabakes.com
Recipe by
Pray Cook Blog
at https://praycookblog.com/lemon-blueberry-coffee-cake-got-blueberries/