Award-Winning Pralines and Caramel Banana Pudding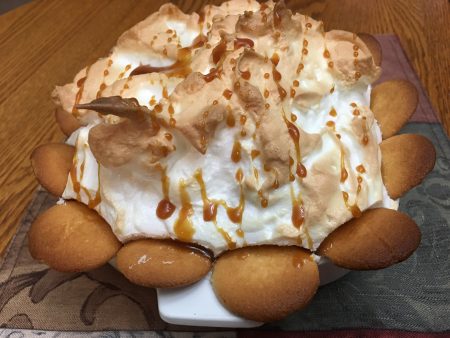 Author:
Catherine Daugherty
1 cup whole pecans
¼ cup packed light brown sugar
2 Tablespoons heavy cream
½ tsp. caramel flavoring
⅔ cup white sugar
¼ cup all-purpose flour
½ teaspoon salt
1 (14 oz.) can of sweetened condensed milk
2 cups whole milk
4 large eggs, separated
2 teaspoons pure vanilla extract
2 tsp. caramel flavoring
1 (11 oz.) packaged of vanilla wafers
4 bananas, sliced (dipped in lemon water or sprinkled with fruit fresh)
1 teaspoon banana extract
⅓ cup sugar
Preheat oven to 350 degrees. F.
In a medium bowl combine whole pecans, brown sugar, cream, and caramel flavoring. Mix well coating the pecans evenly. Spread onto a baking sheet, sprayed lightly with cooking spray. Bake in the preheated oven for about 20 minutes or until the coating is dry and slightly crystallized, stirring at least once. Remove from oven to cool and break apart any pieces that are sticking together. Set aside.
Combine ⅔ cup sugar, flour, and salt in a heavy saucepan. In a separate bowl whisk together condensed milk, whole milk, and egg yolks; stir into the dry ingredients. Cook over medium heat, whisking constantly until smooth and thickened. Use the largest whisk you have to stir while cooking the pudding. This usually takes 10 to 15 minutes, but really depends on your stove or heat source.
Remove from heat and stir in vanilla extract and caramel flavoring. Cool the pudding at this point on the counter until just barely warm.
Using a 2 to 3-quart baking dish, arrange ⅓ of the wafers in the bottom of the dish, laying each one flat. Layer 2 sliced bananas over the wafers. Pour ½ of the pudding mixture over the wafer and banana layer. Repeat with a second layer ending with pudding on top.
Beat egg whites on high speed with an electric mixer until foamy. Add banana extract. Continue beating at high speed, adding ⅓ cup sugar just one tablespoon at a time. Continue to beat until egg whites are very stiff.
Spread egg white mixture over the pudding, sealing it up against the edge of the bowl. Arrange remaining wafers around the outside of the dish. Dot around the edge with praline pecans.
Bake at 375 degrees for 10 minutes or until golden brown.
Drizzle with caramel ice cream topping if desired. Serve pudding warm at room temperature, or refrigerate and serve cold. Enjoy!
Note: This pudding will fit a 9" x 13" baking dish or a 2 or 3-quart dish.
Also – be sure and use sweetened condensed milk and NOT evaporated milk!
Recipe by
Pray Cook Blog
at https://praycookblog.com/award-winning-pralines-and-cream-banana-pudding/